This is an archival story that predates current editorial management.
This archival content was written, edited, and published prior to LAist's acquisition by its current owner, Southern California Public Radio ("SCPR"). Content, such as language choice and subject matter, in archival articles therefore may not align with SCPR's current editorial standards. To learn more about those standards and why we make this distinction, please click here.
Some Jerk Sent This Scary Note To West L.A. Neighbors Over Barking Dogs
We need to hear from you.
Today during our spring member drive, put a dollar value on the trustworthy reporting you rely on all year long. The local news you read here every day is crafted for you, but right now, we need your help to keep it going. In these uncertain times, your support is even more important. We can't hold those in power accountable and uplift voices from the community without your partnership. Thank you.

Los Angeles excels when it comes to passive-aggressive notes from fed-up neighbors . However, the notes some West L.A. residents received from some jerk about their barking dogs are really special. A letter posted on the Los Angeles subreddit by a Sawtelle resident starts off somewhat similarly to most passive-aggressive neighbor notes. The squabble is about a neighbor's "yappy f*cking dogs" that bark all day and all night, and how fed up various, unidentified neighbors are with the racket. Okay, fair. The letter soon, however, escalates into some pretty weird, threatening stuff:
If you fail to shut your dogs up, there will be no second letter. Instead, we will just been taking matters into our own hands. And when I say "we" I am referring to the other neighbors of mine who currently hate your f*cking guts.
The letter notes that this band of vigilante psychopaths knows where the person lives and what cars they own, and that they're more than happy to "mess" with either of these things to achieve a quiet neighborhood. The letter gives two options. One: comply and quiet the dogs.
Or:
Option #2: Test us. I f*cking dare you. You'll be making a lot of people happy who want to f*ck with you. So, honestly, it'll be a win-win regardless of what you choose.
It sounds like these neighbors are just breathlessly waiting for a real-life Purge to be announced so they can unleash their misguided justice on their fellow Angelenos. Or, perhaps, they've merely demonstrated by sending the letter to multiple people —some of whom don't even have dogs—that they have no idea where exactly the noise is coming from and that they're full of crap.
Before you get too scared for these dogs and dog owners, another Reddit user said she's the one that owns the dogs and she believes that the sender was a woman who lives four buildings away. She said she thinks that the issue stems from that woman walking her own dog past the building, which inspires the dogs in there to bark. However, a canvas of the neighborhood revealed a) more dog owners and b) no other threatening weirdos, just people saying they actually couldn't hear or weren't bothered by the animals.
So, what should you do if your neighbor's barking dogs or loud tunes annoy you? First, you could ask them to politely keep it down. If that doesn't work, instead of threatening them, you can file a complaint. The noisemaker can be a barking dog, a raucous party or a leaf blower: any of those nuisances could result in your noisy neighbor receiving a 'quality-of-life infraction' ticket . You can contact the LAPD's Noise Enforcement Team at 213-996-1250.
You can also try addressing any continuous issues with your local neighborhood association.
Here's the full letter. Obviously, there is some profanity: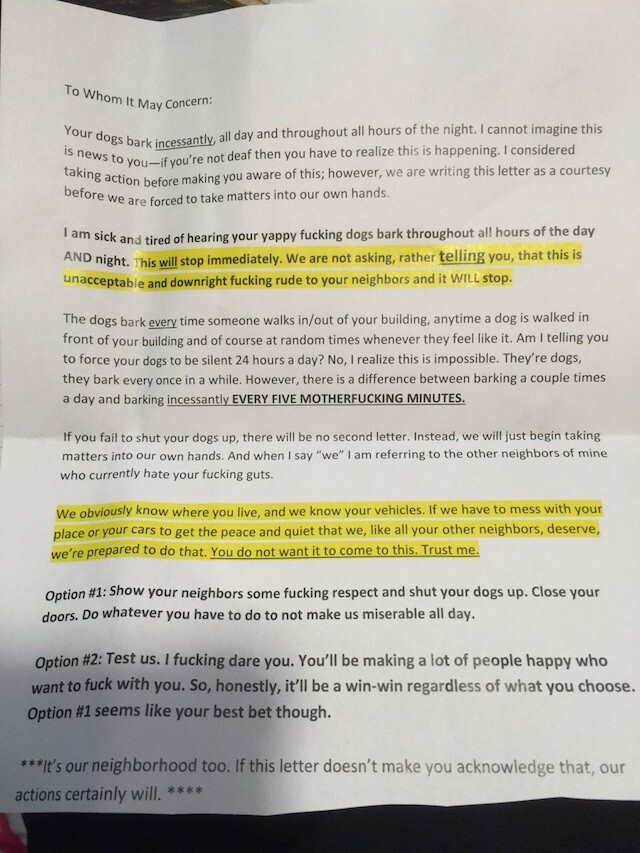 This person needs to chill (Photo via Imgur )

But Yeoh is the first to publicly identify as Asian. We take a look at Oberon's complicated path in Hollywood.

His latest solo exhibition is titled "Flutterluster," showing at Los Angeles gallery Matter Studio. It features large works that incorporate what Huss describes as a "fluttering line" that he's been playing with ever since he was a child — going on 50 years.

It's set to open by mid-to-late February.

The new Orange County Museum of Art opens its doors to the public on Oct. 8.

Cosplayers will be holding court once again and taking photos with onlookers at the con.

Littlefeather recalls an "incensed" John Wayne having to be restrained from assaulting her and being threatened with arrest if she read the long speech Brando sent with her.