What If Dakota Fanning Got Raped And Nobody Cared?
LAist relies on your reader support, not paywalls.
Freely accessible local news is vital. Please power our reporters and help keep us independent with a donation today.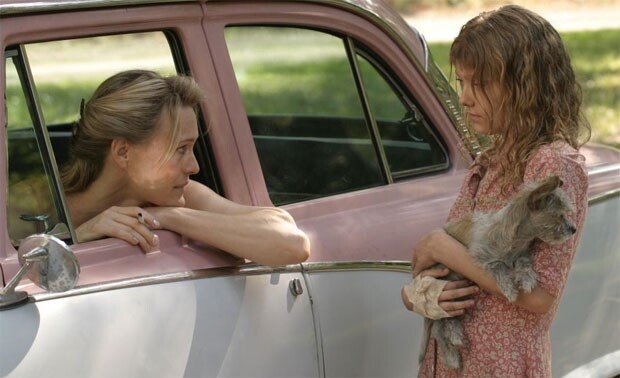 Park City, UTAH - Don't worry, Dakota Fanning is safe and sound. She hasn't actually been raped. It's the character in her latest film that gets attacked. And thank goodness, because Fanning is the best thing about the otherwise dreadful Hounddog. Although the film's rape scene, which was filmed when Fanning was all of 12, has been getting so much grief (this morning's Sundance screening in Salt Lake City was greeted with protests), it's the rest of Hounddog that's excruciating to watch. All the lush Southern Gothic landscapes in the world can't save the contrived plot and on-the-nose dialogue that's punctuated at every turn with lugubrious blues tunes and Elvis Presley songs in a sorry attempt to telegraph to the audience every emotion they're supposed to be experiencing. Then there's Hounddog's Magic Negro -- less a character and more a plot device -- which is so thematically ill conceived that it makes Driving Miss Daisy look like Malcolm X.
Set in the rural south in the early or mid-1960s, Hounddog stars Fanning as Lewellen, a precocious 12-year-old girl who lives in a rundown shack with her no account, alcoholic father (David Morse). Between lazy days of swimming in the creek with her best friend Buddy (Cody Hanford) and being berated by her ultra-religious grandmother (an almost unrecognizable Piper Laurie), Lewellen indulges in the forbidden "devil's music," i.e. rock and roll, in specific Elvis tunes. Things go from bad to worse when her father becomes a semi-invalid after being struck by lightning, and the milk delivery boy takes an unseemly interest her. But the actual attack is mercifully brief and about as tastefully handled as a child rape scene can be.
In this and in every other scene Dakota Fanning is spot-on. She seems to have an emotional complexity beyond her years and a preternatural ability to call up and convey complex emotions.
Her co-star Afemo Omilami has the thankless task of playing Charles, the black stable hand, homeopathic doctor and part-time snake charmer whose full-time job seems to be ministering to white folks and dishing up homilies that are equal parts Psych 101 ("Maybe you can take those arms your mother never could wrap around you and wrap them around yourself") and old-timey clichés ("That's how you take something that can kill you, and you change it into something powerful and good").