This is an archival story that predates current editorial management.
This archival content was written, edited, and published prior to LAist's acquisition by its current owner, Southern California Public Radio ("SCPR"). Content, such as language choice and subject matter, in archival articles therefore may not align with SCPR's current editorial standards. To learn more about those standards and why we make this distinction, please click here.
Week In Rock: Wilco, Dinosaur Jr., Third Eye Blind, Electric Daisy Carnival
Stories like these are only possible with your help!
You have the power to keep local news strong for the coming months. Your financial support today keeps our reporters ready to meet the needs of our city. Thank you for investing in your community.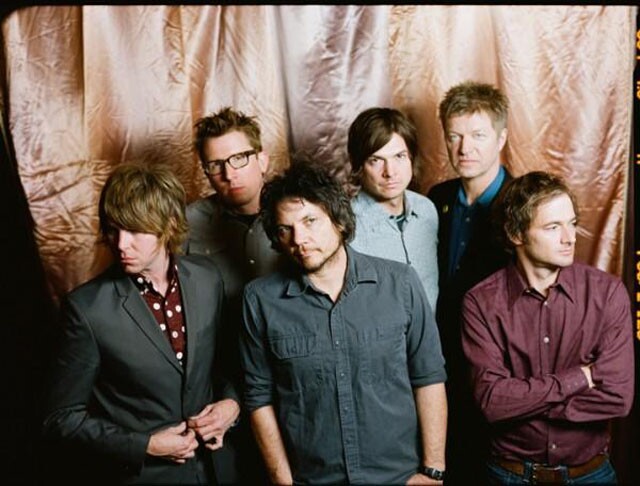 Wilco will be playing Monday, Tuesday and Thursday at the Wiltern | Photo by Autumn De Wilde via Wilco's Myspace
This week Wilco (LAist Interview) will be taking on a three-date stint at the Wiltern with Jonathan Wilson and Okkervil River (LAist Review) in tow. Amherst-based rockers Dinosaur Jr. will be taking on a two-night stint at the Troubadour. San Franciscan alternative rockers Third Eye Blind will be performing at the Hollywood Palladium with locals Low vs Diamond. And, lastly, Friday and Saturday will mark the 13th annual Electric Daisy Carnival—the biggest dance festival in North America—which will take place at Los Angeles' own Memorial Coliseum. Thievery Corporation, Paul Oakenfold, STS9, The Crystal Method, Groove Armada, Paul Van Dyk, Infected Mushroom, Shiny Toy Guns, Boys Noize, Fake Blood and Shinichi Osawa, among many, many others, are all slated to grace this year's bill.
Wilco - "I Am Trying To Break Your Heart (Demo Version)"

Monday
Elvis Costello, Jim Lauderdale @ Amoeba Music
Dinosaur Jr., Earthless @ Troubadour
Wilco, Jonathan Wilson @ The Wiltern (Sold-Out)
Castledoor, Local Natives, Music for Animals @ Spaceland (Free!)
Oliver Future, Capshuns, Horse Thieves, Divisible @ The Echo (Free!)
Vienna Teng @ Largo at the Coronet
Lemonwilde, Audra Mae, From Jupiter, London to Tokyo @ The Viper Room
Lemonwilde, Canon @ Silver Lake Lounge $7.55
Whitman, Our Brother the Native, Religious Girls, Splinter Cake, Bipolar Bear @ Pehrspace
Caitlin Crosby's record release, Molly Jenson, Kami Thompson, The Makepeace Brothers @ The Hotel Café
Chris Seefried, Joel Eckels, Justine Bennett @ Room 5
Rock Mondays w/ Mather Louth @ Les Deux
Steel Panther @ Key Club
Stacy Clark, Civalias, The New Limbs @ Detroit Bar
Tuesday
Dinosaur Jr. @ Troubadour
Wilco, Jonathan Wilson @ The Wiltern (Sold-Out)
Sunset Rubdown, Elfin Saddle, Witchies @ Echoplex
Foreign Born record release @ Vacation (4679 Hollywood Blvd., Los Angeles)
Sneaky Sound System, Poirier, Anna Lunoe @ Cinespace
The Parson Red Heads, The Boat People, The Pictures @ On The Rox at The Roxy
George Ellias, Paige Stark, Shakey Graves @ Spaceland
The Greg Proops Show w/ John C. Reilly, Mike Viola @ Largo at the Coronet
The Veronicas @ Henry Fonda Music Box
Occidental Brothers, The Blasting Company @ The Echo
The Sweet Sweet Things, The Wheel, Carrick Moore @ Silver Lake Lounge
Cryptacize, Wounded Lion, Missincinatti, Emily Lacy @ Echo Curio
Raining Jane, Rusty Anderson, Coby Brown, Sweet Talk Radio, Courtney Ariel @ The Hotel Café
Acid Girls single release @ Arena
Super Smash Bros, [Post-Foetus], Mini Mansions @ The Roxy
Garland @ Crane's Hollywood Tavern
Wednesday
Buddy Miller, Emmylou Harris, Patty Griffin, Shawn Colvin @ Greek Theatre
Pete Yorn's record release party @ The Roxy (Sold-Out)
ISIS, Mammifer @ Henry Fonda Music Box
Spinnerette, Har Mar Superstar, Woah Hunx @ Troubadour (Sold-Out)
Found Magazine w/ The Watson Twins @ Largo at the Coronet
Dub Club w/ The Heptones, backed by The Lions @ Echoplex
Club NME w/ Aushua, The Picture @ Spaceland
Trouble and Bass Crew's record release, Drop the Lime, AC Slater, Star Eyes, The Captain, DJ Skeet Skeet @ The Echo
Birds Beware, The 87 Stick Up Kids, Nola Darling @ The Viper Room
Boh Runga @ Largo at the Coronet (Little Room)
Susie Suh's record release, Butterfly Boucher, Grammar, Derek Evans, Wings for the Queen @ The Hotel Café
Go Betty Go, The Dollyrots, Strangely Attractive, Obedient Waves @ Bordello
Ilo Mar, Ghiant, Laura S., Next of Kin @ Echo Curio
Jason Simon, Miss Moonlight, Louise Le Hir @ Three Clubs
Lelia Broussard, Ruut, Paul Haasch @ Room 5
Sing Orpheus, Ovideo, Tasso, Ryan Gregory Tallman @ Silver Lake Lounge
Café Tacvba @ Gibson Amphitheatre
Thursday
Wilco, Okkervil River @ The Wiltern (Sold-Out)
Third Eye Blind, Low vs Diamond @ Hollywood Palladium
Friends of Friends label launch party w/ Daedelus, Peanut Butter Wolf (A/V Set), Jogger, Mexicans With Guns @ Echoplex
Deastro, Telephone Jim Jesus, Healamonster and Tarsier @ Spaceland
Sean and Sara Watkins @ Largo at the Coronet (Little Room)
Amanda Palmer, Jenny Owen Youngs @ Troubadour (Sold-Out)
The Pricks, The Darlings, Aedose, Nural @ The Roxy $8.50
Upsilon Acrux, Orlando Greenhill, Peter Kolovos, Hurt Model, Corima @ The Scene
Terra Naomi, Oak and Gorsky, Terraplane Sun, Just Off Turner, Giant Cloud @ The Hotel Café
Dalmacio Von Diamond & The Enochian Keys, Jesus Makes the Shotgun Sound, Father Murphy, Comprachicos @ The Smell
Archways, Crash Encore, Catalogue, Drew Andrews @ Silver Lake Lounge
Maino @ Key Club
Los Pinguos @ Saint Rocke
Two Guns @ Detroit Bar
Friday
Electric Daisy Carnival 2009 w/ Thievery Corporation, Paul Oakenfold, ATB, Fedde Le Grand, Eddie Halliwell, Aly & Fila, Vello Virkhaus, STS9, Shiny Toy Guns, Boys Noize, Fake Blood, Shinichi Osawa, Le Castle Vania, Computer Club, Foamo, C-Town, Dieselboy, The Upbeats, Evl Intent, Ewun, Infiltrata, Mayhem, Demo, Spktrm, Hazen, Subflo, Deco, Messinian, Dino, Question Mark @ L.A. Memorial Coliseum
Aretha Franklin @ Hollywood Bowl
Jon Brion @ Largo at the Coronet
Papercuts, Port O'Brien, Sean Bones @ The Echo
Two Sheds, The Traditionist, Line and Circle, Old Lumps @ Spaceland
Ben Nichols @ Center for the Arts, Eagle Rock
ANAVAN vs. The Press Fire!, Wet Dreams vs. Neon Navajo, Laco$te vs. I.E., Not The Government vs. Bastidas @ The Smell
Pterodacdudes, AM, Gestapo Khazi, Audacity @ L'KEG Gallery
Brad Robertson traPs, Ps My Pet Saddle @ Pehrspace
Freddy Fudd Pucker, Temple of Bon Matin, Kevin Greenspon, Elroy Leroy, Video @ Echo Curio
Carbon Leaf, Trevor Hall @ The Roxy $15
Infected, K Davis and the Have Nots, Dead Lazlo's Place, Terrorize Your Kids, The Stains @ Mr. T's Bowl
Until June, Ryan Calhoun, Clare Means, Julie Neumark, Erica Driscoll @ The Hotel Café
Three Bad Jacks, Viva Hate, Old Man Markley, No Dice, Moonshine @ Troubadour
After Midnight Project @ Key Club
The Wanteds, Shiloe, Par Avion @ Silver Factory Studios
Ceci Bastida @ Bootleg Theatre $10.73
Saturday
ABBA: The Tour @ Hollywood Bowl
The Zombies, The Yardbirds, The Spencer Davis Group @ The Wiltern
Groove Armada, Paul Van Dyk, David Guetta, Benny Benassi, Kaskade, James Zabiela, Joaquin Bamaca, Vello Virkhaus, The Crystal Method, Infected Mushroom, Markus Schulz, Sander Van Doorn, Yoji, Cosmic Gate, Kyau & Albert, Roger Sanchez, Mark Farina, The Martinez Brothers, Tortured Soul, Dennis Ferrer, Andy Caldwell, Simian Mobile Disco, Diplo, DJ AM, Major Lazer, Will Bailey presents Bass Weazal, Bird Peterson, Kelevra, Eli Smith, Sharkslayer, DJ Hype, Andy C, Marky, Friction, LTJ Bukem, Subfocus, Mystical Influence, Sniper, DJ Fury, Hazen, GQ, Conrad, Daddy Earl, SP:MC, Dino, Question Mark @ L.A. Memorial Coliseum
Explosions in the Sky, Eluvium, No Age @ Hollywood Palladium
VNV Nation, S.A.M., War Tapes @ Nokia Theatre
Telekinesis, The Boat People, One Trick Pony @ Echoplex
Rodriguez, Bright Black Morning Light, Glasser @ El Rey Theatre
Wendy and Lisa @ Largo at the Coronet
Judy Henske, Craig Doerge @ Largo at the Coronet (Little Room)
The Old Ceremony @ Bootleg Theatre
Truth & Salvage Co., Leftover Cuties, Eliza Rickman, Sarah Siskind @ The Hotel Café
Moses Campbell, Pangea, Apple Orange, Tim Bayona @ The Smell
Funky Sole @ The Echo
Halloween Jack, Rocket @ Spaceland
Visa, The Dirty Diamond, The Cause, Magnus Hitch, Century Repeat @ Troubadour
Flock of Seagulls, Dramarama, When In Rome, Gene Loves Jezebel @ House of Blues Sunset
Lucy Walsh @ Room 5
Simone Says, Solar Wimp, Ask Alice, Hurt Model, Mad Planet @ Mr. T's Bowl
The Voyeurs, The Damselles, Black Sparrow Press, Battlehooch @ The Comic Bug (1807 1/2 Manhattan Beach Blvd.)
SummerShine Pop Fest 2009 w/ St. Christopher, Sea Lions, Catwalk, Thee Makeout Party, Bridgess and more @ The Art Barn (56 E. Thomspson St., Ventura)
Sunday
Adele, Etta James & the Roots Band, Janelle Monae @ Hollywood Bowl
Phoenix, Amazing Baby @ The Wiltern
Cursive, Mt. St. Helens Vietnam Band, Box Elders @ El Rey Theatre
Kidrockers w/ Local Natives, Saint Motel @ The Echo (Early Show; 1 PM)
Simon Stokes, 50 Cent Haircut, Hang Jones @ The Echo (Free!; 5 PM)
Gliss, Army Navy, Rainbow^Arabia, The Polyamorous Affair, EXITMUSIC, VOICEsVOICEs, Death to Anders @ Echoplex (Early Show; 1:30 PM)
Part Time Punks w/ St. Christopher, The Tartans, Sea Lions @ The Echo (Late Show)
DAT Politics, Captain Ahab, Battlehooch, Foot Village @ The SmellNadia Piotrowsky, Kathryn Ostenberg, Alaina, Sydney Sprague, Kate Strand, TV Greenhouse, Jen Kuhn, Jake Labotz @ The Hotel Café (Late Show)
Tongue and Groove @ The Hotel Café (Early Show)
Goldiggers, Cobalt Cranes, Thavius Beck, Secret 6, No Ma'am, Mareesa @ Alex's Bar
El Ten Eleven, Whirling Dervish @ The Que Sera
Ida Maria @ Detroit Bar
Greg Laswell @ Saint Rocke