This is an archival story that predates current editorial management.
This archival content was written, edited, and published prior to LAist's acquisition by its current owner, Southern California Public Radio ("SCPR"). Content, such as language choice and subject matter, in archival articles therefore may not align with SCPR's current editorial standards. To learn more about those standards and why we make this distinction, please click here.
A Running List Of L.A./Houston Wagers Taking Place For The World Series
Before you read more...
Dear reader, we're asking you to help us keep local news available for all. Your tax-deductible financial support keeps our stories free to read, instead of hidden behind paywalls. We believe when reliable local reporting is widely available, the entire community benefits. Thank you for investing in your neighborhood.
Sometimes we feel like being more than mere bystanders in the pageantry of spectator sports. Certainly, you can head out to Vegas and put down money on the game (like how one mysterious person risked six-figures on Game 1), but if you're unwilling to part with your Camry and the watch that's been passed down since your great-grandfather's generation, it's perhaps wise to stick to something more innocuous.
How about a friendly wager, then? Everyone's doing it, after all, from police chiefs to restaurant critics to hot dog stands. Here we've compiled some of the more high-profile wagers that are taking place as the Dodgers take on the Houston Astros. We've also developed a highly scientific system (The Yasiel Puig Tongue-Wag-O-Meter) that rates the stakes and intangibles involved. Is the wager a dud, or a gripping affair in which the very souls of the participants are put at hazard?

Pink's in L.A. We'll take a Three Dog Night. (Photo by Chris via the LAist Featured Photos pool on Flickr)
PINK'S v. GOOD DOG HOUSTON
The Setup: Ah yes, the classic battle of the hot dog stands. Last year, Pink's took on Chicago's Wieners Circle as the Dodgers faced the Cubs in the NLCS. It resulted in bitter defeat for the famed L.A. hot dog joint, which paid for 108 wieners out in the bitter wasteland of the Midwest. Undaunted by prior defeat, Pink's is back to take on Good Dog Houston:
The Stakes: What's intriguing is that the parameters are still hazy. How many dogs, exactly, would the losing stand have to pony up for? 108 was manageable. But what if the number were so lofty this year that the losing stand would be utterly decimated? Could Pink's afford to pay for one hot dog for every Houstonian? The city has upwards of 2 million residents by the way, which means this could be the end for Pink's, unless the Dodgers' bullpen can continue their remarkable play.
Puig Tongue Wags (out of 5):


Jonathan Gold at Mariscos Jalisco in Boyle Heights in 'City of Gold' (Courtesy of Goro Toshima/Sundance Selects)
JONATHAN GOLD v. MATTHEW ODAM
The Setup: The Goldster probably feels as if he's on a roll. He's fresh off of dropping his latest 101 Best Restaurants, which made some very bold claims. Now he's looking to parlay that confidence into a game he's playing with a fellow food critic out in Texas. The person in question is Matthew Odam, restaurant critic at the Austin American-Statesman and Austin360.
The Stakes: Tacos are on the line. And it all really comes down to whether Gold has plans on venturing out to Houston sometime soon, or if Odam has L.A. on his itinerary. We'd like to think that the windfall would be much larger if it's the latter scenario. I mean, have you checked out the latest 101 Best? Between Chichén Itzá and Guerrilla Tacos, we have some stellar options. We suspect that Odam has knowingly put himself in a win-win situation. Whether he wins or loses, he gets a reason to come out to L.A. for tacos. Gold may have stepped into a perilous game.
Puig Tongue Wags (out of 5):


Mayor Eric Garcetti. (Photo by Jesse Grant / Getty Images)
ERIC GARCETTI v. SYLVESTER TURNER
The Setup: It's a long-standing tradition for mayors to get in on a wager. Remember that time when Stephanie Rawlings-Blake, then mayor of Baltimore, had to go through the misery of shipping a basket of crab cakes to Pittsburgh, and taping a YouTube video in which she spoke on the Pittsburgh Steelers' finer points? Brutal. L.A.'s very own Eric Garcetti is now enmeshed in a wager with Houston Mayor Sylvester Turner. The only weird part was how late the wager came; it wasn't until Game 1 had started that the papers were signed off on:
The Stakes: This is pretty ho-hum territory. And it doesn't look like Turner is all that into it, as his camp hasn't made much of a reference to the wager. It certainly won't be as exciting as that time in 1997 when Rudy Giuliani, then mayor of New York City, was forced to catch a fish from the East River after the Yankees lost in a divisional series (he faked it). At the very least, Garcetti's choice of Kogi is a (relatively) refreshing choice: see below to see what we mean.
Puig Tongue Wags (out of 5):


LAPD Chief Charlie Beck. (Photo by LeonardFiles via the LAist Featured Photos pool on Flickr)
CHARLIE BECK v. ART ACEVEDO
The Setup: Charlie Beck, police chief of the Los Angeles Police Department, is no stranger to holding wagers with other police departments. Just this month the department was treated to some Chicago deep dish courtesy of Chicago PD after the Dodgers downed the Cubs. It was a lame bet, if you ask us, as the verdict on the dish is something that's perennially up for debate (like, is it really pizza?). Plus, between Masa and Dough Box, we already have some decent deep dish options.
This time around, however, the prize is barbecue, something that we can all rally around. And it seems like it was Houston Police Chief Art Acevedo who made the first move:
The Stakes: Beck put Langer's pastrami on the table again, something he's done time over time. So a sense of novelty is lacking in this narrative. And while a tournament of smoked meats should make for a riveting affair, it seems that Houston has yet to name a specific joint from which their barbecue would be procured. Would it be from Killen's? Or maybe Rudy's? We can't imagine that the establishment would be quite as storied as Langer's.
Puig Tongue Wags (out of 5):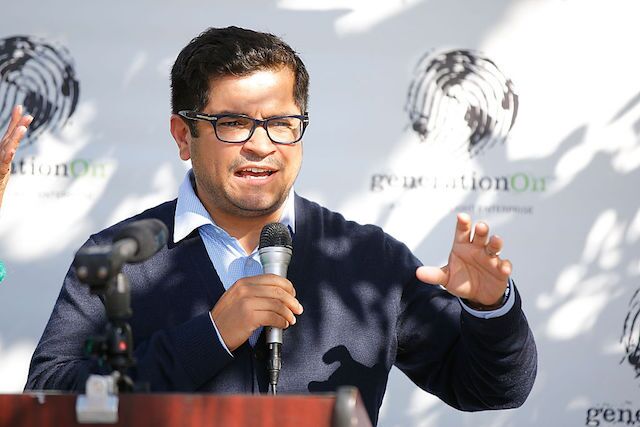 Jimmy Gomez (Photo by Joe Scarnici/Getty Images)
JIMMY GOMEZ v. SHEILA JACKSON LEE
The Setup: Two members of Congress threw it down on Wednesday, when Rep. Sheila Jackson Lee (D - Astros/Houston) challenged Rep. Jimmy Gomez (D - Dodgers/Los Angeles) to a bet between colleagues (video below). Lee, in extending the proposal, took some jabs at Gomez and the Dodgers in the process, setting us up for a budding rivalry. "I'm delighted to have a friendly wager with a dear friend (I don't know for how long)," said Lee. "I think he represents the Brook...Oh! Los Angeles Dodgers." Lee added that, in the event that Houston loses, she would foot the bill for (what else) some Texas barbecue. Gomez accepted the offer and took the high road by saying, "In the spirit of good sportsmanship, I accept the gentle lady's wager, and the barbecue that I'll get to enjoy next week." (OK, so maybe he got a little nasty himself there, too).
The Stakes: Lee didn't specify a barbecue joint (what's up with these theoretical BBQ restaurants in Houston?), but Gomez said that he'd wager French dip sandwiches from Philippe's. As with Beck's wager, the restaurants involved are a little too predictable, so our excitement is a bit tempered. Though, Lee's biting remarks about the Dodgers are a good catalyst for some healthy competition. Our pride is at stake. It's on.
Puig Tongue Wags (out of 5):


Jerry Brown (Photo by Justin Sullivan/Getty Images)
JERRY BROWN v. GREG ABBOTT
Now for something a little more somber (which is why we're doing without Puig's tongue wags and all the other accoutrements). According to KNX1070, California Governor Jerry Brown and Texas Governor Greg Abbott have agreed to a friendly wager. Of course, both states have seen their share of tragedy this year—fires claimed the lives of 42 people in Northern California this month, and 82 people died after Hurricane Harvey swept through Texas in late August. Certainly, countless businesses were also affected in both disasters. The wager between the governors, then, is a showcase of their respective states' resiliency, and the vast bounty they offer.
Here's hoping that, through some sort of bizarre 100-year-old loophole that's been forgotten by MLB officials, both the Dodgers and Astros win and we'll have a mutual exchange of suds and grub.
Of course, other wagers will likely crop up as the World Series progresses. We'll update this list when we pick up on others.

Photo of Puig by Sean M. Haffey/Getty Images