VH-1 Honors LA with a Week of Rock
Stories like these are only possible with your help!
Your donation today keeps LAist independent, ready to meet the needs of our city, and paywall free. Thank you for your partnership, we can't do this without you.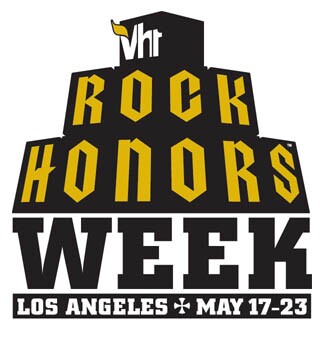 VH-1 has come a long way since being the video channel of choice for moms in the '80s. Now they run original reality shows... and reality shows. Sometimes you'll see a video and think you've stepped back into time.
Actually, and we know that this just means we're old, it seems to us that the music they play on VH-1 is better than ever.
Either way the sister station of MTV is going to be kissing the feet of some classic rockers this month in LA in a show that will air on Thursday, May 24th at 9pm. Genesis, Heart, Ozzy Osbourne and ZZ Top will all receive the VH-1 Honors treatment.
And we have two VH-1 prize packs, each pack includes a set of shot glasses ($50 ERV), a VH1 Rock Honors t-shirt, a hat, and guitar picks. We will hand them over to two lucky LAist readers who tell us their favorite Genesis, Heart, Ozzy Osbourne, or ZZ Top song. Just write it in the comments below and make sure to put your correct email address in the email address box and we will announce the winners early next week.
After the jump check out the shot classes while perusing some of the interesting activities that we here can participate in next week.
From a VH-1 press release are some of the activities coming to town next week:
Thursday May 17th:
Rock 'n' Roll Bingo
Crane's Hollywood Tavern
1611 N. El Centro Avenue, Hollywood
323-302-2695
Join rock legend Wayne Kramer of the MC5 as he hosts Crane's Hollywood Tavern's monthly Rock 'n' Roll Bingo Night. It's just $5 per bingo card for a chance to win concert tickets, record store gift certificates and much more. All proceeds will go to LifeLab, a community dedicated to helping young adult cancer survivors restart their lives. Then, stick around after bingo for special surprise performances. 6.30pm
Zero 1 featuring lead singer Hal Sparks @ The Hard Rock, Universal
Kick off Rock Honors Week at the Hard Rock Café with a special performance by LA based power trio, Zero 1. Featuring lead singer Hal Sparks (Talk Soup, Queer as Folk, VH1 I Love the 80's, Dude Where's My Car?), special effects make-up artist Robert Hall on bass, and Miles Loretta on drums. Raffle to benefit VH1 Save the Music with prize pack valued at $1000, as well as other cool Rock Honors prizing. 8 pm, $10.
Hard Rock Café
1000 Universal Studios Boulevard
818-622-ROCK
These Malibu rockers, fronted by Cisco Adler, are already legendary on the L.A. club circuit for their unbridled rock 'n' roll revivalism. And this year, Whitestarr plans to crank it up a notch on their very own VH1 reality series, The Rock Life. With a new album in the works, expect to see much more of these guys in 2007. 9pm, $12
The Roxy
9009 Sunset Blvd.
310-278-9457

Friday, May 18
Art Opening: Robert Knight
Celebrate rock 'n' roll with a silent auction of photos taken by Robert Knight and signed by Rock Honors honorees Genesis, Heart, Ozzy Osbourne and ZZ Top. All proceeds go to the VH1 Save The Music Foundation. Also enjoy artwork by rock legends like Ronnie Wood of the Rolling Stones, Grace Slick of Jefferson Airplane, Ringo Starr, Janis Joplin, Jimi Hendrix and more. 6:00p - 9:00p
Gallery 319
319 Wilshire Blvd.
Saturday, May 19
Air Guitar Contest at Bally's
Learn some moves from Air Guitar champion Fatima Hoang, then put 'em to the test for our judges (K-LOS' Cynthia Fox, Gretchen Bonaduce) and you could win a trip to Las Vegas and a one-year membership to Bally Total Fitness' Hollywood II location. Bring this guide to any Bally Total Fitness location for a pair of two-week guest passes and build the rockin' hard body of your dreams. 1:00pm - 2:30 pm
Bally Total Fitness
1628 N. El Centro Ave.
(323) 461-0227
Art Exhibition Opening: Steve Joester
British-born rock photographer and mixed media artist Steve Joester premieres his work in L.A. for the first time at Mr. Musichead Rock Art Gallery, which also exhibits work from more than 50 internationally known artists and an amazing collection of rock poster art. Raffle to win official VH1 save the Music Gift Bag, valued at $1000. 7pm-10pm
Mr. Musichead Rock Art Gallery
7517 W. Sunset Blvd.
323-876-0042
Monday, May 21
Metal Skool at Key Club
These spirited, spandex-clad boys are the ultimate '80s metal tribute band. Tonight Metal Skool tributes the 2007 VH1 Rock Honors honorees, Genesis, Heart, Ozzy Osbourne, and ZZ Top. So let your feathered bangs fly at the VH1 Rock Honors VIP party in the Plush Lounge. Doors at 8:30 p.m
Key Club
9039 Sunset Blvd., W. Hollywood
323-465-4222