This is an archival story that predates current editorial management.
This archival content was written, edited, and published prior to LAist's acquisition by its current owner, Southern California Public Radio ("SCPR"). Content, such as language choice and subject matter, in archival articles therefore may not align with SCPR's current editorial standards. To learn more about those standards and why we make this distinction, please click here.
Stunning Anti-War Play 'Trojan Women (After Euripides)' at Getty Villa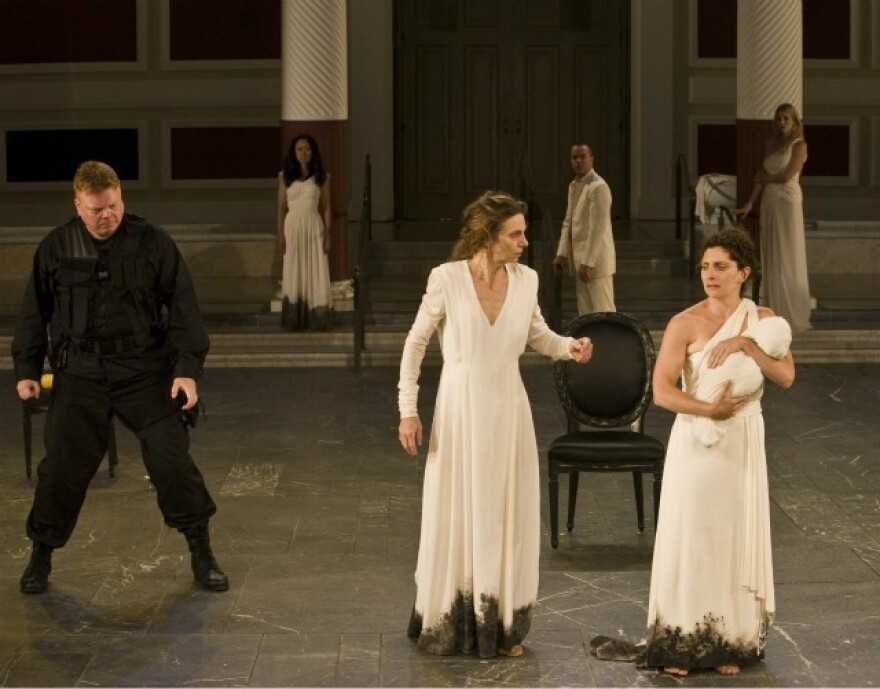 Support your source for local news!
The local news you read here every day is crafted for you, but right now, we need your help to keep it going. In these uncertain times, your support is even more important. Today, put a dollar value on the trustworthy reporting you rely on all year long. We can't hold those in power accountable and uplift voices from the community without your partnership. Thank you.
A stunning rendition of the ancient anti-war classic, Trojan Women (After Euripides), is playing at Getty Villa. The 2,426 year-old play depicts the brutal aftermath of the mythological Trojan War through dishonor, rape, infanticide, mass murder, enslavement, urban decimation, and despair. Poetically adapted by Jocelyn Clarke to include modern insights through temporary suspension of the fourth wall, this standing ovation worthy SITI Company production brims with sophistication and powerful dramatic performances perfectly contextualized within the Villa's outdoor Greek-style theater.
The cast of Trojan Women (After Euripides) features strong performances, with the magnificent Ellen Lauren leading the cast as Hecuba. Lauren commands raw, unfiltered emotion with inexhaustible intensity, talent, and impassioned breadth. Her performance is surely one of the best to grace the Los Angeles stages this year. Brent Werzner opens the play as a formidable, un-cliched, tone-setting incarnation of Poseidon. Surprising terrifying, yet demonically seductive, Werner's voice fills the canyon surrounding the villa with echoed mythological names and otherworldly wrath. Barney O'Hanlon (as the chorus), Leon Ingulsrud (as the envoy), and Makela Spielman (Andromache) round out the cast, bolstering the production with considerable empathy, compassion, and conflicted grief.
Anne Bogart's direction of Trojan Women (After Euripides) is perceptive, rhythmic, and utterly engrossing. Bogart brings exacting poignancy to the ancient work with unexpected, but inherently perfect kabuki inflected nuance to convey the universality of tragic loss. Clarke's witty injections of contemporary banter through Hecuba feels natural, as though always part of Euripides' commentary. Careful costume (by Melissa Trn), lighting (Brian Scott), and set (Sibyl Wickersheimer) design are simple, elegant, and slightly abstract, and elegant. The inclusion of live music by Christian Frederickson heightens the enjoyment and authenticity of Trojan Women (After Euripides.
Trojan Women (After Euripides) is playing at Getty Villa through October 1, 2011. Tickets are $38 to $42 and available online or via phone at 310-440-7300.
Donald Trump was a fading TV presence when the WGA strike put a dent in network schedules.

Pickets are being held outside at movie and TV studios across the city

For some critics, this feels less like a momentous departure and more like a footnote.

Disneyland's famous "Fantasmic!" show came to a sudden end when its 45-foot animatronic dragon — Maleficent — burst into flames.

Leads Ali Wong and Steven Yeun issue a joint statement along with show creator Lee Sung Jin.

Every two years, Desert X presents site-specific outdoor installations throughout the Coachella Valley. Two Los Angeles artists have new work on display.