Tonight In Rock: Jon Brion, Animal Collective, Passion Pit, Brightblack Morning Light
Stories like these are only possible with your help!
You have the power to keep local news strong for the coming months. Your financial support today keeps our reporters ready to meet the needs of our city. Thank you for investing in your community.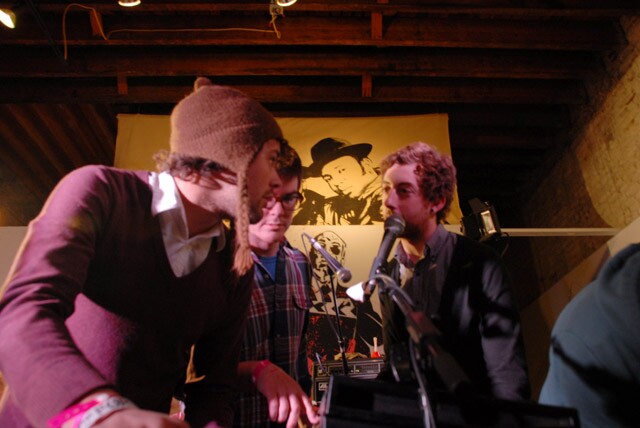 Passion Pit will be playing tonight at the Echoplex | Photo by Joshua Pressman for LAist
Our Pick: Passion Pit, Harlem Shakes, Cale Parks @ Echoplex
Tonight, as always, local multi-instrumentalist/producer extraordinaire Jon Brion (LAist Interview, #2, Review) will be jamming with friends at the Largo at the Coronet. Baltimore-based avant-gardists Animal Collective (LAist Review, #2) are headlining a sold-out show at the Wiltern with Portland's own experimental folk songstress Grouper. Montreal-bred DJ/producer Tiga will be gracing the Avalon with James Murphy of LCD Soundsystem opening on the decks. And, lastly, New Mexico-based psych folk rockers Brightblack Morning Light will be sharing the stage at Center for the Arts, Eagle Rock with Brooklyn's own folk songstress Rio En Medio. The irony here, of course, is that the actual Rio En Medio, or "river in between," can be found in New Mexico; perfect pairing. But we strongly suggest doing whatever it takes to get into the Echoplex to catch Cambridge-bred electro-pop outfit Passion Pit (LAist Review). LAist favorites Brooklyn-based indie rockers Harlem Shakes are slated to kick things off.
You can find these listings as well as the rest of the week's in our weekly Week In Rock post, which goes up every Sunday.
Passion Pit - "The Reeling (Wallpaper. remix)"

Animal Collective, Grouper @ The Wiltern (Sold-Out)
Jon Brion @ Largo at the Coronet
Lykke Li @ Masonic Lodge at Hollywood Forever (Sold-Out)
Brightblack Morning Light, Rio en Medio @ Eagle Rock Center for the Arts $12
King Khan and The Shrines, Mark Sultan @ The Echo $13
Black Moth Super Rainbow, School of Seven Bells @ Troubadour (Sold-Out)
Butch Walker @ El Rey Theatre $30.40
Passion Pit, Harlem Shakes, Cale Parks @ Echoplex (Sold-Out)
Tiga, James Murphy @ Avalon $18
Greg Laswell, Bodies of Water, Molly Jenson, Ryan Lindsey, The Steelwells, De L'amour @ The Hotel Café
Lisa Donnelly record release, The Rescues, Chris Pierce @ The Roxy $22.75
NON+, Okie Dokie, The Monolators, Audacity, UV Lights @ Pehrspace
Riverboat Gamblers, Miss Derringer, Underground Railroad To Candyland, Dios @ Spaceland $10
Bassnectar @ Henry Fonda Music Box $28.35
Japandroids, The Happy Hollows @ Silver Lake Lounge (Canceled!)
The Briggs, Time Again, Viva Hate, Majority Lost @ Knitting Factory (Main Stage) $12 Advance / $14 Day of Show
My Imaginary Friends record release, Mouse Kills Tiger, The Fresh @ El Cid
Simon Petty (of Minibar), Solomon's Seal record release @ Largo at the Coronet (Little Room)
Bar-Fly, Million Kids, Jellmunekita, The Simplisticks, Killjoy and The Dharma Bums @ Mr. T's Bowl
Windy & Carl, Nudge, White Rainbow @ Synchronicity (4306 Melrose Ave.)
Jesus Makes The Shotgun Sound, Black Love, Mothers of Gut @ The Smell
Damon Moon and the Whispering Drifters, The Living Suns @ Echo Curio
Barrio Tiger @ Redwood Bar & Grill
Vast @ Key Club
Neverwonder, Weatherground, Lungbutter, Squeegee @ Old Towne Pub
Graham Parker, Tom Freund @ McCabe's Guitar Shop
Propagandhi, Bridge and Tunnel @ The Glass House