This is an archival story that predates current editorial management.
This archival content was written, edited, and published prior to LAist's acquisition by its current owner, Southern California Public Radio ("SCPR"). Content, such as language choice and subject matter, in archival articles therefore may not align with SCPR's current editorial standards. To learn more about those standards and why we make this distinction, please click here.
Things Looking Up for the Clippers and Kings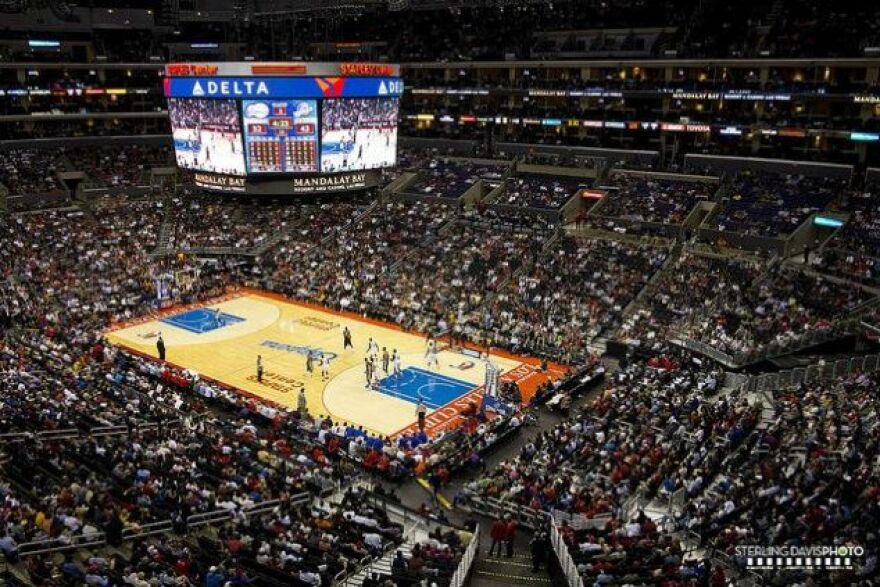 Before you read more...
Dear reader, we're asking you to help us keep local news available for all. Your tax-deductible financial support keeps our stories free to read, instead of hidden behind paywalls. We believe when reliable local reporting is widely available, the entire community benefits. Thank you for investing in your neighborhood.

Things are starting to look up for the Clippers and the Kings, but how long will it last?
Injuries started piling on the Clippers. Chris Paul with the bruised knee. Chauncey Billups with tendinitis in his left foot. Blake Griffin with a strained left hamstring. That explains as they lost eight of 11 games including horrible losses to Toronto, Boston and Washington that just left you shaking your head.
Then in Miami on Friday all three were back in the lineup against LeBron James and the Heat. What a time to try and get your feet under you especially when LeBron has been locked in Michael Jordan mode these last couple of weeks.
They packed up and not only beat the Nor'Easter but also the New York Knicks 102-88 Sunday morning just hours after the entire Northeast shut down over some white powdery stuff. (Cuing Grandmaster Flash)
They didn't slow down tonight in Philadelphia beating the 76ers 107-90 despite not having Billups and Caron Butler, both out with sore lower backs. The 76ers never had the lead in the game and had to deal with a 56-33 halftime deficit. It wasn't a fair fight.
The question for the Clippers is obvious: are they back? A good test will be right after the All Star break when San Antonio comes to town. They have shown they can operate a half-court offense at times. But "at times" won't cut it in the playoffs. So like I've been saying all season long, we'll wait and see.
As for the Kings, it's amazing what a sudden transformation has happened. On Sunday morning in Detroit, they finally found the forechecking game against the Red Wings that they haven't shown since the playoffs last season. If not for goaltender Jimmy Howard doing his best impersonation of Dominik Hasek, the Kings would have won the game going away instead of losing it in the final seconds of the game.
Fortunately tonight they were facing the St. Louis Blues who came into the game losing four in a row. It's a far cry from their opening night 6-0 demolition of the Red Wings.
And the Kings really looked like the team that swept the second-seeded Blues out of the playoffs in the second round last year. Their forecheck remained strong allowing Jeff Carter to score two goals. Slava Voynov added two assists while Davis Drewiske scored a power play goal for his first of the season. Jarret Stoll added a goal in the third period to give the Kings the 4-1 lead which they held.
Jonathan Bernier started in place of Jonathan Quick blocking 21 shots while Brian Elliott made 19 saves as a last-minute replacement for the returning Jaroslav Halak. Alexander Steen scored the only goal for the Blues right off a faceoff win on the power play.
It certainly looks like the Kings have turned the corner. They are playing like they are all on the same page, the forecheck allowing them to move closer to the danger spots in the offensive zone.
Meanwhile Jonathan Abrams on Grantland wrote an intriguing piece on former Clippers guard Shaun Livingston and his journey from that horrific night at STAPLES Center when his leg hardly resembled a leg. I'm not going to embed the YouTube clip, and I can't look at the picture in the piece that shows Livingston on the floor with his knee pointing one way and his leg the other way.
It's amazing that Livingston still has a leg much less playing in the league. While trying to avert my eyes from the television, I could not believe he would ever recover having to be resigned to a life outside of sports like former Los Angeles Raider Napoleon McCallum.
Michael John Mammone, 58, was riding his bicycle Wednesday along Pacific Coast Highway in Dana Point when he was assaulted.

Please don't hurt yourself.

Anthony Lowe was shot and killed by Huntington Park police on Jan. 26. 'Thank goodness that we're in the era of videos,' said the family attorney as they file a federal civil rights lawsuit

The mountain lion's death comes about a month after the beloved P-22 was euthanized.

With two hikers still missing — one the well-known actor Julian Sands — expert mountaineers say the usual scarcity of snow in the L.A.-area makes it especially hard to get enough experience to safely venture out in harsh conditions.

But Yeoh is the first to publicly identify as Asian. We take a look at Oberon's complicated path in Hollywood.