Raunchy & Crass With a Conscience, 'The Vault: (Unlocked)' at LATC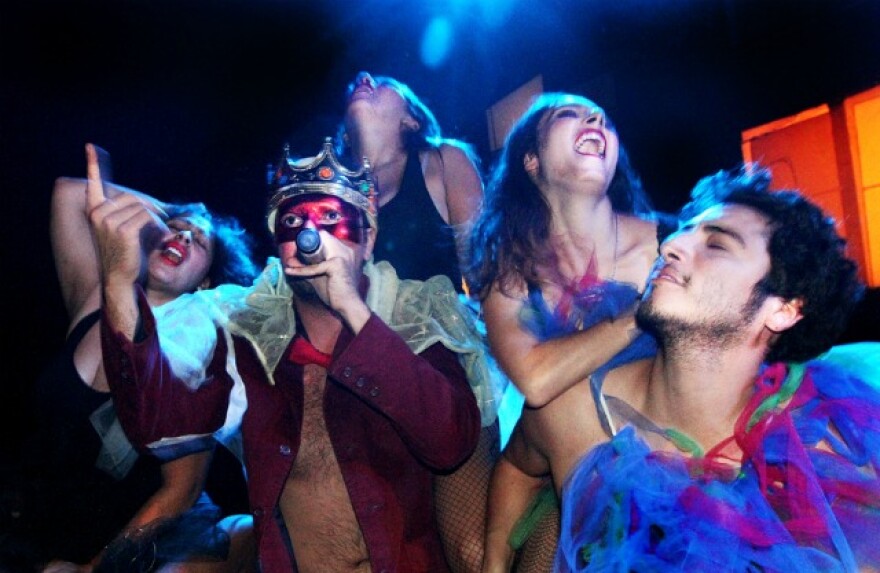 LAist relies on your reader support.
Your tax-deductible gift today powers our reporters and keeps us independent. We rely on you, our reader, not paywalls to stay funded because we believe important news and information should be freely accessible to all.
Based on the true stories of Downtown residents, the slightly seedy and deeply hilarious gentrification fable "The Vault: (Unlocked)" is currently playing at Los Angeles Theatre Center (LATC). Vault Ensemble pokes fun at the hipster colonization of Downtown Los Angeles, bundling social commentary on redevelopment and loss of urban culture into an edgy farce with musical influences. The work is clever, stylish, dark, and so funny that the audience is frequently overcome by tears, coughs, and strained belly muscles through intense laughter.
The ensemble cast has excellent comedic timing and unpretentious sensibilities that culminate into rich vignettes that link to tell a twisted, raunchy, crass and Angeleno-centric good versus evil story. The non-cliché humor and quirky script are delivered by capable performers who act, sing, beat box, and occasionally employ choreographed gestures. All of the Vault cast members -- Brenda Banda, Stephen Buchanan, Aaron Garcia, Sam Golzari, Fidel Gomez, Esperanza America Ibarra, Theodore Lange IV, Jasmine Orpilla, and Vicki Syal -- are equally talented and comically brilliant. Banda, Gomez, and Golzari handle the dramatic slant well, affectionately crafting multifaceted characters. Ibarra and Lange are riotously funny.
Under the direction of Garcia and Gomez, "The Vault: (Unlocked)" is fluid, atmospheric, artful, and well-executed. The audience is constantly entertained by the fresh, high-energy, home-grown production style. Costume design by Yoshino Miyazato is simple, modern and whimsical. Francois Pierre-Couture's set and lighting design is sharp and shadowy. It is by far the funniest show this reviewer has seen this year.
"The Vault: (Unlocked)" is playing through October 8, 2011 at Los Angeles Theatre Center. Tickets are $10 to $20 and available online