This is an archival story that predates current editorial management.
This archival content was written, edited, and published prior to LAist's acquisition by its current owner, Southern California Public Radio ("SCPR"). Content, such as language choice and subject matter, in archival articles therefore may not align with SCPR's current editorial standards. To learn more about those standards and why we make this distinction, please click here.
Raunchy & Crass With a Conscience, 'The Vault: (Unlocked)' at LATC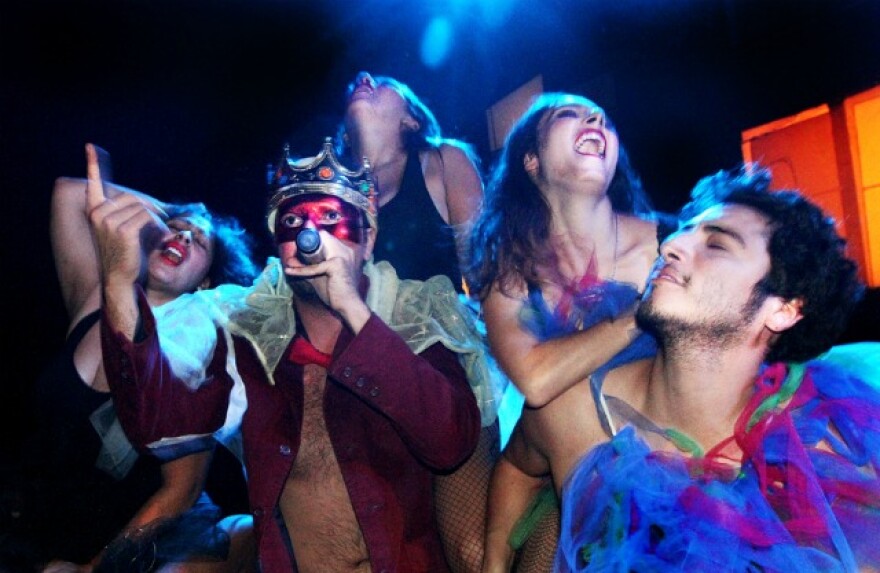 Support your source for local news!
The local news you read here every day is crafted for you, but right now, we need your help to keep it going. In these uncertain times, your support is even more important. Today, put a dollar value on the trustworthy reporting you rely on all year long. We can't hold those in power accountable and uplift voices from the community without your partnership.
Based on the true stories of Downtown residents, the slightly seedy and deeply hilarious gentrification fable "The Vault: (Unlocked)" is currently playing at Los Angeles Theatre Center (LATC). Vault Ensemble pokes fun at the hipster colonization of Downtown Los Angeles, bundling social commentary on redevelopment and loss of urban culture into an edgy farce with musical influences. The work is clever, stylish, dark, and so funny that the audience is frequently overcome by tears, coughs, and strained belly muscles through intense laughter.
The ensemble cast has excellent comedic timing and unpretentious sensibilities that culminate into rich vignettes that link to tell a twisted, raunchy, crass and Angeleno-centric good versus evil story. The non-cliché humor and quirky script are delivered by capable performers who act, sing, beat box, and occasionally employ choreographed gestures. All of the Vault cast members -- Brenda Banda, Stephen Buchanan, Aaron Garcia, Sam Golzari, Fidel Gomez, Esperanza America Ibarra, Theodore Lange IV, Jasmine Orpilla, and Vicki Syal -- are equally talented and comically brilliant. Banda, Gomez, and Golzari handle the dramatic slant well, affectionately crafting multifaceted characters. Ibarra and Lange are riotously funny.
Under the direction of Garcia and Gomez, "The Vault: (Unlocked)" is fluid, atmospheric, artful, and well-executed. The audience is constantly entertained by the fresh, high-energy, home-grown production style. Costume design by Yoshino Miyazato is simple, modern and whimsical. Francois Pierre-Couture's set and lighting design is sharp and shadowy. It is by far the funniest show this reviewer has seen this year.
"The Vault: (Unlocked)" is playing through October 8, 2011 at Los Angeles Theatre Center. Tickets are $10 to $20 and available online
Donald Trump was a fading TV presence when the WGA strike put a dent in network schedules.

Pickets are being held outside at movie and TV studios across the city

For some critics, this feels less like a momentous departure and more like a footnote.

Disneyland's famous "Fantasmic!" show came to a sudden end when its 45-foot animatronic dragon — Maleficent — burst into flames.

Leads Ali Wong and Steven Yeun issue a joint statement along with show creator Lee Sung Jin.

Every two years, Desert X presents site-specific outdoor installations throughout the Coachella Valley. Two Los Angeles artists have new work on display.