Soundcheck: The Airborne Toxic Event @ KCRW's 'Morning Becomes Eclectic' & Fingerprints Records, 8/5/08
Stories like these are only possible with your help!
You have the power to keep local news strong for the coming months. Your financial support today keeps our reporters ready to meet the needs of our city. Thank you for investing in your community.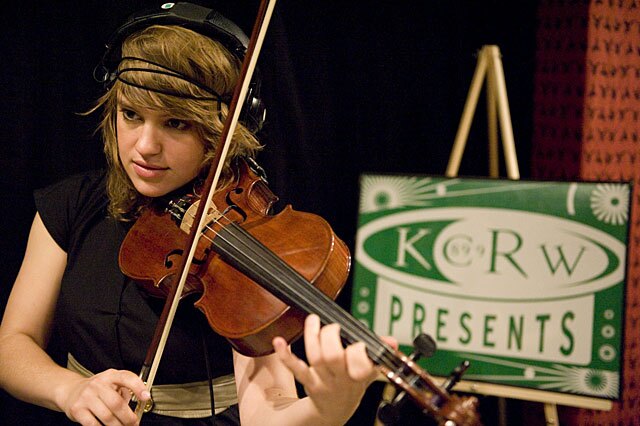 Part of an ongoing series.
Note: Read Mouse from Classical Geek Theatre's July tour blog with The Airborne Toxic Event.
---
On Tuesday, local band The Airborne Toxic Event (MySpace) performed at The Village Recording Studios in West LA as part of a featured live performance and interview on KCRW's Morning Becomes Eclectic, and Fingerprints Records in Long Beach for a private party celebrating the release of their debut album, which is already ranked tenth in the Top Rock Albums list on iTunes.
On Morning Becomes Eclectic, they were joined by The Calder Quartet (MySpace), whose lineup includes violist/keyboardist Anna Bulbrook's brother Andrew.
For a group that was formed less than two years ago, The Airborne Toxic Event's rise to stardom can be best described as "meteoric," starting with a mention in Kevin Bronson's Buzz Bands Blog on February 2007, the now-legendary Spaceland residency in January 2008, signing with Majordomo Records in April, and perfomances on Last Call With Carson Daly and Late Night With Conan O'Brien (the latter of which was last Friday).
Tonight, they headline a sold-out show at The El Rey Theatre (MySpace), with openers Radars To The Sky (MySpace) and Bay Area-based The Morning Benders (MySpace). Their next local show will be on September 16th at The Wiltern, opening for The Fratellis (MySpace).
Special thanks (especially) to The Airborne Toxic Event, The Calder Quartet, KCRW, The Village Recording Studios, and Fingerprints Records.