Sunday Book Review: Blue Eggs and Yellow Tomatoes by Jeanne Kelley
LAist relies on your reader support.
Your tax-deductible gift today powers our reporters and keeps us independent. We rely on you, our reader, not paywalls to stay funded because we believe important news and information should be freely accessible to all.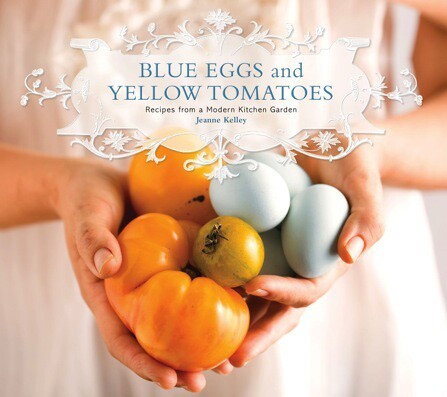 LA-based food writer Jeanne Kelley knows her way around a recipe (she develops them for Bon Appétit) and knows how to present food in its most glorious state (she's a food stylist) - so it should be no surprise that her just-out cookbook, Blue Eggs and Yellow Tomatoes: Recipes from a Modern Kitchen Garden, perfectly combines these talents.
The book is beautiful with its stunning photography, subtly patterened backgrounds and thick, matte pages. It is so nice, in fact, that you'll be tempted to treat it as a coffee-table art book, protecting it from your messy kitchen spills. Such high-end design denotes a certain level of sophistication that we often associate with fussy books, complicated recipes, and high-fallutin chef-speak (Gordon Ramsey, we are looking at you). It was a refreshing surprise, then, to find that despite the lovely book design, her recipes are practical and delicious.
Kelley's food philosophy centers around fresh, organic, local dishes with ingredients that she finds at local farmer's markets or, better yet, plucks from her own urban garden in Eagle Rock. She's got a pygmy goat, a flourishing chicken coop, fruit trees and a plot of land in the community garden for rows of vegetables. Her recipes reflect this simple approach, where minimal prep ensures that the quality of the ingredients shines.