This is an archival story that predates current editorial management.
This archival content was written, edited, and published prior to LAist's acquisition by its current owner, Southern California Public Radio ("SCPR"). Content, such as language choice and subject matter, in archival articles therefore may not align with SCPR's current editorial standards. To learn more about those standards and why we make this distinction, please click here.
Sunday Book Review: Blue Eggs and Yellow Tomatoes by Jeanne Kelley
Stories like these are only possible with your help!
You have the power to keep local news strong for the coming months. Your financial support today keeps our reporters ready to meet the needs of our city. Thank you for investing in your community.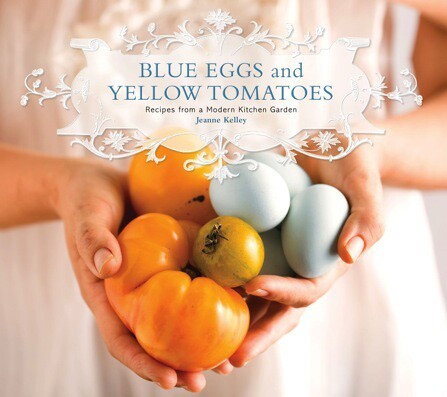 LA-based food writer Jeanne Kelley knows her way around a recipe (she develops them for Bon Appétit) and knows how to present food in its most glorious state (she's a food stylist) - so it should be no surprise that her just-out cookbook, Blue Eggs and Yellow Tomatoes: Recipes from a Modern Kitchen Garden, perfectly combines these talents.
The book is beautiful with its stunning photography, subtly patterened backgrounds and thick, matte pages. It is so nice, in fact, that you'll be tempted to treat it as a coffee-table art book, protecting it from your messy kitchen spills. Such high-end design denotes a certain level of sophistication that we often associate with fussy books, complicated recipes, and high-fallutin chef-speak (Gordon Ramsey, we are looking at you). It was a refreshing surprise, then, to find that despite the lovely book design, her recipes are practical and delicious.
Kelley's food philosophy centers around fresh, organic, local dishes with ingredients that she finds at local farmer's markets or, better yet, plucks from her own urban garden in Eagle Rock. She's got a pygmy goat, a flourishing chicken coop, fruit trees and a plot of land in the community garden for rows of vegetables. Her recipes reflect this simple approach, where minimal prep ensures that the quality of the ingredients shines.
Our favorite recipes include: Black Beans with Orange and Chipotle, Whole Grain Tartines with Ricotta, Walnuts, Cherries, Honey and Mint and the Sopa de Limon (an outstanding chicken and lime soup with garlic, avocado, tomato, chiles, onions and cilantro that is excellent for entertaining guests). Kelley has also included several unique drink recipes and a great guide at the front of the book that provides step-by-step instructions on setting up your own urban kitchen garden.
Kelley's book is a welcome antidote to the preachy "go green" cookbooks and the snobby "look what I can do with very expensive ingredients" cookbooks. Her recipes are easy to follow, her descriptions are personal, and her easy-going food philosophy permeates every page. This is our new favorite cookbook and we plan to work our way thorugh it one dish at a time.
Kelley will run a cooking demonstration & will sign Blue Eggs and Yellow Tomatoes this coming Wedesday, July 23rd, at Vroman's at 7pm. You can follow her cooking adventures at her Eat Fresh blog.