This is an archival story that predates current editorial management.
This archival content was written, edited, and published prior to LAist's acquisition by its current owner, Southern California Public Radio ("SCPR"). Content, such as language choice and subject matter, in archival articles therefore may not align with SCPR's current editorial standards. To learn more about those standards and why we make this distinction, please click here.
The Wildest Stories Behind L.A.'s Haunted Hayride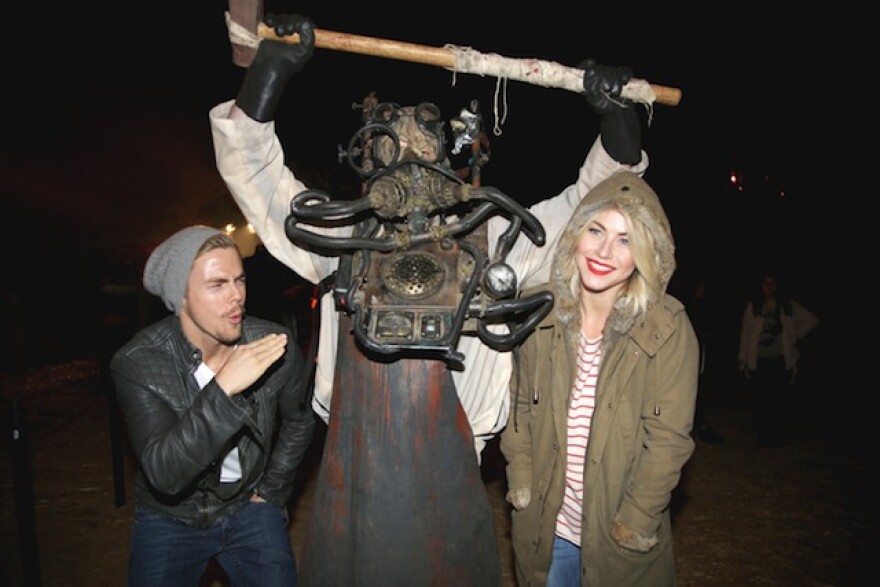 Support your source for local news!
The local news you read here every day is crafted for you, but right now, we need your help to keep it going. In these uncertain times, your support is even more important. Today, put a dollar value on the trustworthy reporting you rely on all year long. We can't hold those in power accountable and uplift voices from the community without your partnership. Thank you.
Los Angeles is crawling with haunted attractions this time of year, from mazes to escape rooms to highly-produced immersive experiences with so many legal waivers that it's sometimes unclear whether you'll make it out alive. But back when Melissa Carbone launched the Los Angeles Haunted Hayride along the eastern trails of Griffith Park in 2009, there was nothing else like it in the city — and visiting an attraction of that scale typically required making the trek to a nearby theme park. When the former Clear Channel executive pitched her company, Ten Thirty One Productions, on Shark Tank four years later, she scored a $2 million investment from Mark Cuban, making it the largest investment ever made on the TV show at the time. Today, the production company operates a Haunted Hayride in New York, a Ghost Ship in Orange County, and a Great Horror Campout in L.A.'s Elysian Park. But there were plenty of horrifying ups and downs in between, as chronicled in Carbone's new memoir, Ready, Fire, Aim: How I turned a Hobby Into an Empire, which reads a bit like a business self-help book for entrepreneurs in the making. We scoured its pages to bring you the most fascinating behind-the-scenes stories about the Los Angeles Hayride.
The Attraction Was Inspired by the Haunted Hayrides of Carbone's Childhood
Having grown up in small-town Connecticut, Carbone remembers waiting in line for hours every Halloween season to ride haunted hayrides at local farms. But when she moved to California as an adult, she was disappointed to discover that haunted hayrides simply didn't exist here. She later used the state's lack of haunted hayrides to her advantage by cornering the market and starting what she claims was the first such attraction in California. As part of her research, she studied hayrides in upstate New York, Connecticut, Oregon, Maine, and Pennsylvania. She was most impressed by the The Bates Motel & Haunted Hayride, a long-running attraction in Glen Mills, Pennsylvania, and reached out to the owner, Randy Bates, who later became her mentor.
There's An Annual Trade Show for Halloween Attractions, and It's Totally Male-Dominated
If you're going to start a haunted attraction, you better get to know your competition. That's what Carbone intended to do when she flew to St. Louis to attend what she dubbed "the Disneyland of Halloween horror shows" with Bates in March 2009, shortly before she launched the Haunted Hayride. (She never names it in the book, but the trade show appears to be Transworld's Halloween & Attractions Show, which bills itself as the largest industry trade show of its kind.) But despite the massive scale of the convention, Carbone was disheartened that she met just one other female attraction owner there that year. Meanwhile, she felt dismissed by all the male haunted attraction owners who she recalls asked her condescending questions about her business-to-be.
Securing Permits in Griffith Park Was a Complete Nightmare, Thanks to L.A. Bureaucrats
Finding a location for the Haunted Hayride wasn't easy, particularly because there's not a surplus of heavily wooded areas within the city limits — a fact that Carbone alleges park officials were eager to exploit when it came to negotiating permits and pricing. Negotiations with the unnamed "mountain conservancy" Carbone refers to in her book took almost six months, and Carbone wrote that the woman in charge of granting permits "was almost finding entertainment or joy in holding the power to squash our dreams."
Carbone's Attraction After Haunted Hayride Failed So Badly That She Got Death Threats
In October 2011, Ten Thirty One Productions launched its second attraction and brand, Ghost Ship, a nautical-themed haunt that took place in Orange County during the same timeframe as Haunted Hayride. Unlike the flagship attraction, this one was catered to the wealthy, middle-aged crowd in Orange County, so much so that it was basically themed around "booze cruising," as Carbonne put it. There was just one problem. It was marketed to an entirely different demographic: hardcore horror fans, many of them teens and 20-somethings who were already hooked on Haunted Hayride and had made the drive up from L.A. They didn't take too well with the booze cruise theme, to put it lightly, and loads of negative press and social media comments ensued. One commenter went so far as to ask for Carbone's home address, which then escalated to death threats against her.
Carbone Was "Critically Suicidal" When She Appeared on Shark Tank
When Mark Cuban offered Carbone $2 million in exchanged for a 10 percent stake in her company in 2013, it marked what was then the largest deal ever made on Shark Tank. Carbone should've been elated, but behind the scenes, she was quietly suffering. Her decade-long relationship with her then partner had ended about four months before the show taped, and Carbone had started "drinking way too much" and taking prescription drugs as a result. Sitting in the green room of Shark Tank shortly before it was her turn to pitch her to business to the investors, Carbone had what she believes was a panic attack. Just months earlier, she'd launched the first Great Horror Campout in Los Angeles, but her own personal trauma voided any memory of it.
The "Congregation" Theme for The Haunted Hayride Came to Carbone in a Vision
In 2012, the Haunted Hayride introduced a new theme, which, fittingly for Los Angeles, explored the power and influence of cults. Dubbed "The Congregation," the idea for the concept — which was choreographed to a custom soundscape — came to Carbone as a horrifying vision one night: "I had a vision of forty red-robed demons being subjugated by a horned devil priest who was also regally robed," she wrote in her book. Her goal? To match the movements of the 25-foot-tall priest and his glowing congregation with a musical score that culminated in a catchy Satanic chant.
A Stunt in the 2014 Haunted Hayride Required Training From Australian Acrobats
If you've seen Mad Max: Fury Road, then you've likely seen "sway poling," in action. The acrobatic stunt featured in the 2015 action film, as its name suggests, involves swaying back and forth on a rubberlike beam, which looks a little like a swinging pendulum. But before the movie was released, sway poling was virtually unheard of in the United States. That's according to Carbone, who claims she had to import stunt polers from Australia in 2014 because there were so few American acrobats who knew how to do it. The Australian troupe spent several weeks training a domestic group of acrobats, who then performed it during the Haunted Hayride that year, costumed as crows diving into a cornfield. It was terrifying and spectacular.
The Entire Ride is Built Out of Repurposed and Reused Materials
Let's face it: from costumes to decorations, Halloween is incredibly wasteful. But it doesn't have to be. To help make Haunted Hayride more environmentally sound, Carbone consulted what she called "a green coach" in its first year to create recycling goals and a zero-waste initiative. The attraction is now made entirely out of reused and repurposed materials from a combination of thrift stores, yard sales, and Hollywood production houses that donate sets and props from TV and film shoots. On top of that, there might be plenty of blood and guts throughout the Haunted Hayride, but you won't find any animal products served at the concession stands, which are all-vegan in the interest of reducing the attraction's carbon footprint.
The Haunted Hayride attraction's last night is on Halloween (Tuesday, October 31). Tickets are still available here and start at $44. If you miss the Haunted Hayride, check Ten Thirty One Productions' website for other events that they produce.
Donald Trump was a fading TV presence when the WGA strike put a dent in network schedules.

Pickets are being held outside at movie and TV studios across the city

For some critics, this feels less like a momentous departure and more like a footnote.

Disneyland's famous "Fantasmic!" show came to a sudden end when its 45-foot animatronic dragon — Maleficent — burst into flames.

Leads Ali Wong and Steven Yeun issue a joint statement along with show creator Lee Sung Jin.

Every two years, Desert X presents site-specific outdoor installations throughout the Coachella Valley. Two Los Angeles artists have new work on display.