LAist relies on your reader support, not paywalls.
Freely accessible local news is vital. Please power our reporters and help keep us independent with a donation today.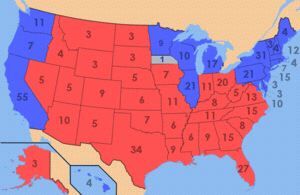 Is it harder to find true love if you're in a blue state of mind? Briefly in LA from the New York Actor's Theatre Workshop, five one-acts by playwright Benjamin Kessler about love, sex, and politics among young liberals make up the short play BLUE STATES. Brothers and sisters, former roommates, and future lovers get drunk, get angry, and avoid genuine connection. People regret their own celebrity. And everyone tries to get laid via the magic of online dating.
Two stories in, the emotions and the cramped blocking open up when Alison (a very watchable Katie Lowes) and Luke (DeVon Jackson) almost connect over a missed date. When Alison's real date Todd arrives, and she abruptly ditches Luke, Kessler's point about lost connection is both funny and poignant.
The second act vignettes deal with a regretted abortion and an impulsive hookup between a star reporter and a hustler. Kessler's work deals explicitly with the issues coming between and around young heartbroken Americans today. By the end, the blue heart is beating - or bleeding - very loudly. His writing, although sometimes stilted, is relentless in its contemporary references. Being liberal's not the walk in the park it used to be.
BLUE STATES performs at the Ruby Theatre at the Complex, 6476 Santa Monica Blvd, tonight and tomorrow only. Tickets $10: 516.480.3357 or bluestates@gmail.com. Directed by Michael Melamedoff. Friday, July 21 at 8 pm and Saturday, July 22 at 7:30 and 10 pm.