An Artsy Afternoon @ Hammer Museum
Stories like these are only possible with your help!
Your donation today keeps LAist independent, ready to meet the needs of our city, and paywall free. Thank you for your partnership, we can't do this without you.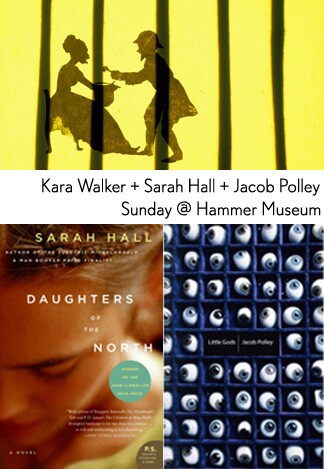 Tired of beach-going so early in the season and looking for a more cerebral way to enjoy the weekend in, say, air-conditioning? You're in luck. The Hammer Museum is the place to be on Sunday afternoon. The much-lauded Kara Walker exhibition, My Complement, My Enemy, My Oppressor, My Love, ends on Sunday and by all accounts, it's a show you don't want to miss. Doors open at 11am giving you plenty of time for a leisurely Sunday morning of coffee and perfectly flaky pastries at Amandine before making your way up Wilshire to the show.
Once your visual senses have been sated, head to the Sarah Hall & Jacob Polley reading @ 3pm for the auditory treat that is Hammer's New American Writing series. Hall's previous novel, The Electric Michaelangelo, was a Man Booker finalist and her latest novel, Daughters of the North, won the John Llewellyn Rhys Prize for its stunning depiction of a future dystopia that is frightening and yet oh so possible. Jacob Polley's poetry collections The Brink and Little Gods are gorgeous and intense and if you're lucky, he may read from his much-anticipated forthcoming first novel, Talk of the Town.
There are many ways to spend a Sunday in LA and this one tops our list as one of the best triple-treats this weekend.