Rock the Bells Lineup Announced: Lauryn Hill, Cypress Hill, Nas, Black Star to Perform Full Album Sets
Stories like these are only possible with your help!
Your donation today keeps LAist independent, ready to meet the needs of our city, and paywall free. Thank you for your partnership, we can't do this without you.
The lineup for the summer's top hip-hop festival tour was announced last night at House of Blues. Rock the Bells visits the San Manuel Amphitheater in San Bernardino (you know - the one formerly known as the Glen Helen Pavilion, Hyundai Pavilion, and the Blockbuster Pavilion) August 20.
Hosted by The RZA and Murs 3:16, this year's tour will also featured yet-to-be announced club appearances by affiliated acts on days surrounding the festival shows (likely House of Blues Sunset and Anaheim in the L.A. area). Among the expected highlights this year are performances of some classic hip hop albums from the 90's including "The Miseducation of Lauryn Hill" (1998), "Illmatic" (1994) by Nas (w/ special guests AZ, Peter Rock, and DJ Premier), "Black Sunday" (1993) by Cypress Hill, Mobb Deep's "The Infamous," (1995) and Mos Def and Talib Kweli are "Black Star" (1998).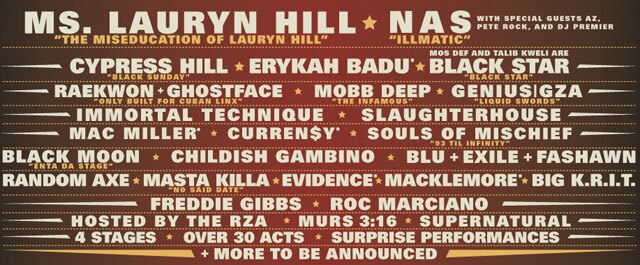 Ms. Lauryn Hill, Nas, Cypress Hill, Erykah Bady, Black Star, Raekwon, and Immortal Technique are among those announced to perform at Rock the Bells this summer
Tickets go on sale June 4. RocktheBells.net for more info.