This is an archival story that predates current editorial management.
This archival content was written, edited, and published prior to LAist's acquisition by its current owner, Southern California Public Radio ("SCPR"). Content, such as language choice and subject matter, in archival articles therefore may not align with SCPR's current editorial standards. To learn more about those standards and why we make this distinction, please click here.
Prisoner of the Pit: Rock the Bells Recap from the Frontline
Before you read more...
Dear reader, we're asking you to help us keep local news available for all. Your financial support keeps our stories free to read, instead of hidden behind paywalls. We believe when reliable local reporting is widely available, the entire community benefits. Thank you for investing in your neighborhood.
What would you do to see a newly reunited Rage Against the Machine playing on the same stage and day as Wu-Tang Clan, Cypress Hill, Public Enemy, The Roots, Nas and Talib Kweli? If you said: Drive over an hour, stand in a line for 80 minutes in the 99 degree sun, avoid a restroom for nine hours, sit in possibly the worst parking lot traffic the Western Hemisphere has ever seen and inhale pepper spray, then you should have been a part of Rock the Bells on Saturday at the Hyundai Pavilion in Devore.
If you were there, like we were (see LAist's killer photo set here), you were handsomely rewarded for overcoming all of these challenges with a killer performance from Zack, Tom, Tim and Brad along and the rest of the Rock the Bells lineup.
Originally scheduled to be held at National Orange Show Pavilion in San Bernardino, the show was moved to Devore to accommodate the crowd of more than 50,000 who paid $75 for a general admission ticket. Unfortunately, the Hyundai Pavilion is not a general admission venue. It has a pit, lodge seating and a lawn. If you look at the schedule of upcoming shows at the venue, you'd notice that all shows sell tickets in different price ranges for the different areas of the venue.
As a result, anyone who walked through the gates on Saturday was entitled to any spot they were able to grab, with exception to the two rows of VIP boxes which were held mostly by middle-aged white guys and their trophy wives. We claimed a spot in the pit at 2 p.m. and stayed there for the entire show, which concluded at 11:30 p.m. Nine plus hours without a trip to the bathroom or concessions stands, because security told us our chances were not very good for getting back into the pit once we left. Relieving yourself would knock you out of the pit and on to the lawn.
This would have been a significant downgrade, in the words of one lawn dweller on the comments of the OC Register's recap of the show,
I was was one of the thousands of people that paid 76 dollars, for a lawn admission and felt ripped off, and couldnt tell who on stage was rapping or singing.
For those of us who could see who was rapping and singing we were treated with a lineup of legends who, for the most part did not disappoint.
The first act we caught was the veteran duo of EPMD who took the stage at 1:40 p.m. This wasn't our plan, we were actually hoping to catch Pharoahe Monchat 1 p.m. but those plans were 86ed when we were forced to endure a line that wrapped around a parking lot that lacked trees and attendees.
An hour and 20 minutes later, we were at the head of the line. While we were expecting LAX type security at the gate, we were instead treated to lax security at the gate. According to the Rock the Bells website, digital cameras were not permitted in the venue. Since we were expecting tough security, we played along by their rules and bought the best disposable cameras we could find. Had we listened to Rage's mantra, "Fuck you, I won't do what you tell me," we might have been able to bring our digital cameras, because security did not check our pockets, pat us down or swipe us with a metal detector wand. They did however make sure we threw out our empty 20 ounce bottle of water which was on the permitted items list.
Once inside, we made our way to a concession stand and bought bottles of water. Standing under the sweltering sun of San Bernardino County for more than an hour makes you a tad bit thirsty. After hydrating, we made our way for the pit, not knowing that we would not be leaving this area for the rest of the day.
Following EPMD, we were treated to excellent crowd work by human beatbox God, Rahzel and freestyle emcee extraordinaire Supernatural. The two made their way to the stage throughout the day serving as hosts of the festival. With each trip to the stage the duo brought out a few bottles of water that were thrown into the crowd who were chanting "We want water!" Water vendors did not come through the pit as frequently as they should have, causing many fans to be carried out from dehydration.
Right on schedule, Talib Kweli hit the stage with an inspired performance. Talib did not disappoint performing all of his singles including the crowd favorite, "Get By." Kweli, who now has his own label Blacksmith, through Warner Music, brought on to stage one of his first signed acts, LA's Strong Arm Steady. A portion of the crowd, however were looking for another collaboration on stage, chanting "We want Blackstar!" in hopes that Mos Def would join Talib Kweli for his set. Eventually the two would join forces at the conclusion of Mos' set where the duo teamed up and performed a few tracks including their banging single, "Definition."
LA's own Murs pinch hit for Nas who did not show up for his set. As a member of both Living Legends and Felt, two acts performing on the Paid Dues stage, Murs was now asked to put in triple duty. Fortunately, he came through in the clutch, entertaining the crowd with music and off the cuff banter with the audience including lines like, "I just got called up the majors!" and "I am over on the B-Team stage where all of us broke ass rappers are."
The Paid Dues stage, or the B-Team stage as Murs called it, did offer a long list of some of underground hip-hop's biggest names including Sage Francis, Brother Ali, MF Doom, and The Coup. Unfortunately, as a prisoner to the pit, I was not able to see any of them.

Flavor Flav's Drum Solo (by incubus118)
Flavor Flav lived up the self-proclaimed title of "Greatest Hype Man of All-Time" providing entertaining antics to compliment Chuck D's powerful delivery during Public Enemy's set. PE, who was accompanied by an air-tight band, Anthrax's Scott Ian who played guitar during "Bring the Noise" and their military style back up dancers, put on a memorable show. Their show concluded with Flavor rocking a drum solo and then these closing words:
"Yo we gotta stop the war, we need peace in the world so hold up your peace signs. Also, Comedy Central will be re-airing 'The Roast of Flavor Flav' and yes, I will be doing 'Flavor of Love 3!"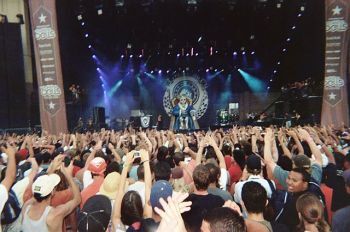 The Roots had the tough task of following Flavor and Chuck. Questlove, Black Thought and company delivered with an excellent set. As mentioned earlier, Nas no-showed his own set but did join his labelmates during their set for two songs, "Hip Hop is Dead" and "Made You Look." Hearing Nas rap over Questo's drums was one of the highlights of the night.
With the sun just about setting on the sold out crowd, local favorites Cypress Hill, took to the stage. B-Real and Sen Dog, alongside percussionist Bobo, a DJ not named DJ Muggs and a giant inflatable skeleton put together the second best set of the night. We were thoroughly blown away by the kids from the Hill who had the crowd jumping, bouncing and of course blazing up. The uptempo, rowdy sound of "How I Could Just Kill a Man" gave us our first mosh pit of the night and "Rock Superstar" got the crowd amped for the night's double headliners.
Prior to entering the 36 chambers of Wu-Tang, the crowd got into some kung-fu fighting of their own...with the event staff. The lawn was set a blaze and fans were doing their best to upgrade their seating situation. Security however, would not allow those on the lawn to head into areas where they might actually be able to see the bands they eagerly anticipated. To combat the rush from the crowd, pepper spray was unleashed. Prior to Saturday, I could truthfully say I had never seen Rage Against the Machine and never inhaled pepper spray, now I can say I've experienced both.

One of the many fires set at Rock the Bells (by NormlOne)
Possibly the only thing impressive about Wu-Tang's set was the amount of people the stage was able to hold. Along with all eight members of the Clan plus Cappadonna, whose status in Wu-Tang has never been thoroughly explained, there were also about 100 other people on stage including members of System of a Down and a return cameo appearance by Flavor Flav. Along with the clusterfuck on stage, the Wu's performance was also marred by awful sound. Mics weren't loud enough or not on at all, causing members to swap microphones prior to spitting their verses. Method Man put on a one-man high energy show, stage diving numerous times and other various antics that distracted fans from an otherwise lackluster performance from the rest of the Clan. As a Wu fan since day one, this was disappointing but not surprising.
Minutes away from Rage's headlining set, more hell broke out in the venue. The mellow tunes of Bob Marley playing over the house speakers during the wait could not stop the havoc that ensued in the crowd. Fires on both ends of the lawn lit up the sky while fans attempted once again, to break down barriers to get a better view. Some were able to break free and enter the pit, while others were trampled and shot with pepper spray.
Then, the lights went out and those of us whose eyes weren't burning from the pepper spray were able to see Rage Against the Machine were on stage.
Zack de la Rocha, clad in an afro and maroon button down shirt, absolutely commanded the crowd. The energy in Zack's voice combined with Tom Morello's electric guitar greatness lived up to all the hype. Rage still puts on a show like nobody else. From the start with "Guerilla Radio" through "Bulls on Parade" and into their closer "Killing in the Name of," the intensity and urgency in their words and their music made for a non-stop adrenaline filled ride.

Rage Against the Machine, "Sleep Now in the Fire" (by Rosita311)

Fire Dance During Rage Against the Machine (by emony1)
Of course, the show didn't go off without Zack saying a few choice words about the current administration and the war. He also saluted the young people of America for questioning the government, saying "This generation has the potential to be the greatest generation that ever lived!"
With the current state of the world and the lack of rust from this foursome, you've got to wonder why we can't see more Rage Against the Machine. Someone, please, get these guys in the studio immediately.
There have been zero albums from Rage since 2000 and there were zero traffic attendants in the parking lot following the show. As a result, there might still be some people trying to get their cars out of that lot as we speak. While it took us about an hour and a half to get out, I've heard it took others up to three hours to escape the Battle, and it certainly was a Battle for San Bernardino.
Rage photos by Anziano311 with permission (Thanks!). All other photos by Tim Hammer on a Kodak disposable camera.