This is an archival story that predates current editorial management.
This archival content was written, edited, and published prior to LAist's acquisition by its current owner, Southern California Public Radio ("SCPR"). Content, such as language choice and subject matter, in archival articles therefore may not align with SCPR's current editorial standards. To learn more about those standards and why we make this distinction, please click here.
Rock The Bells @ Hyundai Pavilion, 8/11/07
Before you read more...
Dear reader, we're asking you to help us keep local news available for all. Your financial support keeps our stories free to read, instead of hidden behind paywalls. We believe when reliable local reporting is widely available, the entire community benefits. Thank you for investing in your neighborhood.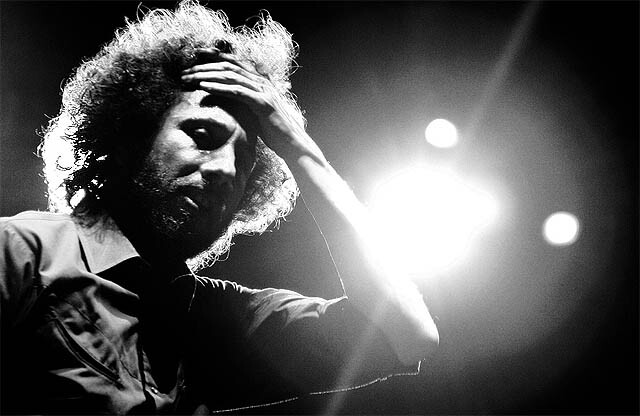 Large crowds, temps close to 100 degrees and pepper spray in the air. Ahh yes, just another night in San Bernardino. The premiere hip hop (+ one Rage Against the Machine) festival Rock The Bells rolled through the 909 this past weekend and what was billed as a celebration of respect and unity turned into a bit of a mob scene.
There was something for every hip hop fan on the bill. Your backpackers got the Roots and a whole stage of independent and upcoming MC's, including LA's own MURS who did rock the main stage with an impromptu set. Your conscientious hip-hop fan got Mos Def and Talib Kweli who combined to perform as the outstanding Blackstar. For your more hardcore fan you got Wu-Tang and for your nostalgic fan there were Cypress Hill and Public Enemy.
Then you had this little group called Rage Against the Machine...
The Roots were one of the standouts. The legendary crew put on a great show with a great set list of both old new and covers. They are one of the most versatile acts, not just hip-hop but period, out today. Boasting a full brass section, a tuba player, the amazing Captain Kirk on guitar, the iconic ?uestlove on drums and the most underrated emcee in the game Black Thought, the Roots tore through their set of classics like "You Got Me" and "Proceed" to new hits like "Here I Come." They were even joined by Nas, who did not show for his own set earlier in the day, on two of his own tracks. I was worried about the Roots set, I have seen the 7 times now and their most recent set at Coachella was a let down for me but this performance reaffirmed my stance on the power and ingenuity of their live set.

>
As I mentioned, there was one moment when the scene looked as if it were going to turn ugly. As we waited to enter the photo pit for Wu-Tang a rush of people ran out of the venue, followed by more all covering their mouth and nose with their shirts, some being carried out and at least one throwing up. We were unsure what the hell was going on but soon the stinging and burning of my eyes and throat made it apparent that pepper spray had been used on part of the crowd to control the fans moving forward to get closer for Rage and Wu-Tang.

If I had to make a rough estimate I would say that 75% of the crowd was at the show for Rage. There was a sense in the air that the place would explode for them and when the opening of "Bulls on Parade" the place nearly did. I have not been shooting/reviewing shows for that long but I can say that shooting this band, and the anticipation and build-up to it, was one of the highlights of my young career. Security was tight as expected so safety was not necessarily a concern in the photo pit but there was a sense that something could happen.

After seeing them at Coachella and now this past weekend, Rage has proven that they are not only a relevant voice but also a necessary one in today's musical landscape. The time of artists speaking their minds and using their platform has passed; now it's all about record sales and contracts. As it stands, the band is only together for this last year but as the current state of our world evolves and changes, this band can once again speak to a generation and prove their relevance again.
All photos by Joey Maloney. Check out the rest of the pics over at the photoset