'Richard Wakes Up' for 70 Minutes in West Hollywood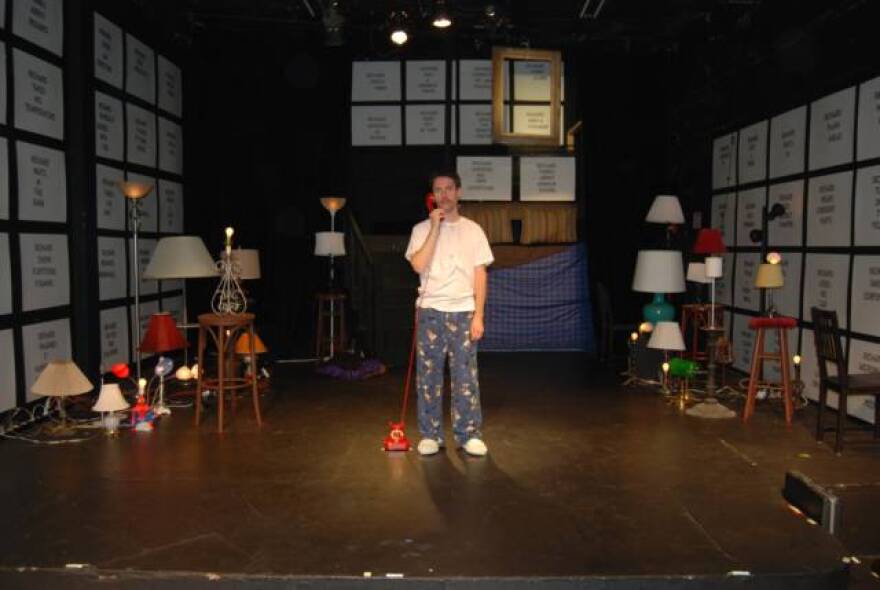 Time is running out to keep LAist funded.
It's the FINAL DAY of our June Member Drive and we are behind on our goal to keep local news strong for the coming months. Your support today keeps our reporters ready to meet the needs of our city. Plus, your gift's impact will be twice as strong because it will be matched dollar for dollar!
Richard does a lot of nothing. Richard does so much of nothing that the walls of West Hollywood's Lee Strasberg Theatre are covered with almost 100 stenciled placards detailing all the nothing Richard does, including "Richard Chases A Tennis Ball," "Richard Says He Doesn't Know," "Richard Selects Light Mayo," "Richard Does Some Mental Math" and, of course, "Richard Wakes Up."
At the beginning of this surrealish comedy, Richard is awakened in the middle of the night by a mysterious phone call from two unknown women who make him an offer he can't accept: to trade in the life of indolence, indecision and inertia he's always known and sit out the rest of his up-to-83-years'-worth-of days in an underground apartment complex enjoying pampered luxury at all times, free of charge. Richard hangs up in a panic and desperately sets out to make something worthwhile of his worldly existence while he still can. But he can't.
"Richard Wakes Up" is the story of a man whose boldest decision in life has been to grow a moustache. Unfortunately, for all the bizarre characters he meets during his frenetic flight from the reality of his motionless existence, the play never gets any more interesting than that first phone call.
"Richard Wakes Up" at 8 p.m tonight through Sunday. Tickets $16.52 at brownpapertickets.com, $10.50 on goldstar.