Philip Baker Hall Stars In Powerful Revival of 'I Never Sang For My Father'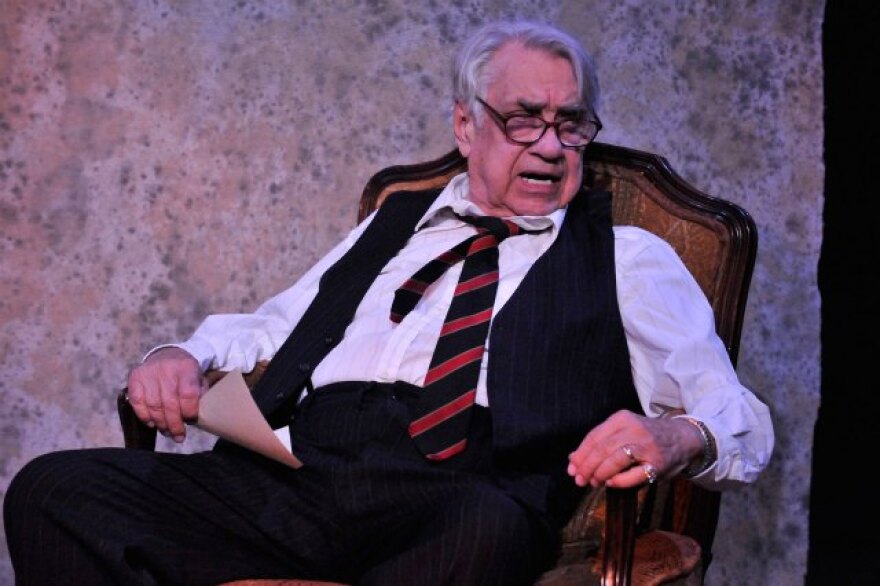 LAist relies on your reader support, not paywalls.
Freely accessible local news is vital. Please power our reporters and help keep us independent with a donation today during our fall member drive.
Thomas Wolfe famously opined that "you can't go home again," and that's true as far as it goes, but what if one never truly had a home in the first place? Where does one attempt to return to then? Robert Anderson's 1968 play I Never Sang For My Father tackles this sad issue head-on in its look at an adult man trying to find the love he never got from his elderly father, and its core truth that not everything can be fixed is so universal that time hasn't dimmed its emotional impact. The current production by the New American Theatre is excellent all around, but is made a must-see by Philip Baker Hall's magnificent lead performance.
When young teacher Gene's (John Sloan) elderly parents return home from their annual winter in Florida, he's concerned about their health. His mother Margaret (Anne Gee Byrd) is having heart problems, and his father Tom (Philip Baker Hall) is showing signs of dementia. Whereas Margaret tries to deal with her situation responsibly, Tom refuses to acknowledge his aging seriously, still expecting deference and obedience from his family. A tragedy unexpectedly brings both the return of Gene's long-ago banished sister Alice (Dee Ann Newkirk) and the beginnings of a closer relationship between Gene and Tom, but they all learn to their sorrow that some wounded relationships can never be fully healed.
Hall is masterful as Tom, his portrayal so nuanced and believable it could be used as a primer for great acting. Tom is a once powerful man who knows he's slipping, and Hall nails those moments when Tom is boasting or being domineering only to abruptly realize he's forgotten what he's talking about or he's diverted into a wholly unrelated memory. Most heartbreaking are the moments when Hall makes it clear that Tom loves and needs his son Gene, and wants to connect, but ultimately can't get past his own ego to do so. This is the finest performance of the year so far.
Sloan has the difficult role of someone who is largely acted upon instead of initiating, but he makes it work very well by showing the cost of Gene's passivity, a slow burn of growing frustration and repressed emotion that explodes with shocking power at the play's conclusion. Byrd is lovely as the considerate Margaret, and Newkirk brings notable intensity as the rightfully bitter Alice.
Cameron Watson's direction is seamless, each scene moving closer to inevitable conflict, and his pacing is swift—this show never drags at all. Anderson's play is just as potent now as it was forty years ago, not just because most people can identify with caring for older parents, but also because everybody knows someone like Tom, whether it's their father or another relative. As a result, the feelings of concern and sympathy coming from the audience are palpable: this play strikes a chord that still resonates. As a story, Father is tragic, but as a play, this production is a triumph.
I Never Sang For My Father runs through May 22 at the McCadden Place Theatre
Tickets $25 via (310) 701-0788 or www.NewAmericanTheatre.com