Pets of The Week: Phoenix & Flint
LAist relies on your reader support.
Your tax-deductible gift today powers our reporters and keeps us independent. We rely on you, our reader, not paywalls to stay funded because we believe important news and information should be freely accessible to all.
Sweet tabby girl Phoenix will be 1-year-old in three weeks and wants only one thing for her birthday: a home of her very own! She came to Heaven on Earth Society for Animals when she was just a few weeks old, along with her two brothers and two sisters. Her siblings have been adopted and now she hopes it is her turn.
Phoenix loves to play, snuggle and purr. She's laid-back, yet affectionate; introspective, yet friendly. She's not especially vocal, unless you count purring. Phoenix is too ladylike to demand attention though she clearly loves to get it.
For more information about Phoenix, contact Heaven on Earth Society for Animal Society. Heaven on Earth is a San Fernando Valley-based rescue founded in 2000. Their mission is to improve quality of life for homeless animals and they care for many with special needs, as well as many others who are highly adoptable.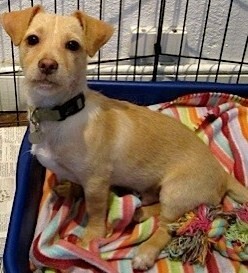 Photo by Sante D'or
Flint is an 8-month old Terrier-mix puppy who the Sante D'or Foundation calls an "old soul." He's playful and silly like any other youngster, but more mellow and laid-back than most of his puppy contemporaries. He is a trusting boy who falls asleep on car rides, keeps his cool when younger puppies are jumping on him or barking, and has proven himself to be a truly special dog. Flint gets along with other dogs and cats, is gentle with children, and is utterly lovable! He's a small breed boy and would be happy in an apartment or house. If you'd like to meet Flint, visit the Sante D'or Foundation Fridays, Saturdays, and Sundays from noon to 5pm. Sante D'or is a non-profit adoption center dedicated to working closely with the local community to rescue, rehabilitate, and find permanent homes for Los Angeles-based animals who need their help.
Sante D'or is hosting "Paws for a Cause" at Upper West restaurant in Santa Monica March 14. Proceeds of the sale of food and drinks will benefit Sante D'or when you let the server know you're there for Sante D'or! More events can be found on their Facebook page.