This is an archival story that predates current editorial management.
This archival content was written, edited, and published prior to LAist's acquisition by its current owner, Southern California Public Radio ("SCPR"). Content, such as language choice and subject matter, in archival articles therefore may not align with SCPR's current editorial standards. To learn more about those standards and why we make this distinction, please click here.
Neil Gaiman Will Read Us The Cheesecake Factory Menu, But Only If We're Good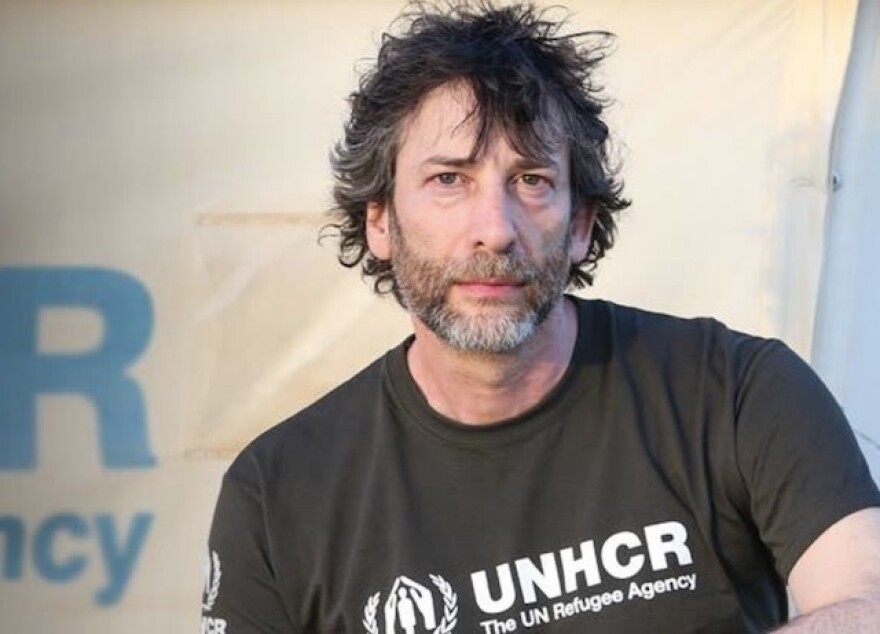 We need to hear from you.
Today, put a dollar value on the trustworthy reporting you rely on all year long. The local news you read here every day is crafted for you, but right now, we need your help to keep it going. In these uncertain times, your support is even more important. We can't hold those in power accountable and uplift voices from the community without your partnership. Thank you.
Fantasy author Neil Gaiman performing a dramatic reading of the Cheesecake Factory menu out loud is the dream you never knew you had. On some primal level, doesn't your soul ache to hear the "American Gods" and "Coraline" author extolling the virtues of Loaded Baked Potato Tots and Skinnylicious® Chicken Pot Pie? Now that dream is close to becoming reality, thanks to the efforts of writer-comedian Sara Benincasa and the magic of Twitter.
It all started when Benincasa reached out to Gaiman directly in a May 19 tweet. "Last week I watched an episode of the sublime TV adaptation of American Gods, went on a goddamn elegant date to Cheesecake, woke up, drank coffee, and went into some kind of inspiration blackout," Benincasa told Eater. "When I came to, I discovered I'd asked Neil if he'd read the entire Cheesecake Factory menu onstage in exchange for a $500,000 donation to a charity of his choice."
Much to everyone's surprise, Gaiman responded in the affirmative just a few hours after Benincasa first slid into his mentions, tweeting out a solemn vow to read the Beverly Hills-foundedchain's menu aloud if fans raised $500,000 for the UN Refugee Agency (UNHCR) by World Refugee Day on June 20.
Benincasa quickly put together a CrowdRise page to fund the project, promising to make the dramatic reading available to the public via livestream or video. She also noted that, "The hashtag for this silliness is #neilcake. Why? Because it is silly and good." The #NeilCake campaign has attracted over $7,000 in donations in just a few days. Here's hoping Benincasa will be able to raise the rest of the money by June 20; after all, from the folios of Shakespeare to The Cheesecake Factory menu, great art is meant to be heard aloud.
LAist reached out to The Cheesecake Factory for comment, but did not immediately hear back. However, we did discover that the Cheesecake Factory website's FAQ page contains an entire section devoted to "Whole Cheesecake Questions," which also piqued our interest.
But Yeoh is the first to publicly identify as Asian. We take a look at Oberon's complicated path in Hollywood.

His latest solo exhibition is titled "Flutterluster," showing at Los Angeles gallery Matter Studio. It features large works that incorporate what Huss describes as a "fluttering line" that he's been playing with ever since he was a child — going on 50 years.

It's set to open by mid-to-late February.

The new Orange County Museum of Art opens its doors to the public on Oct. 8.

Cosplayers will be holding court once again and taking photos with onlookers at the con.

Littlefeather recalls an "incensed" John Wayne having to be restrained from assaulting her and being threatened with arrest if she read the long speech Brando sent with her.