Movie Review: My Bloody Valentine 3-D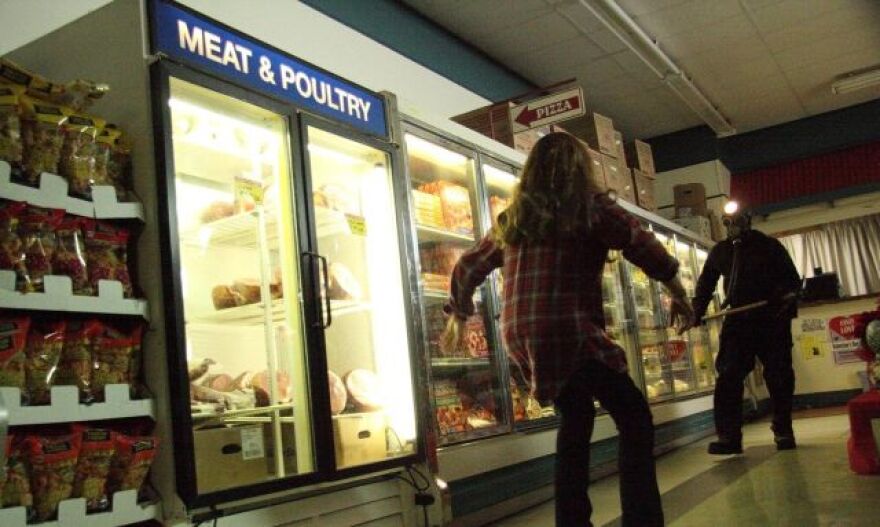 LAist relies on your reader support, not paywalls.
Freely accessible local news is vital. Please power our reporters and help keep us independent with a donation today.
This is how we deal with shoplifters! | Photo courtesy of Lionsgate
My Bloody Valentine 3-D, directed by Patrick Lussier, may be a remake of the original 1981 horror classic of the same name, but this time around it's a fearless festival of blood, guts and gore, packed with enough explicit sexual content to taunt an NC-17 MPAA rating (though we'll have to settle for an R.) One of the film's most memorable scenes involves a completely nude Farrah Fawcett look-alike running across a sleazy motel parking lot, screaming for help as a pick-axe wielding, deranged miner chases her down and tries to cut out her heart. Sounds too hilariously horrific to be true, doesn't it? And did we emphasize this remake is in 3-D?
Like the original, the story centers around the tiny mining community of Harmony, whose inhabitants are struggling to rebound after a fatal mining accident occurred there ten years prior. The only survivor of the accident was head miner Harry Warden, who awoke from a coma one year later, just in time for Valentine's Day, and sought revenge on those around him using a pick axe as his trusted tool of torture. One of the targets of his revenge was Tom Hanniger (Jensen Ackles), a novice miner whose father once owned the town's mine shafts. Tom, however, escaped the wrath of Harry Warden and eventually Harmony's local law enforcement took matters into their own hands and put an end to Harry once and for all, or so we are lead to believe.