This is an archival story that predates current editorial management.
This archival content was written, edited, and published prior to LAist's acquisition by its current owner, Southern California Public Radio ("SCPR"). Content, such as language choice and subject matter, in archival articles therefore may not align with SCPR's current editorial standards. To learn more about those standards and why we make this distinction, please click here.
Los Angeles Noir: Local Authors Celebrate the Dark Mysteries of LA
Before you read more...
Dear reader, we're asking you to help us keep local news available for all. Your tax-deductible financial support keeps our stories free to read, instead of hidden behind paywalls. We believe when reliable local reporting is widely available, the entire community benefits. Thank you for investing in your neighborhood.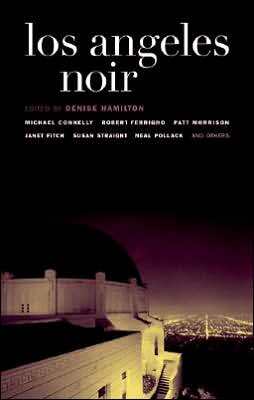 Here's the thing: this book isn't even out yet. But because we live in Los Angeles, and this book is about Los Angeles, you're in luck. We're all in luck.
Denise Hamilton and the bevy of supremely talented noir writers that contributed stories to this book are signing all over town this week. And the book will be, yes, you guessed it – available for signing at the readings two weeks before the rest of the country gets it. That's how we roll. (At least, we've been assured repeatedly by booksellers that that's how we roll.)
In the tradition of James Cain, Nathaniel West, Raymond Chandler and so many others who penned the first noir stories about our fair city, this anthology of noirish LA features new stories by Michael Connelly, Janet Fitch, Susan Straight, Naomi Hirahara, Denise Hamilton and many others. The seventeen stories are grouped into four only-in-LA categories that include different neighborhoods:
Part I: Police & Thieves (Mulholland, Koreatown, Leimert Park, San Marino)
Part II: Hollywoodlandia (Los Feliz, Beverly Hills, West Hollywood, East Hollywood)
Part III: East of La Cienega (Downtown, Los Angeles River, Commerce, Fairfax District, Mid-City)
Part IV: The Gold Coast (Pacific Palisades, Mar Vista, Belmont Shore, Westchester)
Makes us want to do some of our own sleuthing & slinking around. If opening lines are any indication, we're guessing Susan Straight's "The Golden Gopher" will be our favorite: "Nobody walked from Echo Park to Downtown. Only a walkin fool."
Full schedule of readings & bonus noir pics after the deep, dark, cut:
April 11th 7pm @ Dutton's
April 12th 6:30pm @ Egyptian Theater (Act of Violence & Force of Evil showings follow!)
April 13th 7pm @ Vroman's
April 14th 5pm @ Mystery Bookstore
April 16th 7pm @ Borders Torrance
April 17th 7pm Barnes & Noble, 3rd Street Promenade
April 18th 7pm @ East Los Angeles Library
April 21st 5pm @ Skylight Books
April 28th @ LA Times Book Festival
Photos by chokalatejesus via Flickr