This is an archival story that predates current editorial management.
This archival content was written, edited, and published prior to LAist's acquisition by its current owner, Southern California Public Radio ("SCPR"). Content, such as language choice and subject matter, in archival articles therefore may not align with SCPR's current editorial standards. To learn more about those standards and why we make this distinction, please click here.
Interview: Evan Wells, Co-president of Naughty Dog
Support your source for local news!
Today, put a dollar value on the trustworthy reporting you rely on all year long. The local news you read here every day is crafted for you, but right now, we need your help to keep it going. In these uncertain times, your support is even more important. We can't hold those in power accountable and uplift voices from the community without your partnership. Thank you.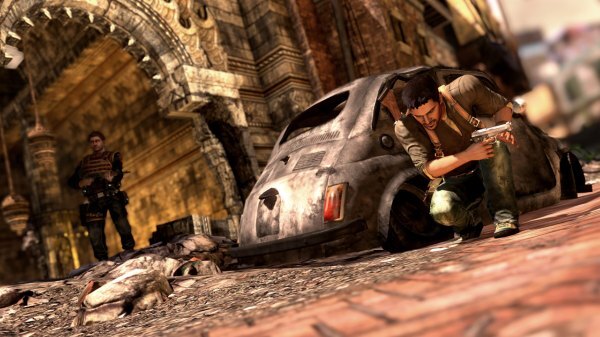 "If you own a PS3, you've got to have this game. (Gametrailers.com)" 5 Stars. 10 out of 10. Game of the Year. Best of Show. The best action game to date. With a Metacritic score of 96 (out of 100), Uncharted 2 is universally acclaimed and with a million copies sold in the first week, it makes Uncharted 2 the must have game of the year. After many sleepless nights researching (read: playing) the sequel, LAist got to chat with Evan Wells, co-president of Naughty Dog.
Among Thieves is a sequel, but the games seem to be self-contained. Is there a point in trying the first one?
UNCHARTED 2: Among Thieves was designed to stand on its own, and we don't make any assumptions that somebody would have played UNCHARTED: Drake's Fortune. However, the first game is a very fun and exciting game with an equally interesting story, so I highly recommend playing it, too (and it's a great deal now at the Greatest Hits pricing). For gamers who have played the first game, they'll definitely pick up on some inside jokes in the sequel and have a better understanding and appreciation of certain characters relationships.
You noted that in today's action games, that a train level was often compulsory. That doesn't sound too flattering. Uncharted 2 also has a level that takes place on a train, and how is this one different?
Trains do seem to show up in a fair number of games which is why we knew it was important to execute ours on a level that had never been seen before. The technology we put into the experience has so many subtle layers that each one might be missed, but it adds up to something that has consistently been pointed out by reviewers and gamers alike as the highlight of the entire game. Allowing Drake and the enemies to freely move inside and out of each car, hanging from windows and edges, running along the rooftops dodging low overhangs all while the train is barreling along at high speeds with each car independently swaying back and forth from the adjacent ones, creates a feeling of being in the moment that has no't been achieved before.
This stage incorporates SSAO. What is SSAO and how does it affect the gameplay?
Actually we use Screen Space Ambient Occlusion in all of our environments. SSAO is a post processing technique which allows the PS3 to quickly approximate a lighting effect that helps better ground objects in the environment by decreasing the amount of ambient light that appears where two objects meet. It doesn''t sound too exciting to describe it, but the overall improvement to the image quality really is night and day.
People were pretty surprised when Naughty Dog announced a multiplayer and co-op for the sequel. A demo was released featuring these new additions and at 1.5 gigabytes, it's easily one of the biggest demos in PS3 history. Is this what we should expect the game, or is there more?
We wanted to include as much content as we could in a reasonably sized download. Since the first UNCHARTED didn''t have a multiplayer component, we wanted show that we had created a fully realized experience for UNCHARTED 2 and that we were never treating it as an afterthought. And the complete game actually has quite a bit more content. The additional co-op modes and maps themselves offer a significant amount of additional gameplay, and we have even more competitive maps and modes. The number of skins, boosters, weapon upgrades, and taunts is expanded from the demo as well.
What is cinema mode?
Cinema mode allows players to replay multiplayer matches that they''ve played and view them from any angle. You can actually fly the camera around and place it where ever you want and watch the action unfold. Players can even pause, fast forward, frame advance, or play a sequence back in slow motion. This mode lets you relive an exciting match and see it from other player's views if you want to study the techniques of a particularly good player or if you simply want to relish a sweet victory. You can even upload these cinema files to our servers and send them to anyone on your friends list if you want to share your glory. And finally, you can take screenshots in this mode where we allow you to change all kinds of camera effects like field of view, and depth of field, or even tweak the lighting to get just the effect you're looking for.
There was a lot of buzz about the visuals in the game, and the portrayal of Kathmandu was said to be photo-realistic. Could you give us some details on how this was accomplished? Are there any other visual details we should look out for in the game?
The Nepal environment definitely got a lot of pre-release attention, but that level of detail is continued throughout the entire game. The programmers at Naughty Dog have created an engine that gives our artists the ability to put an amazing amount of density into the environments and still be able to use cutting edge effects on the surfaces and in the post processing. The artists then use a combination of concept art and real world reference photos to painstakingly construct the scenes that you see in the game. The amount of work that it takes from such a wide range of disciplines is mind boggling but when it finally all comes together it makes it all worth it.
The first Uncharted mostly took place in tropical locales. Uncharted 2 takes us around the world to various cities, including some dense urban areas and snowy terrain. What were some of the challenges in adjusting to the different environments seen in Uncharted 2?
Each environment created its own challenge. The artists and the programmers had to work together to develop the techniques to render each of the unique surfaces that you see in the game, and as you pointed out the variety found in UNCHARTED 2 dwarfs the original game. Each environment is created by a different team of artists but we also have to make sure that there is a consistency in style between them so that it all comes across looking like UNCHARTED. This creates a challenge for the concept artists and the art directors who are constantly looking at the big picture making sure that all the environments have a sense of cohesiveness and consistency.
When is the DLC coming out?
We haven't made any detailed announcements yet about exactly what will be in the DLC or when it will come out, but we will definitely be releasing something before the end of the year.
Here is the official trailer. UNCHARTED 2: Among Thieves is now available in your local video game store.
But Yeoh is the first to publicly identify as Asian. We take a look at Oberon's complicated path in Hollywood.

His latest solo exhibition is titled "Flutterluster," showing at Los Angeles gallery Matter Studio. It features large works that incorporate what Huss describes as a "fluttering line" that he's been playing with ever since he was a child — going on 50 years.

It's set to open by mid-to-late February.

The new Orange County Museum of Art opens its doors to the public on Oct. 8.

Cosplayers will be holding court once again and taking photos with onlookers at the con.

Littlefeather recalls an "incensed" John Wayne having to be restrained from assaulting her and being threatened with arrest if she read the long speech Brando sent with her.