This is an archival story that predates current editorial management.
This archival content was written, edited, and published prior to LAist's acquisition by its current owner, Southern California Public Radio ("SCPR"). Content, such as language choice and subject matter, in archival articles therefore may not align with SCPR's current editorial standards. To learn more about those standards and why we make this distinction, please click here.
Guitar Hero: Rocking the 80's is RADICAL
Stories like these are only possible with your help!
You have the power to keep local news strong for the coming months. Your financial support today keeps our reporters ready to meet the needs of our city. Thank you for investing in your community.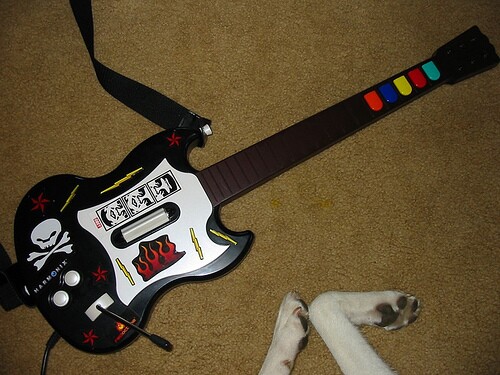 I have never in my life thought that the following words would ever escape my lips: "Wow! That Flock of Seagulls song is AWESOME!!!"
But that day has come: and so too has Guitar Hero Encore: Rocks the Eighties, the latest installment in the worldwide gaming phenomenon/franchise. You now have thirty more classic songs to RAWK OUT on, including such favorites as Skid Row's "Eighteen and Life," White Lion's "Radar Love," and of course, the aforementioned Seagulls gem "I Ran (So Far Away)." And WOW is it a fun song to play - weird chord progressions, lots of finicky finger-work, and a good number of solos.
If hair bands aren't really your style, there's also a pretty nice selection of 80's punk and new wave represented, including X's "Los Angeles," the Dead Kennedys' "Police Truck" (this gets categorized in the "Furious Fretwork" block), and even some Oingo Boingo and another Police track. Also cool are the updated outfits for your avatars - Pandora's got a totally cute little Bangles-inspired thing going on, while Axel Steel is sporting the full-on Hair Band Ridiculousness.
The first two Guitar Heros were already pretty much two of the best video game experiences ever; this sequel/add-on/extension, whatever you want to call it, is a nice addition to the series but doesn't offer nearly as many songs - GHI and GHII had forty songs each - and no bonus tracks to buy in the store, which is definitely a bummer. Overall, Guitar Hero: Rocks the Eighties is a great buy for fans of the franchise (read: everybody who's ever played it), but I'm even more excited about the upcoming Guitar Hero III (Slash will be a PLAYABLE CHARACTER. BOSS BATTLES. GIBSON LES PAUL CONTROLLER), and of course, Rock Band.
Now, if you'll excuse me, I've got to go beat "Ballroom Blitz" on Hard.
Photo by super-nerd WilWheaton via flickr.