Gillian Jacobs Talks About The Future Of 'Community' And Her Love For Wrestling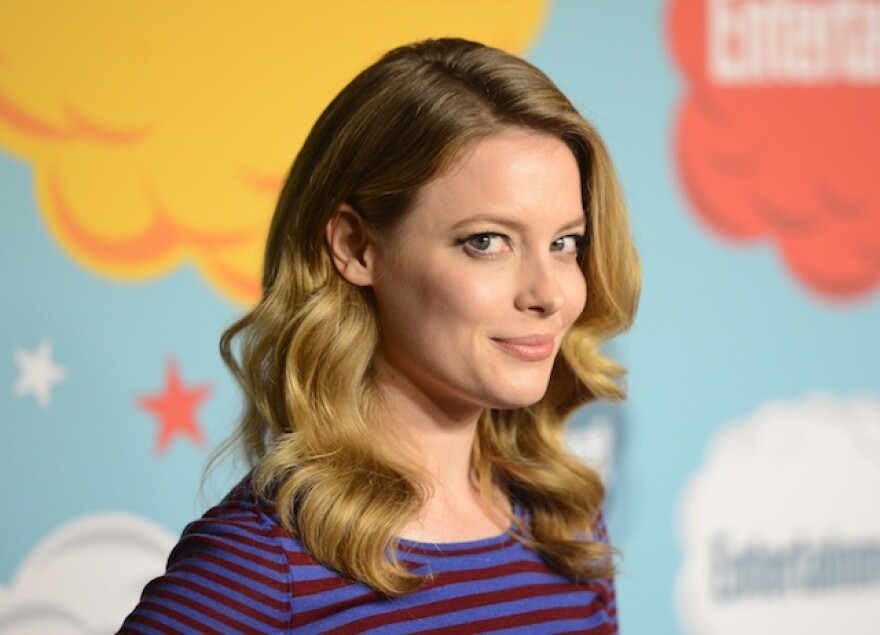 Stories like these are only possible with your help!
Your donation today keeps LAist independent, ready to meet the needs of our city, and paywall free. Thank you for your partnership, we can't do this without you.
We're used to seeing Gillian Jacobs as Britta Perry on NBC's Community as the anarchist-turned-therapist at Greendale Community College. However, in her new comedy Walk of Shame, out in theaters on May 2, the 31-year-old actress is on the big screen as bestie and clubbing partner-in-crime to Elizabeth Banks.
Jacobs, whose signature blonde locks are traded in for dark tresses in this film, also stars opposite James Marsden in a story about a news anchor (Banks) who gets lost in "scary" downtown L.A. one night without money, credit cards or a cell phone.
It's another step into comedy for the Juilliard-trained actress, who once regularly acted in dramatic plays and films before Community. The NBC show, which launched in 2009 and just wrapped up its fifth season, was surprisingly the first comedic role she took on ever since she started acting when she was a child.
"I did a play when I was 8 years old," Jacobs tells LAist. "I think that was the first acting job I ever had. In Pittsburgh, they used to list all the auditions in the paper on Fridays and my mom and I would just go through the paper and see if there was anything that needed a kid. That was basically how I started acting and I sort of never stopped from there."
Jacobs never thought of herself as a confident child, but just loved acting. When she snagged the part of Britta on Community, the role took her out of her comfort zone of dramatic acting. However, despite her incredibly funny cast—with Joel McHale, Danny Pudi, Alison Brie and Donald Glover by her side—she didn't find it intimidating, but rather inspiring. On set for Community, she says it's "100 percent silliness" with her cast members and that "people are continuously yelling at us to be professional."
And we can see the comfort level from her onscreen persona carry on to real life. As a big fan of 30 Rock, Jacobs said she would constantly grill Glover on the comedy because he was a writer for the show's first couple of seasons. "Early on in our friendship, it was basically just me quizzing him about 30 Rock. Having been in the writer's room, he shockingly knew a lot about the show."
Also, in crossing over from TV to real life, she often gets compared to Britta: "Well, I definitely stumble over my words or get things wrong and now that everyone on the internet is very quick to tell me I've 'Britta'ed' something myself," Jacobs says. "So I think I'm reminded every time of the fact when I mess anything up whether I make a spelling error, a grammatical error or factual error."
While Community has faced some ups and downs with the future of the show in limbo, Jacobs is staying positive on the situation, hoping to make it to the sixth season. "I'm just going to be optimistic right now and say, 'We're coming back,'" Jacobs says. "Come on, it's got to happen. What are they going to do? Cancel us right before we hit six seasons? We have to come back in some shape or form, right?"
Despite what may be in the cards for Community, the actress is keeping busy. Jacobs just premiered her film Life Partners at the Tribeca Film Festival and she has a role in Hot Tub Time Machine 2, slated to open during Christmastime.
And the actress from Pittsburgh never finds a boring moment in L.A. In Walk of Shame, Jacobs, who lives on the Eastside, was happy to shoot primarily there and downtown. Although the film portrays downtown as a frightening place once the sun sets, Jacob says: "I don't find L.A. to be that scary. I thankfully have not had any truly terrifying moments in L.A."
She actually spends her time exploring the city, reading up on L.A.'s Pulitzer-Prize winning food critic Jonathan Gold's reviewed restaurants. Her current favorite spot is Roy Choi's POT restaurant at The Line hotel in Koreatown. And to add to Jacobs' quirky side, she also likes checking out the Pro Wrestling Guerrilla (PWG) indie-wrestling league matches at Legion Hall in Reseda.
"It's interesting—people leave the indie wrestling league and go to the WWE and then come back," she says. "One of the wrestlers, whose name is El Generico from PWG is at WWE now and I wish him well."
Check out the trailer for Walk of Shame here: