Stories like these are only possible with your help!
You have the power to keep local news strong for the coming months. Your financial support today keeps our reporters ready to meet the needs of our city. Thank you for investing in your community.
After a good two weeks, we think it's safe to say that we've sufficiently recovered. At least, enough to post pictures from five? Six? Was it seven hours (?) of big bad bass, booming beats, and best of all, babes in furry boots at Giant Village. Yes, while LAist was pretty focused on the breakbeats thrown down by Hybrid and The Crystal Method on the Community Service Stage, we leave the music reviews for the chin-stroking trainspotters out there, and focus on the fun and fashion.
Oh, and by the way, we're not offended that not one single person came up to us (dressed in all white) to say hi. It was pretty crowded.
Where's the bathroom? Follow the dancing dots

Trippy

Who knew Barbie liked electronic dance music?

Red,

White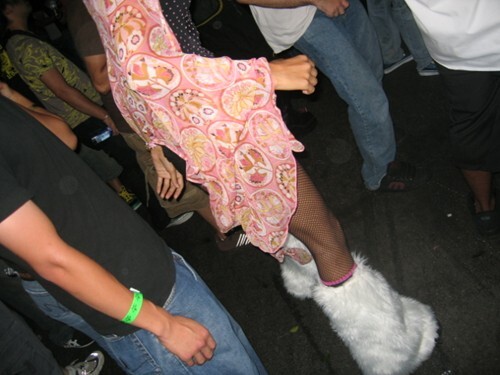 and Blue - how patriotic

Not too flashy

*ROWR*

Just in case gets cold

Can she dance in those things?

And we weren't the only ones toting along a camera...