This is an archival story that predates current editorial management.
This archival content was written, edited, and published prior to LAist's acquisition by its current owner, Southern California Public Radio ("SCPR"). Content, such as language choice and subject matter, in archival articles therefore may not align with SCPR's current editorial standards. To learn more about those standards and why we make this distinction, please click here.
Rival High Schools To Face Off Friday At Legendary East L.A. Classic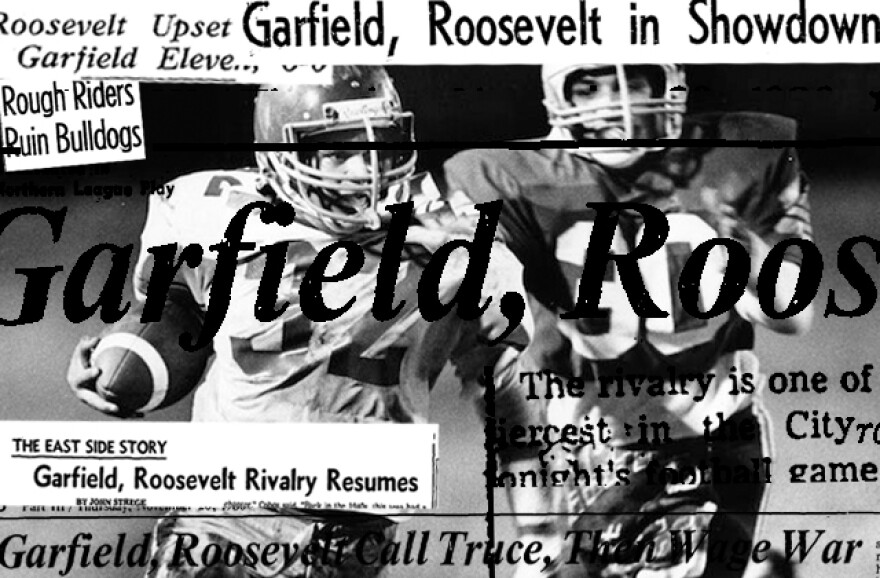 Before you read more...
Dear reader, we're asking you to help us keep local news available for all. Your tax-deductible financial support keeps our stories free to read, instead of hidden behind paywalls. We believe when reliable local reporting is widely available, the entire community benefits. Thank you for investing in your neighborhood.
On Friday night, a nearly century-old rivalry will once again play out when the Roosevelt Rough Riders face off against the Garfield Bulldogs at the East L.A. Classic.
Billed as the largest high school football game west of the Mississippi, the Classic is held at East Los Angeles College and serves as homecoming for both of the public high schools: East L.A.'s Garfield, which was immortalized in the 1988 film Stand and Deliver, and Boyle Heights' Roosevelt High School.
The annual football game between the two Eastside high schools "has mushroomed to near biblical proportions since the rivalry began in 1926," according to the L.A. Times. The East L.A. Classic is, as a then-Garfield football player told the L.A. Times in 1980, "the Super Bowl of East L.A."
The Classic is known for drawing not just students but also community members and alumni from near and far—upwards of 15,000 people are expected to fill East Los Angeles College's Weingart Stadium this year. It's more than a game; it's an institution—and it's been that way for generations.
"This week, all you'll hear in town is who's gonna win," Tom Lunetta, a then co-head coach at Roosevelt told the L.A. Times way back in 1976. "In bars, guys will be making bets on the game. If you went into a grocery store and someone recognized you as being a (Garfield) Bulldog or a (Roosevelt) Roughrider, they'd say, 'We're gonna get you Friday.'"
"The most fuddy-duddy teachers, who never came out to any of the games, come out for Garfield-Roosevelt," Al Padilla, who has taught and coached at both schools, told the Times in 1985.
"The roaring of the crowds when one team scores is just amazing," Garfield Assistant Principal Gustavo Reynoso told LAist. Reynoso has been attending the Classic since he was in elementary school and is himself an alumni of Roosevelt (Class of '84). "I have one daughter that graduated from Roosevelt and one from Garfield. My wife's a [Roosevelt] Rough Rider as well," he said. "We're a house divided but a family united."
Despite their Rough Rider alumni status, the Garfield administrator said that there was no question what side of the stadium he and his wife would be sitting on tonight: "I'm in charge of the Garfield side."
The two schools, both of which are about 98% Latino, are a little less than four miles apart. "One of the divisions," Reynoso explained, "is that Indiana Street is the division between Boyle Heights and East L.A."
"So we have the 'East L.A., East L.A.' chant, and the Roosevelt side has the 'Boyle Heights, Boyle Heights,' chant. You'll hear those chants throughout the game," Reynoso said. Located just over the L.A. River from downtown, Boyle Heights is part of the City of Los Angeles, whereas East Los Angeles is part of unincorporated Los Angeles County (and technically speaking, East L.A. College is actually just over the line into Monterey Park, but that is neither here nor there).
Many of the students at the two schools attended junior high together, and intermarried Garfield and Roosevelt alumni will famously separate to their respective team's sides before the opening kickoff.
The first annual Roosevelt-Garfield matchup was played in 1925, and by 1931, the L.A. Times was already calling it as one of the city's "annual 'grudge' battles." By 1935, the hometown paper was referring to Garfield as Roosevelt's "ancient enemy of the East Side."
According to the Times, the Rough Riders reigned supreme in the early years of the game's history, with Roosevelt "accumulating a 10-2-1 record before the series was interrupted from 1939-48 because of World War II." In fact, Garfield didn't manage to defeat Roosevelt until 1935 (The game, "played on the loser's gridiron," was "a stunning upset victory," according to contemporaneous coverage).
From 1951 to 1999, all but one of the games were played at East Los Angeles College. A rumored, early '90s move to the Rose Bowl never came to fruition, but the Classic did briefly—and controversially—move to the Coliseum in the early aughts. It returned to East L.A. in 2004.
1969, according to Randy Rodriguez, who both played for and coached the Roosevelt team, was the first year that the ELAC stadium was truly packed. "We came out of the locker room and it was drizzling, and there were people sitting in areas where there were no seats," he told ESPN. "There must have been 25,000 people there."
That 1969 game, where 22,000 fans watched Roosevelt destroy Garfield, 40-0, "had to be one of the greatest sports spectacles in Los Angeles City high school history," as the Times wrote that year. The Rough Rider victory came after two consecutive years of Garfield winning the Classic.
The name has been official since 1972, as ESPN explains:
Annoyed by references to the game as the "Chili Bowl" or the "Taco Bowl," former Roosevelt coach Al Chavez, late former Garfield coach Vic Loya and late Garfield teacher Ted Davis successfully petitioned to legally name the game the East Los Angeles Classic.
In 1974, 23,500 attended the Classic, more than all of East L.A. College's home games that year combined. In 1992, Roosevelt sent a plane to buzz over Garfield's pre-game pep rally. It read "Go Riders, Beat Bulldogs."
"Anyone who went to school in East L.A. identifies with either Garfield or Roosevelt," Julian Nava, Roosevelt, Class of '45, and former U.S. ambassador to Mexico, told the L.A. Times in 1986. However, according to the Boyle Heights Beat, the rivalry often begins long before the high school players have hit puberty:
For more than 20 years, two Pop Warner teams, the Wolfpack and the Bobcats, have trained youth from Boyle Heights and East Los Angeles to be leading players for their competing high school football teams. The two teams serve as a feeder program, with their 6- to 13-year-old players dreaming of playing in the [then] 87-year-old Classic.
Javier Cid, head coach of the Roosevelt Rough Riders, told the Boyle Heights Beat that the majority of his players are veterans of the Wolfpack, saying the Pop Warner serves as "our feeder program," just as "the professional teams have their minor league."
The Rough Riders and Bulldogs will both be facing steep competition tonight at Weingart Stadium. Garfield has won the last seven Classics in a row, according to Reynoso. "We're looking to win our 8th," Reynoso told LAist. "But we're looking at a big challenge from Roosevelt this year. They actually have a better record."
Roosevelt will face off against Garfield for the East L.A. Classic at 7 p.m. on Friday. East L.A. College's Weingart Stadium is located at 1301 Avenida Cesar Chavez in Monterey Park.