This is an archival story that predates current editorial management.
This archival content was written, edited, and published prior to LAist's acquisition by its current owner, Southern California Public Radio ("SCPR"). Content, such as language choice and subject matter, in archival articles therefore may not align with SCPR's current editorial standards. To learn more about those standards and why we make this distinction, please click here.
DVD Review: Pineapple Express
Our June member drive is live: protect this resource!
Right now, we need your help during our short June member drive to keep the local news you read here every day going. This has been a challenging year, but with your help, we can get one step closer to closing our budget gap. Today, put a dollar value on the trustworthy reporting you rely on all year long. We can't hold those in power accountable and uplift voices from the community without your partnership.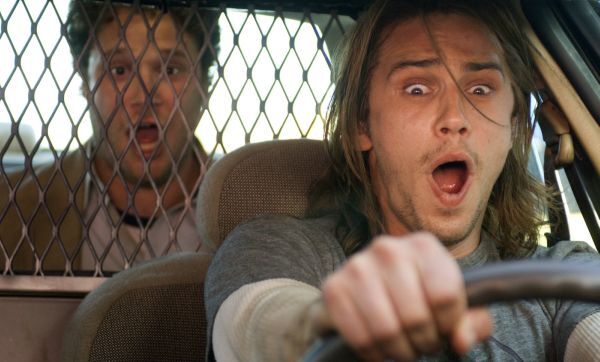 Boobies, bathroom humor and bongs collide in Pineapple Express, the latest DVD release from indie writer/director extraordinaire, David Gordon Green. The film follows two dimwitted stoners, Dale (Seth Rogen) and Saul (James Franco), whose connections to the underworld of illegal drugs inadvertently make them witnesses to murder. It's the classic tale of marijuana dealer meets boy, boy meets marijuana dealer and over the river and through the woods into a drug dealer's hideout with guns they go.
James Franco is baked to perfection as Saul, an endearing, misguided marijuana dealer who sells a potent, "pineapple express" blend of the drug to one of his regular customers, Dale. While Dale is very much the epitome of someone to pity--he's an aging, overweight process server with a high school girlfriend--it's his pity for Saul that leads them to form a friendship, moreover a pact to stick together as they find ways to escape Ted Jones (Gary Cole), a notoriously violent drug lord who's out for their blood. For hardcore Gary Cole followers, it's a bit daunting to see him in a role so counter to the infamous Bill Lumbergh (Office Space), but he plays it well nonetheless.
With Ted hot on their heels, eager to cover up his murderous tracks, Dale and Saul perpetually find themselves on the run. The result is a series of paranoia-induced mishaps wherein they get stoned in the wilderness, abandon their car, capture and duck-tape one of Ted's rats (Danny McBride), get arrested at an elementary school playground, steal a police car and shoot-up an illegal storage facility housing thousands of grams of their favorite substance.
While the action rarely stops and the comedic moments in between run the gamut from slap-stick to just plain silly, the film's metaphor for drug use is apparent: while crazy things happen to Dale and Saul, in the end, nothing really happens and they remain as directionless as they were from the start, except for the bruises and criminal records they acquire. In other words, like other Judd Apatow productions of high moral fiber, the film's underlying message really tugs at the heart strings--drugs are bad--and should only be done in secret places like rundown apartment buildings, used cars, the woods, public alleys and parking lots or as fuel for situational comedy.
Film buffs will enjoy the film's opening sequence, an obvious homage to a decades-old propaganda piece, aptly titled Reefer Madness. Stoners and stoner-friends alike may find that the film evokes memories of marijuana past. And if the film alone doesn't quench the thirst for hilariously inappropriate or crude conduct, DVD extras include four deleted scenes and a short gag reel filled with potty-mouthed punch lines and sexual innuendoes. It's good, old-fashioned fun the whole family can enjoy!
Pineapple Express is available on DVD right now!
Photos courtesy of Sony Pictures
Donald Trump was a fading TV presence when the WGA strike put a dent in network schedules.

Pickets are being held outside at movie and TV studios across the city

For some critics, this feels less like a momentous departure and more like a footnote.

Disneyland's famous "Fantasmic!" show came to a sudden end when its 45-foot animatronic dragon — Maleficent — burst into flames.

Leads Ali Wong and Steven Yeun issue a joint statement along with show creator Lee Sung Jin.

Every two years, Desert X presents site-specific outdoor installations throughout the Coachella Valley. Two Los Angeles artists have new work on display.