Dodgers Have The Most Expensive Scoreboard Proposal In The League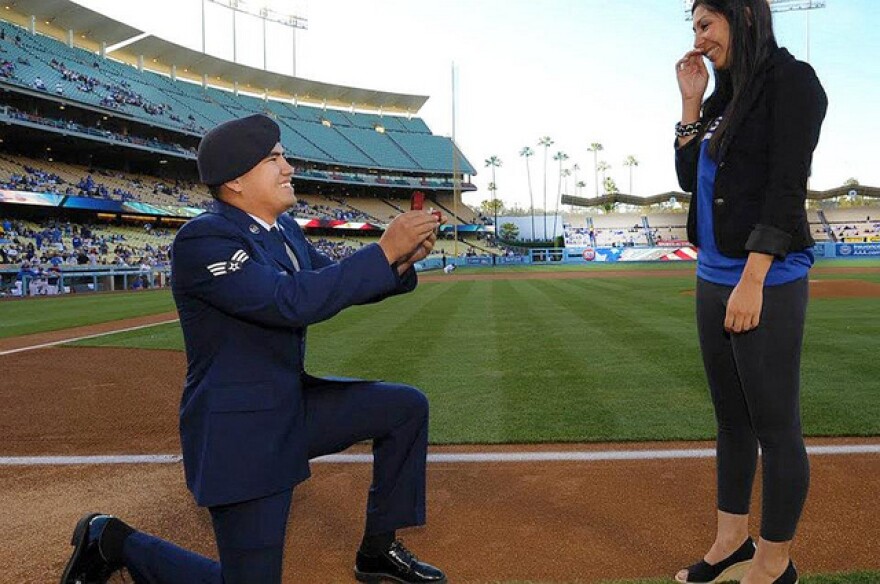 LAist relies on your reader support, not paywalls.
Freely accessible local news is vital. Please power our reporters and help keep us independent with a donation today.
Your Los Angeles Dodgers provide the most expensive option when it comes to those really annoying in-game scoreboard marriage proposals. Don't worry, though, all of that money goes towards charity instead of their $220 million payroll.
For a price of $2,500 (or a little over one-fourth of a Clayton Kershaw pitch), you can pop the question to your loved one live on one of the new HD scoreboards. For the much more frugal, $75 will get your question displayed on the left field ribbon board. So make sure she doesn't get up after the 5th inning for that Dodger Dog! Relationships and dating website Swimmingly compiled a handy list of what all 30 Major League teams offer for in-game wedding proposals.
This infographic from Swimmingly shows how the prices stack up. Sorry Angels fans, but Arte Moreno doesn't offer any scoreboard proposals at the Big A (thank you Angels):