This is an archival story that predates current editorial management.
This archival content was written, edited, and published prior to LAist's acquisition by its current owner, Southern California Public Radio ("SCPR"). Content, such as language choice and subject matter, in archival articles therefore may not align with SCPR's current editorial standards. To learn more about those standards and why we make this distinction, please click here.
Is The Story Of The Mom Who Agreed To Let The Internet Name Her Baby For $5,000 Fake? [UPDATED]
Support your source for local news!
Today, put a dollar value on the trustworthy reporting you rely on all year long. The local news you read here every day is crafted for you, but right now, we need your help to keep it going. In these uncertain times, your support is even more important. We can't hold those in power accountable and uplift voices from the community without your partnership. Thank you.
Everyone has had fun in the last couple weeks taking a cracks at the woman who agreed to let strangers on the internet name her baby in exchange for $5,000.
Belly Ballot, a Texas-based website that helps parents-to-be crowdsource names for their unborn children, hosted the controversial and silly contest that ended up getting national and even international attention. Last month the site announced that a woman named Natasha Hill was the lucky winner of $5,000 and an internet-approved name for her fetus that is still TBD. Initial reports on Hill (based mostly on a Facebook page that has since been taken down) reported that Hill was an engaged 26-year-old art teacher, a West Los Angeles resident and a UCSB alum. Belly Ballot's co-founder Lacey Moler told The Huffington Post that Hill was chosen from a pool of 80 applicants because of "her honesty and enthusiasm."
That statement from Moler seems ironic given that there is definitely something fishy about the winner of the contest.
Natasha Hill just happens to be a dead-ringer for Natasha Lloyd, an actress living in Los Angeles who is also a UCSB alum. On Lloyd's Facebook page (which was taken down in the last 24 hours) it says that she shares the same birthday as Hill. We don't know exactly what is going on, but we've reached out to both Natasha Lloyd and Belly Ballot for some sort of explanation. (And we'll update the post if and when they do.)
We don't have confirmation of what's going on, but we do have eyes. Here are some photos of Hill that have been circulating in media reports that are originally from her Facebook page (that has since been taken down):

And here are headshots of actress Natasha Lloyd from her IMDb page: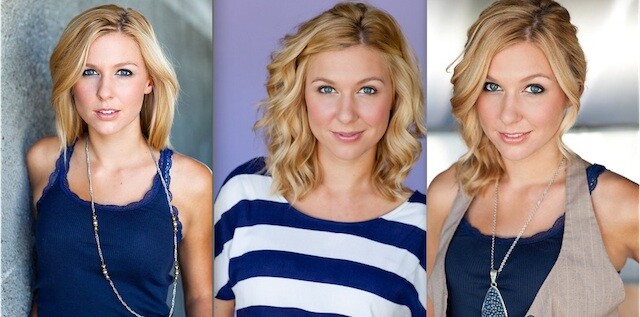 via IMDb
Hill told the Huffington Post that she had a boyfriend named Craig who didn't want his last name used. On her Facebook page, she said she was engaged:
But on Twitter, Lloyd makes cracks about how she's planning on impressing men on first dates:
Hill has given interviews to TODAY and the Huffington Post, but so far she hasn't given any on-camera interviews. The website's owners told KTLA that Hill was "too shy" to stand in front of cameras. (And, really, that might be the fishiest part of all.)
We're not sure if it's a prank that went too far or if Belly Ballot hired Lloyd to win some publicity or if there's another explanation entirely.
The contest was sponsored by the site's advertisers. Online voting for the name of Natasha Hill's baby is supposed to commence March 18th and continue through March 22nd.
UPDATE 3/4/13: Moler has admitted Lloyd was an actress hired to be the winner the contest. The owner of the Texas-based startup admitted Sunday that while she had said previously 80 moms had entered the contest, no one actually had, so she decided to hire Lloyd to play the "winning" mom, reports NBC. Once Lloyd, as "Natasha Hill," was announced the winner, Moler says actual expectant mothers applied to enter the already-closed contest.
NBC's Today Moms blog adds:
Moler said that Lloyd is not pregnant. She would not say how much she paid Lloyd for her part in the hoax, or whether Lloyd would still receive payment now that her identity has been revealed.
Moler also told the blog:
"We came up with the idea for the contest and we knew it would be controversial," Moler said. "But we're a start-up and we wanted to control the situation."
Lloyd confirmed she was an actress hired to play the mom, but would not comment further.
Related:
L.A. Mom Gives Up Naming Rights to Unborn Child for $5000 Cash Prize
But Yeoh is the first to publicly identify as Asian. We take a look at Oberon's complicated path in Hollywood.

His latest solo exhibition is titled "Flutterluster," showing at Los Angeles gallery Matter Studio. It features large works that incorporate what Huss describes as a "fluttering line" that he's been playing with ever since he was a child — going on 50 years.

It's set to open by mid-to-late February.

The new Orange County Museum of Art opens its doors to the public on Oct. 8.

Cosplayers will be holding court once again and taking photos with onlookers at the con.

Littlefeather recalls an "incensed" John Wayne having to be restrained from assaulting her and being threatened with arrest if she read the long speech Brando sent with her.