'Circa '82' Release Party @ Hyperion Tavern, 6/10/08
Stories like these are only possible with your help!
Your donation today keeps LAist independent, ready to meet the needs of our city, and paywall free. Thank you for your partnership, we can't do this without you.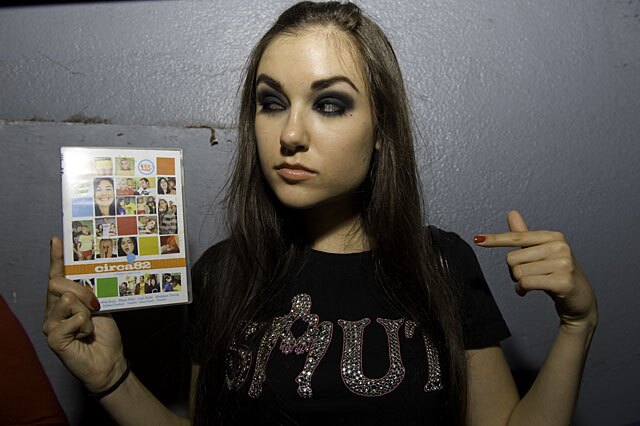 Two weeks ago, photographer/director Dave Naz (MySpace) celebrated the release of his new Vivid-Alt (MySpace) movie Circa '82, his second directorial effort for the imprint, with a party at the Hyperion Tavern in Silver Lake. Circa '82 revives "...the early 80's and focus[es] on the important things in life: sex, music, and doing whatever the fuck they want. No parents, no school, no rules." The movie features cameo "...appearances by punk legends Keith Morris (Circle Jerks), Don Bolles (The Germs, .45 Grave) and Jim Lane (Killroy)" and the soundtrack features several songs from the Circle Jerks.
In attendance were stars Ashley Blue, Sasha Grey (MySpace), and Lexi Belle (MySpace), as well as Daniel (MySpace) with girlfriend Dana DeArmond (MySpace), Lorna Doom, and the aforementioned Bolles (MySpace). Also present were Vivid-Alt head/director Eon McKai (MySpace) with Sarah, director Vena Virago (MySpace), artist COOP with wife Ruth, photographers Eric Kroll and Ed Fox, model/photographer Alejandra Guerrero (MySpace), and AVN photographer Gia Jordan (MySpace).
The event also featured a performance by local band The Lost Captains (MySpace).
WARNING: Photos #11 and #19 in the gallery are NSFW.
Special thanks to Eon McKai, Dave Naz, and the Hyperion Tavern.
Also check out (NSFW):