CD Review: Dälek's 'Abandoned Language'
LAist relies on your reader support, not paywalls.
Freely accessible local news is vital. Please power our reporters and help keep us independent with a donation today.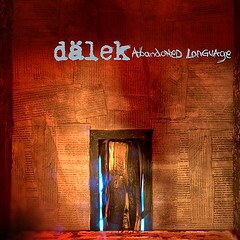 Dälek has again brought us to a cold, dark, somber, and sparse place with their fourth release, Abandoned Language, on the Ipecac Recordings label. Dälek is MC/producer Will "dälek" Brooks and teammate producer Alap "Oktopus" Momin who have been collaborating on new visions for hip hop since 1998. This time the theme is language, it's failure and abuse. The theme is carried down to the extrmeley cool CD booklet which requires you to hold it at an angle in order to read the text which is no more than a layer of gloss printed onto the flat finish of the paper.
This release proves again that Dä lek is more than just an American version of Tricky. Dälek's trademark wall of sound is still prominent but tweaked more than a bit. It's less "noisy" thus letting the layering become more apparent. We hear bells and string instruments over straight up beats and (barely) controlled explosions. This is rap music that avoids the three-minutes-of-bitches-and-bling format. Each song is an investment of time, the title track is over ten minutes long and most are in the five to six minute range.
These longer songs allow an environment and atmosphere to develop – Dälek is creating a place and it's a scary place. With themes about persecution, slavery, using lyrics as weapons in conflict, fear, corrupted politics, and existence, Brooks confronts us directly with force and density. The production is phenomenal – every layer has a purpose and the result is symphonic. One might say that Dälek is hip hop's answer to indie rock's Godspeed You Black Emperor!
This particularly comes through on the instrumental "Lynch" (a tune worthy of a David Lynch flick) and the songs "Isolated Stare" and "(Subversive Script)." Another remarkable song is "Tarnished" which features some reprise lyrics that are almost completely sublimated, warped, and unintelligible, just another layer for Dälek to pile on into the mix. This is a refreshing break from rap as ego-trip, something that Dalek does not engage in. They have prioritized presenting the message and the music and the result gives one hope for the future of hip hop.
Abandoned Language was released on February 27th, 2007.
Ipecac Recordings
Dalek's Website