Boys and Dogs: Beastie Boys' 'Licensed To Ill' Tour Exhibition Premieres in L.A.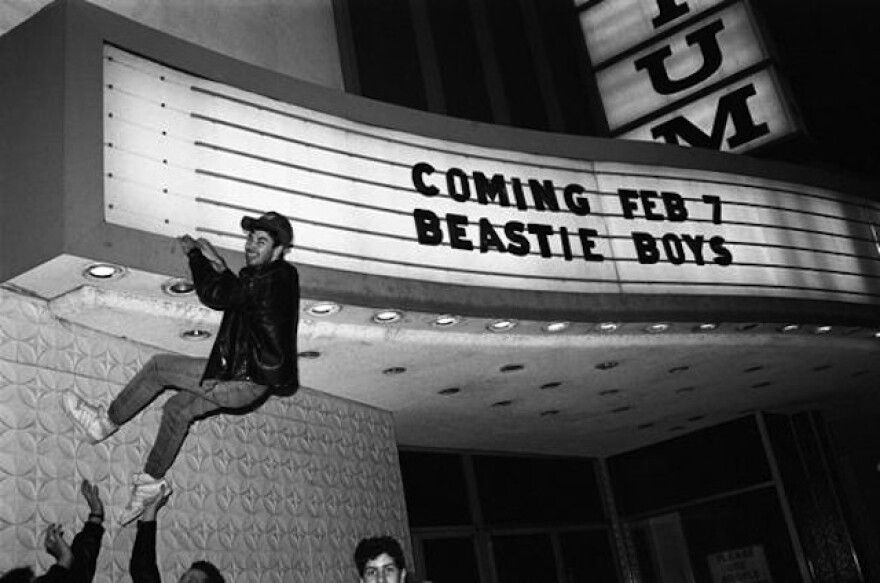 Stories like these are only possible with your help!
You have the power to keep local news strong for the coming months. Your financial support today keeps our reporters ready to meet the needs of our city. Thank you for investing in your community.
- by Adrienne Dorsey/Special to LAist
Known for her iconic Beastie Boys photographs during their "Licensed To Ill" tour, Hold Up Art will present "Boys and Dogs," a retrospective of rock photographer Sunny Bak, with an opening reception this Saturday. Sunny's love of animals, especially dogs, led her to create a best-selling People magazine parody and both collections will be on display through November 1.
"It's been 25 years since I looked at the images I shot of the Beastie Boys in NYC with Garrett Simmons when we were working on a book called Pupple," said Sunny, who has been photographing celebrities since high school. "This show is part retrospective and part looking toward the future...It's an homage to the beasty in all of us."
Sunny's photographs follow the Beastie Boys' Mike D, MCA, and Ad-Rock on their 1986 "Licensed To Ill" tour, offering an intimate look at life on the road for the hip hop trio. The photos reveal a universal story of youth, potential, and the American dream. Sunny's images were also featured in the multi-platinum album's artwork. Earlier this year, the Beastie Boys released their eighth studio album, Hot Sauce Committee Part Two.
Pupple features Sunny's photographs of pooches dressed as celebrities, poking fun at People magazine. With a new crop of celebrities to feature, Sunny is currently working on a follow up to the original.
"Boys and Dogs" premieres this Saturday, October 8, from 7 p.m. to 11 p.m. and runs through November 1 at Hold Up Art, 358 E. 2nd Street, Los Angeles, CA 90012. Visit www.holdupart.com