This is an archival story that predates current editorial management.
This archival content was written, edited, and published prior to LAist's acquisition by its current owner, Southern California Public Radio ("SCPR"). Content, such as language choice and subject matter, in archival articles therefore may not align with SCPR's current editorial standards. To learn more about those standards and why we make this distinction, please click here.
Contemporary Sex Comedy 'The Boomerang Effect' at Odyssey Theatre is a Guilty Pleasure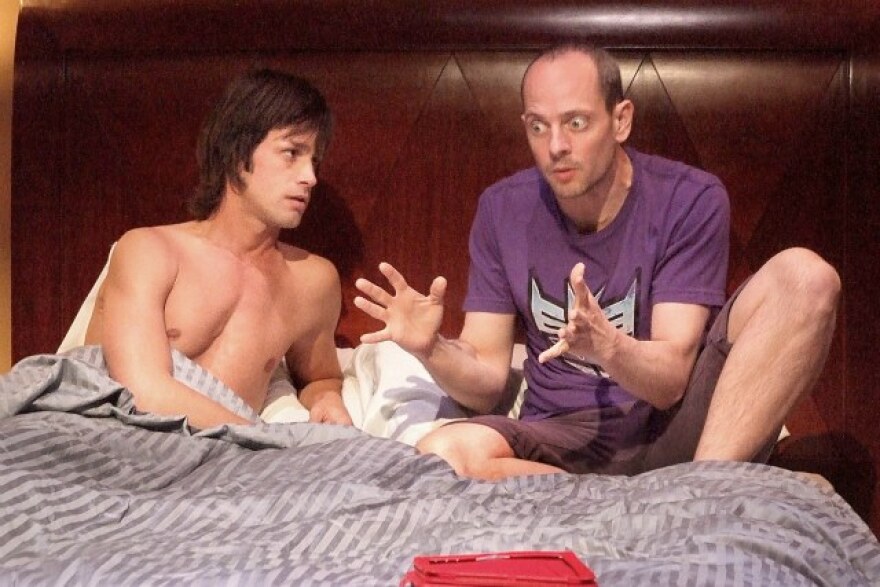 Stories like these are only possible with your help!
You have the power to keep local news strong for the coming months. Your financial support today keeps our reporters ready to meet the needs of our city. Thank you for investing in your community.

Matthew Leavitt's contemporarily humored new play The Boomerang Effect is playing at Odyssey Theatre. This arched framework of vignettes features five fighting couples impacted by the unanticipated consequences of their actions and interactions. Each scene and couple is connected through slight references to varying degrees of separation. Leavitt's sex comedy is undeniably well-written, entertaining and amusing with lots of honest insight into the disillusionment that comes with being young, educated, and underemployed...yet its scope is quite narrow. The Boomerang Effect is a bit of a guilty pleasure—fun to watch, but it won't leave you feeling enriched in any meaningful way.The ensemble cast of The Boomerang Effect is talented, but some outshine the others. Jonathan Slavin plays David, an unemployed man with a floundering marriage and career punctuated by a festering Words with Friends rivalry. Slavin is a sharp and spirited performer with impeccable comedic timing that gets the lion's share of genuine laughter from the audience as he engages every element of himself to give rise to his character. In the short-tempered role of Stephanie, Kim Hamilton infuses her character with brightness and intensity that culminates into for a an efficacious and believable portrayal. The scenes with the Kat Bailess (as Julie) and Charles Howerton (as Alexander) are particularly juicy as the pair dukes it out in a deliciously premeditated power scheme. Bailess is gutsy and electric, while Howerton is poised, subtle and potent.

Joel Bryant and Liza de Weerd
Under Damaso Rodriguez's well-orchestrated direction, The Boomerang Effect is enticing and playful. The lighting, set and costuming elements of this production are simple and not particularly artful, but absolutely appropriate for a play that depicts geographically local, modern characters dealing with the private aspects of their lives within the comforts of their own home. This reviewer has only one real bone to pick with The Boomerang Effect and that is that this staging seems to pander to a white, middle-class, and largely superficial demographic that is a better reflection of people at an Orange County mall than the actual and lovely diversity of Los Angeles.
The Boomerang Effect is playing at Odyssey Theatre through April 29. Tickets are $25 to $30 and available online or via phone at 310-477-2055.