Blik n Threadless, sitting in a tree
LAist relies on your reader support.
Your tax-deductible gift today powers our reporters and keeps us independent. We rely on you, our reader, not paywalls to stay funded because we believe important news and information should be freely accessible to all.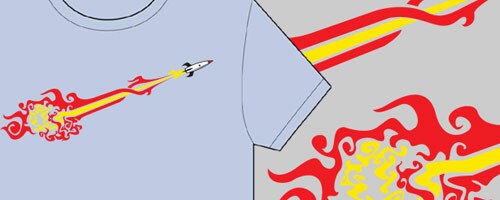 We were thinking about Blik the other day (because when staring vacantly at a wall, our thoughts turn to fantastic wall decorations) and when we visited their site to discover what new designs they'd have (more video game creatures? flying birds? Eames doodles?) we found something even better. The Blik Loves Threadless t-shirt and wall decor design competition.
For the month of May, anyone can submit designs on the theme of "Off the Wall." No, don't advertise Blik. No, don't put the words "Off the Wall" in the design. Just make a cool design. Of course, it'll go on a Threadless t-shirt. Oh, and it'll be made into wall decal by Blik, too. And you, fabulous designer that you are, will get $2,000 cash and a nice Threadless gift certificate.
The challenge, of course, is to make something that looks equally good on a t-shirt as it does on a wall. This flaming rocket was one of our favorites (that is, until we started calling it "flaming rocket"). Check out all the designs and let us know if you submit one.