This is an archival story that predates current editorial management.
This archival content was written, edited, and published prior to LAist's acquisition by its current owner, Southern California Public Radio ("SCPR"). Content, such as language choice and subject matter, in archival articles therefore may not align with SCPR's current editorial standards. To learn more about those standards and why we make this distinction, please click here.
The Best Staycations In And Around Los Angeles
Before you read more...
Dear reader, we're asking you to help us keep local news available for all. Your financial support keeps our stories free to read, instead of hidden behind paywalls. We believe when reliable local reporting is widely available, the entire community benefits. Thank you for investing in your neighborhood.
Sometimes we don't have the time to skip town, or frankly, the money. Instead of scrolling through your Facebook feed staring longingly at photos of your friends' vacations, you can feel like a tourist in your own town without having to go very far. Los Angeles has a lot of hidden treasures for whatever you're in the mood for—whether you're looking for a city tour of the macabre with a clown as your guide, an exploration of the city's street art, or a trek through our city's many secret stairs. Here are some of our favorite staycations in Los Angeles, and as always, let us know yours in the comments.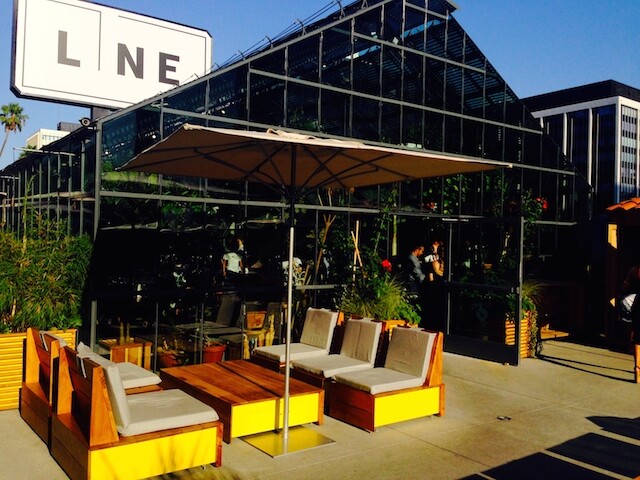 The outside of The Commissary greenhouse that faces the pool at the Line (Photo by Krista Simmons/LAist)
The Line Hotel
It's easy to get lost for a weekend at the Line hotel in Koreatown. Although you might just want to hang out in the chic rooms—especially the ones that overlook the city—all day, it's really all about the cool little things the hotel has to offer that will keep you busy. Chef Roy Choi of Kogi Truck and Chego fame has played a major role in the food, drink and vibe of the hip hotel—and that's what makes it so much fun and unpretentious. Downstairs, you can grab a drink in his Pot Lobby Bar while hip hop tracks are blasting through the stereo, Korean food at his Pot restaurant, and an addictive pastry (the mac 'n' cheese pizzas are amazing) at his Cafe. Upstairs by the pool, you'll find Choi's Commissary, a gorgeous greenhouse that houses his restaurant serving Pan-Asian food (with plenty of vegetarian options) and cocktails. The hotel also has a smattering of events from DJs spinning in the lobby to yoga classes, so there's a chance you can catch something to do. Circle around the corner of the Line and get transported to the '80s with Houston Hospitality's Break Room 86, a throwback bar. Everything—from the old school arcade machines to the karaoke rooms decorated with old vinyl and retro-style cocktails that get served to you by flair bartenders (like the movie Cocktail!)—is well thought out. Stick around for late-night Michael Jackson and break-dancing performances. And oh, there's a secret entrance to get in. Shhh...
The Line hotel is located at 3515 Wilshire Blvd., Koreatown, (213) 381-7411

Exploring the L.A. River with Mojo Maps (via Facebook)
Under-The-Radar Tours
Star maps and celebrity scavenger hunts may be good fodder for out-of-towners or an expensive laugh. But if you're looking to really get to know L.A. as a tourist in your own town, there are tons of great options. If you're looking to explore the dark corners of the city's crimes and mysteries we definitely recommend Esotouric, Crimebo and the Dearly Departed Tours, as well as the off-beat art and architecture tours of Urban Hikes and Neon Cruise. For foodies wanting to uncover the cities culinary gems, Six Taste Food Tours takes you on walking tours in a variety of neighborhoods where you'll sample food from restaurants and learn a bit of history and culture along the way. Craft beer lovers can sample from some of the best breweries around L.A. with L.A. Craft Beer Tours, while choco-holics can indulge in the Beverly Hills Chocolate Tours. If you're wanting to get an up-close look at the L.A. River and get a bit of exercise in the process, there are several options for exploring the river, particularly during the summer months. And if you're looking for a tour that challenges you creatively and sometimes physically, Mojo Maps—which, full-disclosure is a company I helped develop—offers adventure tours around different parts of the city including the Arts District and Venice. —Danny Jensen

Sandstone Peak in the Santa Monica Mountains (Photo via National Park Service)
Santa Monica Mountains
Los Angeles is notorious for its noxious smog, but it is also a place of natural beauty. The only American city with a bonafide mountain range cutting right through its center, in one short drive you can go from sweeping vistas and canyons to a day at the beach. Most of the Santa Monica Mountains is national or state parkland, and it includes 500 miles of trails to hike, go horseback riding or mountain biking. A handful of campgrounds also offer a place to stay away from the city, whether in the mountains or on the beach. If you're one of the less-active types, a drive down the winding Mulholland Drive is a great way to appreciate the mountains' beauty with the comforts of air conditioning. —Carman Tse

Tristan Eaton's artwork at the Container Yard in Culver City (Photo courtesy of Fredrik Lidskog)
Explore The Street Art Scene
The street art scene in Los Angeles has exploded so much that famous artists from around the world come to our streets to show off their art. There's so much out there though that things can get a bit overwhelming, unless you can get yourself a guide. That's where Art and Seeking's audio tours comes in. As of now, you can grab yourself an Arts District street art guide for $12.99 that comes with audio you can download onto your phone, a map to help you get to point A to B, and a brochure with photos and details about the artists. If you enjoy an actual human guide, Graff Tours offers downtown L.A. guided tours with tickets that start as cheap as $25 per person. And if you're interested in venturing beyond the downtown area, you can always make your own guide using some of the suggestions from LAist's Best New Street Art in Los Angeles.

Secret stairs in Silver Lake (Photo by Jean Trinh/LAist)
Secret Stairs
Taking a staycation means getting to put on your explorer hat in your own city. One of our favorite things to do is climb the many secret stairs of Los Angeles for a little hidden adventure. According to Secret Stairs LA, city planners built the historic stairs in the early 20th century so that Angelenos could easily get down from hillside neighborhoods to transit lines and shops. The stairs in Silver Lake at Micheltorena Street and Sunset Boulevard have recently been painted over with rainbow stripes and hearts, perfect for a selfie backdrop. Those stairs are part of the steep Music Box Loop that Secret Stairs LA offers a free online walking guide for. Laurel and Hardy's 1932 short The Music Box features the comedy duo moving up a heavy piano up a flight of stairs that you can also find on this loop. Another route we enjoy is the Beachwood Canyon Stairs, which takes you through to old Hollywoodland and a once-gated community where famous folks like Humphrey Bogart and Bela Lugosi once lived. You also get sweeping views of the city—including Griffith Observatory and the Hollywood sign on this walk. If you'd like a thorough guide of all the city's historic staircases, there's also a Secret Stairs book you can purchase on Amazon.

Glen Ivy Hot Springs (Photo by Suzanne Danzinger via the LAist Featured Photos pool on Flickr)
Take A Spa Day
Sometimes we don't have to go very far to get some much-needed pampering without breaking the bank. One of our favorite day trips is to go out to Glen Ivy Hot Springs in Corona, a place where you can spend a full day chilling by a pool with a cocktail in hand, soaking in one of the many hot springs, getting a full-on mud bath (so you can for a moment feel like you have baby soft skin again), or sweating it out in a sauna. It costs $46 to $64, depending on which day you go, for general admission to enter the spa and use the facilities. There's also Wi Spa, a little slice of heaven in Koreatown. The 24-hour, family-friendly, Korean-style spa has plenty of hot and cold baths, saunas, a restaurant and other services like their "buff" body scrub that will leave your skin feeling smooth. There's a gym there, too, in case you like to relax by working out hardcore. And just so you know, this is the type of spa where you don't wear any clothes. You can wrap yourself in a towel but hey, embrace your nudity. There's a $25 admission fee to get in to use their facilities, but if you pay for their other treatments, the fee will be waived. For other spa ideas, check out our spa guide here.
ArtBites
When you need a bit of culture in your life—we're talking about food and art—ArtBites will take care of you. Spend a few hours with Maite Gomez-Rejón, who will serve as your guide for the day. She's worked in the education departments for the likes of MoMA and the J. Paul Getty Museum, and was once a private chef for celebs, so you're in good hands. She hosts events that meld together art and food, by taking you on a tour through an art exhibit at a museum and afterwards setting you up with a meal inspired by the artwork. All we have to say is we've had a blast at her events. For more info, visit ArtBites' website here.

Santa Catalina Island (Photo by jakerome via the LAist Featured Photos pool on Flickr)
Santa Catalina Island
Catalina is L.A.'s own local island getaway, and it famously offers perks to birthday boys and girls. Definitely more of an outdoor playground, Catalina has more than its own share of adventurous activities, including zip lines where you can cruise over canyons at 40 miles per hour, fantastic dive spots, and the oldest 18-hole golf course west of the Mississippi River. If you choose to stay overnight, there are plenty of great dining spots in Avalon and the Avalon Theatre (inside the Casino), which screens the latest blockbusters inside a classic movie palace. —Carman Tse

The Theater at Ace Hotel (Photo by Spencer Lowell/Ace Hotel)
Ace Hotel
If you've been wanting to check out all the stellar, new restaurants and bars that have popped up in downtown L.A. recently, there's no better home base than the Ace Hotel. Of course, there's so much going on at this funky boutique hotel, you may just find yourself staying in all weekend. Housed in the restored 1927 United Artists Theater, the stunning Spanish-Gothic-inspired details will transport you to a more elegant time the moment you walk in the door. Kick off the day at L.A. Chapter—the hotel's in-house restaurant—which far exceeds expectations for a hotel restaurant with a menu of locally-sourced, elevated dishes like lamb belly with Japanese eggplant and sea urchin chitarra. Grab a killer craft cocktail and perch yourself at Mezzanine—the bar above L.A. Chapter—for some great people-watching. Or head to Upstairs, the rooftop bar laid-back Moroccan-style vibe to enjoy seasonal and draft cocktails, mind-boggling views of L.A. and a small pool to cool off on toasty days. Nearly every night, you'll find DJs, live bands, pop-up shops and other fun diversions. And if you're in search of more entertainment, you're definitely going to want to check out the hotel's gorgeous 1,600-seat movie palace. Beautifully restored and very Instagram-able, The Theater frequently plays host to big name musicians, exclusive film screenings and other special performances. And if you're planning on going full staycation-mode, you're definitely going to want to check out the hotel's wide variety of rooms, which feature modern designs, artistic flourishes and in some cases Martin guitars and turntables to help you rock out. —Danny Jensen
Ace Hotel Los Angeles is located at 929 S Broadway, (213) 623-3233