This is an archival story that predates current editorial management.
This archival content was written, edited, and published prior to LAist's acquisition by its current owner, Southern California Public Radio ("SCPR"). Content, such as language choice and subject matter, in archival articles therefore may not align with SCPR's current editorial standards. To learn more about those standards and why we make this distinction, please click here.
The 5 Best Places Outdoors To Escape The Heat
We need to hear from you.
Today during our spring member drive, put a dollar value on the trustworthy reporting you rely on all year long. The local news you read here every day is crafted for you, but right now, we need your help to keep it going. In these uncertain times, your support is even more important. We can't hold those in power accountable and uplift voices from the community without your partnership. Thank you.
It's an overused quote, but when John Muir said, "The mountains are calling, and I must go," it's sometimes best applied when L.A. is having a heatwave. The beaches are flocked, energy use soars, and hiking the local trails can turn into a dangerous affair. Luckily, there are alternatives within reach. Those mountaintops we see in the winter sprinkled with white offer some of nature's best air conditioning come summer. Here are five places to consider the next time L.A. is perspiring.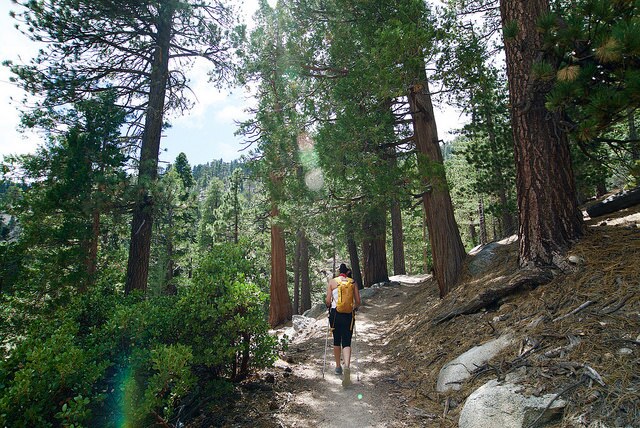 Hiking the Mount Waterman Loop (Photo by Zach Behrens)
ANGELES CREST HIGHWAY
It's called The Glendale Freeway in the city, serving Echo Park, Silver Lake, Glassell Park and other neighborhoods. For us weekend warriors, though, Highway 2 is an easy escape to the high country of the San Gabriel Mountains. More than 60 miles in length between the 210 and 138 in the Mojave Desert, the Angeles Crest Highway, as it's called in this stretch, reaches to an elevation of nearly 8,000 feet. And with such great heights comes cooler climes, sometimes up to 20 degrees less. There's plenty to do in this shady, pine forested area of San Gabriel Mountains National Monument. Consider a hike on the Mount Waterman loop or up to Throop Peak (named after the founder of Caltech), backpack a segment of the Pacific Crest Trail to Little Jimmy Trail Camp, car camp at Buckhorn, take a long meander down to Cooper Canyon Falls, or picnic at the Eagles Roost or Vista picnic areas. You'll need an $5 Adventure Pass to park at several areas up here. On weekends, you can buy them and get more info at the Clear Creek Information Station or Chilao Visitor Center.

Hiking down Icehouse Canyon (Photo by Zach Behrens)
ICEHOUSE CANYON
Hiking up Icehouse is not the easiest, but the 2,600 feet in elevation gain to Icehouse Saddle can mean a 10-degree cooler difference from the trailhead, which is usually cooler than the hottest parts of the city to start with. And unlike neighboring Mount Baldy, there's more shade throughout this hike. It's a 7-mile roundtrip to the saddle, which offers a few offshoots to go farther and bag peaks, if that's your goal. But the saddle is a nice enough spot to sit and enjoy a snack under the pines. Upon your return, reward yourself with a beer and classic greasy food at Mount Baldy Lodge. If you do choose this hike, be prepared for a very crowded parking lot (Adventure Pass required), most notably on weekends. Many hikers end up parking on Mount Baldy Road and take a short walk in.

Hiking to Mount Pinos (Photo by Zach Behrens)
MOUNT PINOS
If it's a super heatwave, this might be your best bet, as it can be around 25 degrees cooler than L.A.'s hottest parts. And it helps that Mount Pinos and environs are gorgeously refreshing. Pinos itself is the highest point in Ventura County, topping out at over 8,800 feet. But don't let that elevation scare you: it's an relatively easy 3.2-mile roundtrip hike with under 500 feet of elevation gain. If that's not enough, continue on past the condor observation site into the Chumash Wilderness on the Vincent Tumamait Trail trail. Though a harder trek, it's another two miles to Sawmill Peak, the highest point in Kern County. Yes, it's a two-for-one special here for highpointers! If you're in for more than just a day trip, there are two first-come, first-serve campgrounds for car camping: Mount Pinos and McGill. A walk-in campground called Chula Vista can be found off the main parking lot at Mount Pinos. If you stay overnight during a full moon, you'll be treated with one of the best local night skies.

Campsite #31 at Wheeler Gorge (Photo by Zach Behrens)
WHEELER GORGE
I won't lie. Ojai can get just as hot as L.A., but Wheeler Gorge Campground is one of those spots that people flock to all summer long. This mostly shady spot is great for chilling out and enjoying a book on your hammock. At eight miles north of town, it's also a perfect basecamp for enjoying Ojai during the day and cooking out by the campfire at night (daytime temps around 100 can mean evenings in the 60s). Half of the campground is reservable, the other half is first-come, first-serve. If reserving, the website offers many of the site's shade statuses—full or partial coverage). If walking in, ask the campground hosts to recommend the shadiest available.

Little Lakes Valley (Photo by Jonathan Fox/Flickr)
THE EASTERN SIERRAS
It's not exactly local, but lots of the land up here is owned, for better or worse, by L.A., thanks to the aqueduct. So think of it as the city's far flung playground. While most attention is paid to the western Sierra Nevada (think Yosemite, Sequoia, and Kings Canyon national parks), the eastern side is where some of the most sublime adventure can be found. The trailheads start at cooler high elevations and you only climb from there. Mount Whitney, the highest peak in the Lower 48, is the most talked about trek around, but there are plenty of pleasant day hikes found off the mountain roads from the cities that dot the Owens Valley floor and beyond. Little Lakes Valley near Mammoth, the turquoise-hued lakes upstream from Big Pine, and the series of lakes that dot Onion Valley en route to Kearsarge Pass are all good choices that will leave you satisfied, even if you make it just a few miles in. Make sure to check in at the Eastern Sierra Visitor Center in Lone Pine for road closures, conditions, and ideas. As always, but especially at these elevations, drink plenty of water before and during your hike.
Related:
The 8 Best Bike Rides In Los Angeles
7 Hikes You Can Squeeze In After Work
10 Great Off-The-Radar Spots To See Wildflowers In Southern California
6 Great Places To Hike While Runyon Canyon Is Closed
6 Beautiful Desert Day Hikes Within Los Angeles County
Zach Behrens is a freelance outdoors writer based in Los Angeles. Follow his adventures on Instagram.
But Yeoh is the first to publicly identify as Asian. We take a look at Oberon's complicated path in Hollywood.

His latest solo exhibition is titled "Flutterluster," showing at Los Angeles gallery Matter Studio. It features large works that incorporate what Huss describes as a "fluttering line" that he's been playing with ever since he was a child — going on 50 years.

It's set to open by mid-to-late February.

The new Orange County Museum of Art opens its doors to the public on Oct. 8.

Cosplayers will be holding court once again and taking photos with onlookers at the con.

Littlefeather recalls an "incensed" John Wayne having to be restrained from assaulting her and being threatened with arrest if she read the long speech Brando sent with her.