Banksy's Publicist Confirms There's No L.A. Show In December
Stories like these are only possible with your help!
Your donation today keeps LAist independent, ready to meet the needs of our city, and paywall free. Thank you for your partnership, we can't do this without you.
Yesterday a BanksyLAX site popped up on The Internet, leading everyone to believe the street artist would be doing a residency in the city in December. (This month he's taken over the streets of NYC for his October residency, Better Out Than In.) But a quick search of who registered the domain name pointed to Juliens Auctions, who say they're auctioning off Banksy's 9' Flower Girl mural on a brick wall in December. Still, The Internet wanted to believe, and this strange unbelievable story didn't help. The author claimed to have received a letter from Banksy asking him to host a dinner party for him while he was in Los Angeles in December: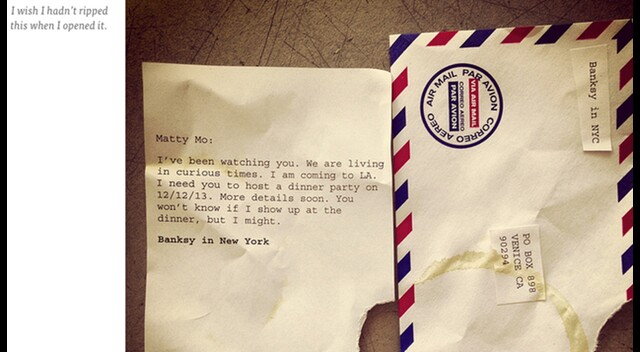 And then this supposed Banksy piece turned up in Hollywood (the last time Banksy was in Los Angeles was 2011, and this doesn't appear to be a piece from then):
But it turns out not all street art is Bansky, and this afternoon Banksy's publicist confirmed with us that the BanksyLAX website is fake, and there is "no show in LA."
So we'll have to enjoy the remaining seven days of the New York residency from afar.