LAist relies on your reader support.
Your tax-deductible gift today powers our reporters and keeps us independent. We rely on you, our reader, not paywalls to stay funded because we believe important news and information should be freely accessible to all.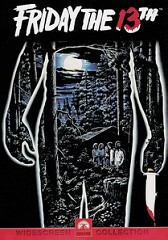 The granddaddy of teen slasher flicks celebrates its silver anniversary this weekend at Hollywood & Highland. Friday the 13th debuted in the summer of 1980 and spawned 9 sequels and the generally horrible Freddy vs. Jason. Jason Voorhees is the signature figure in the film series but he didn't get his most recognizable costume piece, the hockey mask, until the 3rd film when Larry Zerner's Shelly brings the mask to Crystal Lake to scare his friends...in 3-D!
You can talk with Larry and tons of other Friday the 13th actors at NecroComicon all weekend long. Even our personal favorite Friday the 13th actor, Corey Feldman, will be around to sign autographs. Maybe he'll even shave his head in order to outsmart Jason again.
That would rule.