This is an archival story that predates current editorial management.
This archival content was written, edited, and published prior to LAist's acquisition by its current owner, Southern California Public Radio ("SCPR"). Content, such as language choice and subject matter, in archival articles therefore may not align with SCPR's current editorial standards. To learn more about those standards and why we make this distinction, please click here.
This 1958 Tourism Ad For L.A. Is Still Pretty Accurate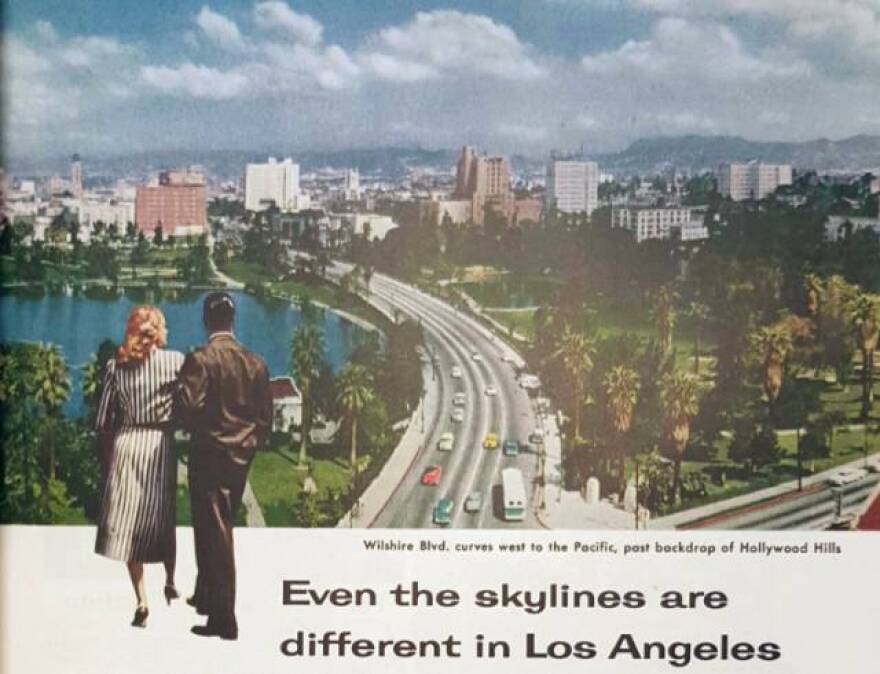 Before you read this story...
Dear reader, we're asking for your help to keep local reporting available for all. Your financial support keeps stories like this one free to read, instead of hidden behind paywalls. We believe when reliable local reporting is widely available, the entire community benefits. Thank you for investing in your neighborhood.
This advertisement from the Los Angeles tourism board appeared in National Geographic in 1958, but how much of it is true today? Let's go to the text:
"Visitors always remark how low and spread out Los Angeles is." — True
"This means more fresh-air living." — Lol
"Our one real skyscraper is the 32-story City Hall!" — It is now the 73-story U.S. Bank Tower, which rises 1,018 feet and was built in the 1980s
"Everything seems different." — Deep. Is this tourism ad smoking one of those marijuana cigarettes?
"A glass and redwood church stands alone atop a Pacific bluff." — Lloyd Wright's Wayfarers Chapel is still there.
"At Civic Center you can lunch Chinese or Spanish style."—Sure, okay.
"Minutes away find the police offices made famous by TV sleuths." — You can still find filming locations from Dragnet, including City Hall, but there probably aren't a lot of remnants at Walt Disney Studios.
"At nearby Hollywood watch for stars at a drive-in." — Check-ish (there's one Downtown)
"Drive past celebrities' swanky homes." — Yes, they still LOVE THAT.
"Los Angeles is a botanist's dream. Instead of grass, geranium lawns! Backyards have fig, lemon or shiny evergreen avocado trees!" — Mmmhmm, when there's not a drought.
Here's the full text, which doesn't once mention the dingbats that were taking over the city at the time. Does everything seem different today?
[via Reddit]