CVS Pharmacy Admits to Illegally Selling Key Meth Ingredient, Will Pay $77.6 Million [Updated]
Stories like these are only possible with your help!
Your donation today keeps LAist independent, ready to meet the needs of our city, and paywall free. Thank you for your partnership, we can't do this without you.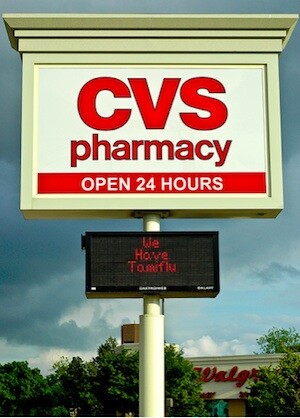 Photo by Rich Anderson via Flickr
CVS Pharmacy has agreed to settle with the federal government after admitting it illegally sold a key ingredient to criminals who made methamphetamine, the United States Attorney's Office said today. The company will pay a settlement of $77.6 million. $2.6 million of that represents the profit the company made from selling pseudoephedrine, the rest is a civil penalty, which is the largest ever paid under the Controlled Substances Act. "This case shows what happens when companies fail to follow their ethical and legal responsibilities," said United States Attorney André Birotte Jr. in a statement. "CVS knew it had a duty to prevent methamphetamine trafficking, but it failed to take steps to control the sale of a regulated drug used by methamphetamine cooks as an essential ingredient for their poisonous stew."
By law, stores must limit the amount of pseudoephedrine, a "precursor chemical" that is used in the illegal manufacture of meth and found in cough and cold medicines, a person can purchase in one day, but CVS allegedly did not do that.
"CVS's flagrant violation of the law resulted in the company becoming a direct link in the methamphetamine supply chain," said Michele M. Leonhart, the Acting Administrator of the Drug Enforcement Administration.
In a press release, the U.S. Attorney's Office explains more about the drug:
In mid-2007, after Mexico banned the sale of pseudoephedrine, Los Angeles County experienced an epidemic in a practice known as "smurfing," where individuals make multiple purchases of pseudoephedrine in small amounts with the intent to aggregate the purchases for use in the illegal production of methamphetamine. Smurfers discovered that CVS, unlike other large chain retail pharmacies, allowed customers to make repeated purchases of pseudoephedrine that exceeded federal daily and monthly sales limits. Smurfers inundated CVS stores in Los Angeles and Orange Counties, and later stores in the Las Vegas area, to purchase cough and cold remedies, sometimes cleaning out store shelves. For more than a year, CVS failed to change its sales practices to prevent criminals from purchasing excessive amounts of pseudoephedrine at its stores.
The investigation began in California and Nevada, but it led to the government determining the conduct was likely also occurring in 23 other states. Because of the settlement, the feds will not pursue criminal charges against CVS.
Update, 11:40 p.m: "To make certain this kind of lapse never takes place again, we have strengthened our internal controls and compliance measures and made substantial investments to improve our handling and monitoring of (pseudoephedrine) by implementing enhanced technology and making other improvements in our stores and distribution centers," Thomas Ryan, chairman and CEO of parent company CVS Caremar, told the Associated Press.