Stories like these are only possible with your help!
You have the power to keep local news strong for the coming months. Your financial support today keeps our reporters ready to meet the needs of our city. Thank you for investing in your community.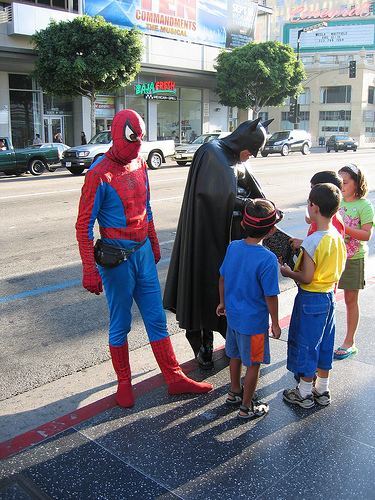 In this city, crime is up and morale is down.
It's clear at this point that what Los Angeles needs is Batman.
I've been wondering who L.A. Batman would be if there was one. It would have to be someone with more than loves of style, culture and justice; he or she would also need awesome physical strength and the audacity to wear the rubber suit.
I briefly considered some of the city's political figures to be its Bruce Wayne, but somehow I don't think that Tom LaBonge or Laura Chick has the agility needed to stop criminals in their tracks. Eric Garcetti probably wouldn't want to drive the Batmobile unless it was electric. (Maybe he'd opt for a Batbicycle, though.) Even with his manors and butlers, I don't think Eli Broad has what it takes. Kobe Bryant has the physical strength, but judging by the constant tension between him and his teammates, I doubt he has the necessary sense of civic responsibility.
So I turn the question to you, LAist reader: Who would be L.A. Batman?
Photo by vipa via Flickr