Coyote Attacks Toddler At Orange County Cemetery [UPDATED]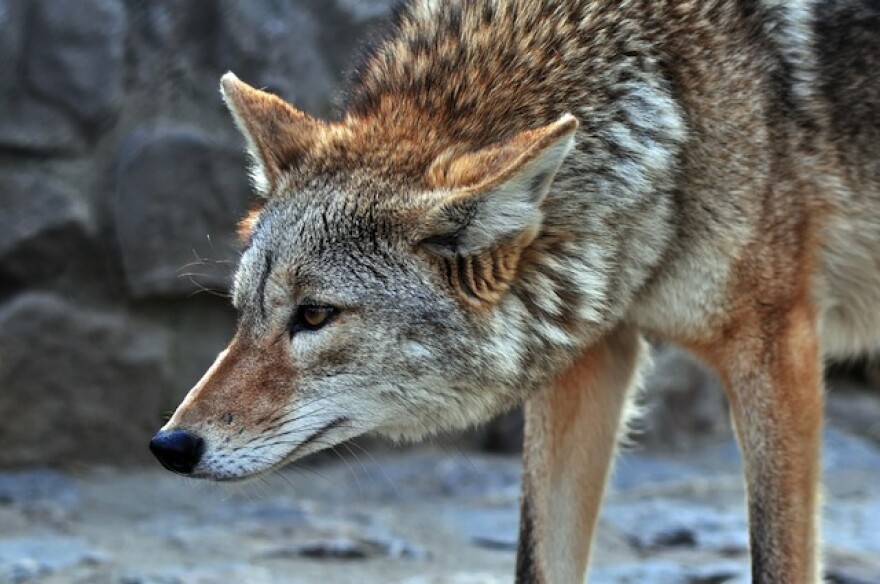 Stories like these are only possible with your help!
Your donation today keeps LAist independent, ready to meet the needs of our city, and paywall free. Thank you for your partnership, we can't do this without you.
A 2-year-old girl is said to be recovering at home after being bitten and dragged by a coyote at a cemetery in Cypress.
The attack happened while the toddler was with her family at Forest Lawn Memorial Park at 4471 Lincoln Ave. on Thursday afternoon, the Orange County Register, via NBC News, reported.
The girl was playing 10 feet away from her mother when the coyote bit her and tried to drag her into the bushes, the newspaper reports. She was treated for rabies and a 2.5-inch gash on her leg.
Experts say this is the first reported coyote attack on a person in Orange County so far this year.
California Department of Fish and Wildlife employees shot and killed three coyotes at the park to address what they considered a threat to public safety, the Register reported.
The Department of Fish and Game has these "coyote country" warnings on its site:
Never feed or attempt to tame coyotes. The result may be deadly conflicts with pets or livestock, or serious injuries to small children.

Do not leave small children or pets outside unattended.

Install motion-sensitive lighting around the house.

Trim ground-level shrubbery to reduce hiding places.

Be aware that coyotes are more active in the spring, when feeding and protecting their young.

If followed by a coyote, make loud noises. If this fails, throw rocks in the animals direction.

If a coyote attacks a person, immediately contact the nearest Department of Fish and Game or law enforcement office.
UPDATE, 11:44 A.M. The L.A. Times reports that the girl is in "good spirits" and has started walking again on her wounded leg.
Mark Michilizzi, a warden with the California Fish and Wildlife Department, said that there have been a number of coyote sightings in the area. He called the incident "most definitely a public safety issue."
The mother, Michelle Luper, was at the cemetery to visit her grandmother's grave, according to the Orange County Register.
Forest Lawn Cemetery management has added coyote traps around the park in areas where they're not likely to snare any humans, said Ben Sussman, vice president of community relations and media management for the cemetery. Signs warning visitors to beware of coyotes have also been posted on the property.
"We deeply regret that it occurred and hope for a speedy recovery for the child," Sussman said.
Related:
Coyotes Catch and Kill Small Dog on Walk in Huntington Beach
'Hungry & Desperate' Coyote Chases Jogger & Dogs in Newport Beach
Following Lethal Attacks on Dogs, Seven Coyotes are Killed in OC