Stories like these are only possible with your help!
You have the power to keep local news strong for the coming months. Your financial support today keeps our reporters ready to meet the needs of our city. Thank you for investing in your community.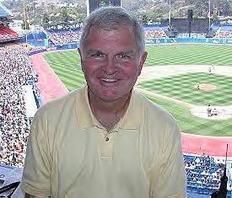 Lon Rosen just made one of the worst decisions in Los Angeles Dodgers history. It was certainly the worst in Frank McCourt's tenure as owner. Rosen has made the moronic decision to fire Ross Porter.As someone who has represented the Los Angeles Dodgers with class and dignity for 28 years, Ross Porter deserved much better than to be fired by some new idiot who runs the marketing department. The Dodgers won't get better ratings because they have some 26-year old game show host doing games. No kid is going to put down his skateboard and listen to a baseball game because someone who sounds more hip is on the radio.
This is a franchise which has built a fan base off its class and tradition. It's the franchise of Vin Scully, and Ross Porter fit in perfectly well with Dodgers broadcasts. LAist could accept a color man for Porter, but getting rid of a man who has been a major part of the franchise for 28 years, someone who is loved by the Los Angeles community is unconscionable.
What's even more inexcusable is the manner in which his firing was handled, detailed by Bill Plaschke in today's Los Angeles Times. LAist recommends you read it to learn how the Dodgers took out lines from Porter's "good-bye" to the fans. Such a move is not only insulting to a man who has served the organization faithfully like Porter, but it is insulting to the fans who have enjoyed Porter for so many years.
LAist is sure that Ross Porter won't be unemployed for too long. Several organizations are probably on the phone with Porter's agent right now, trying to bring his southern drawl and penchant for uttering every stat in the world to their broadcasts. But maybe it's not too late to let Lon Rosen know he's made mistake. We have learned his e-mail address is "LonR@ladodgers.com". So let him know how you feel, and ask him to bring Porter back.