Blogging + work = job hazard?
Stories like these are only possible with your help!
Your donation today keeps LAist independent, ready to meet the needs of our city, and paywall free. Thank you for your partnership, we can't do this without you.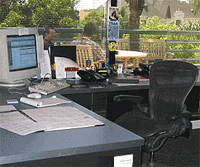 In Feburary, a Google employee who'd had the sharp idea to blog about his employer lost his job. (Really, you'd think if anybody knows how to Google themsleves, it might be your bosses at Google). Back in November, a Delta Airlines flight attendant was canned because her bosses didn't like the sassy pics on her blog. Now, although his blog is not cited as the reason, LA blogger Tony Pierce has apparently been dismissed from his gig at E! entertainment. Was it the candid posts about sex? Was it the (inexplicable) obsession with the band Tsar? The pictures of his glowingly beautiful friends? Was it really a layoff ... or did Mr. Pierce blog too much?