LAist relies on your reader support, not paywalls.
Freely accessible local news is vital. Please power our reporters and help keep us independent with a donation today.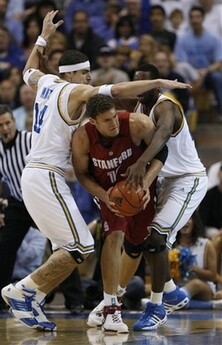 Winning never gets old.
The UCLA men's basketball program has had more than its fair share of winning over the years, holding the majority of the major NCAA team records, including championships, Final Four appearances, consecutive winning seasons, consecutive games won, and weeks ranked #1. Nevertheless, last night's hard-fought win in hostile Pullman over an excellent Washington St. team, which clinched an outright Pac-10 championship (and likely top overall seed in the Big Dance), felt as good as any win in recent memory.
Granted, with the Bruins' tradition, and the raised expectation of success after last year's run to the Finals, some may deem it premature to celebrate, noting that the true measure of success is the team's performance during the three-week crapshoot that is the NCAA tournament. LAist says this is a load of crap. Regardless of how March (or April) turns out for UCLA, this squad has earned all of the praise it has garnered, simply based on its consistent quality of play throughout the course of the year. In short, the Bruins have simply been a joy to watch as a basketball fan.
Now many may argue that the current brand of basketball that UCLA employs is hard on the eyes. Without question, it is not always as aesthetically pleasing as, say the Victoria Secret Fashion Show, to watch the team grind out lower-scoring games, wearing opponents down on the defensive end and being effective enough offensively to outgun teams when necessary. What is incredible to watch is the level of precision that the team executes its game plan. It's seeing probable All-American Arron Afflalo run a curl off of two solid back picks to square up for an open three-pointer. It's observing Luc Richard Mbah a Moute setting a down pick for a strong-side cutter, then flaring off of a back pick on the weak-side for a backdoor layup fed from Josh Shipp in the corner. It's watching Alfred Aboya come over the top on a post double-team, while Darren Collison sneaks back into the passing lane at the top of the key to make the steal. It is superior preparation, combined with fundamental situational understanding, mixed with top-notch talent. It is brilliance in action.