This is an archival story that predates current editorial management.
This archival content was written, edited, and published prior to LAist's acquisition by its current owner, Southern California Public Radio ("SCPR"). Content, such as language choice and subject matter, in archival articles therefore may not align with SCPR's current editorial standards. To learn more about those standards and why we make this distinction, please click here.
Better Than Ever
Before you read more...
Dear reader, we're asking you to help us keep local news available for all. Your tax-deductible financial support keeps our stories free to read, instead of hidden behind paywalls. We believe when reliable local reporting is widely available, the entire community benefits. Thank you for investing in your neighborhood.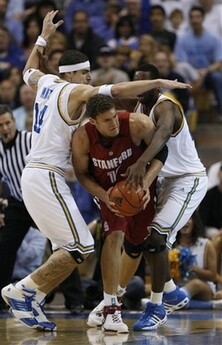 Winning never gets old.
The UCLA men's basketball program has had more than its fair share of winning over the years, holding the majority of the major NCAA team records, including championships, Final Four appearances, consecutive winning seasons, consecutive games won, and weeks ranked #1. Nevertheless, last night's hard-fought win in hostile Pullman over an excellent Washington St. team, which clinched an outright Pac-10 championship (and likely top overall seed in the Big Dance), felt as good as any win in recent memory.
Granted, with the Bruins' tradition, and the raised expectation of success after last year's run to the Finals, some may deem it premature to celebrate, noting that the true measure of success is the team's performance during the three-week crapshoot that is the NCAA tournament. LAist says this is a load of crap. Regardless of how March (or April) turns out for UCLA, this squad has earned all of the praise it has garnered, simply based on its consistent quality of play throughout the course of the year. In short, the Bruins have simply been a joy to watch as a basketball fan.
Now many may argue that the current brand of basketball that UCLA employs is hard on the eyes. Without question, it is not always as aesthetically pleasing as, say the Victoria Secret Fashion Show, to watch the team grind out lower-scoring games, wearing opponents down on the defensive end and being effective enough offensively to outgun teams when necessary. What is incredible to watch is the level of precision that the team executes its game plan. It's seeing probable All-American Arron Afflalo run a curl off of two solid back picks to square up for an open three-pointer. It's observing Luc Richard Mbah a Moute setting a down pick for a strong-side cutter, then flaring off of a back pick on the weak-side for a backdoor layup fed from Josh Shipp in the corner. It's watching Alfred Aboya come over the top on a post double-team, while Darren Collison sneaks back into the passing lane at the top of the key to make the steal. It is superior preparation, combined with fundamental situational understanding, mixed with top-notch talent. It is brilliance in action.
In college sports, the top programs are able to consistently recruit the top high school talents, giving them a built-in advantage over the other 99% of teams. These programs can overwhelm most teams by their sheer athleticism. And every year, there are also a number of teams that make up for their shortcomings in talent through effort, discipline, and teamwork to achieve great things. Under Ben Howland, UCLA has been returned to being a program that epitomizes both of these characteristics, full of highly talented players that play for collective rather than individual success. Not surprisingly, the wins have followed, even in this supposed transition year with three key players gone from last year's team.
The funny thing is that there will always be haters that give little credence to the mental and physical toughness that Howland instills in his players, regardless of how many wins they accumulate. In fact, Hall of Fame Arizona coach Lute Olson recently took a jab at both UCLA and USC (another program being rebuilt in this hard-nosed style), saying that the schools couldn't attract top recruits because they didn't play an enjoyable style of basketball; this despite the fact that Olson's Wildcats are woefully underachieving this year, buried in a tie for fourth place with arguably the most talented roster in the conference (and getting smoked twice by both teams, sour grapes anyone?). Last time LAist checked, teams didn't raise championship banners for accumulating the most style points. Some may abide by the White Men Can't Jump mantra of looking good and losing rather than looking bad and winning. That's what Sportscenter Top 10 Plays is for. Meanwhile, the Bruins will keep chugging along and playing their game, knowing that they have nothing to prove to anyone but themselves.
So as the regular season winds down, LAist extends its congratulations to UCLA for its excellence: for taking each opponent's best punch every game, knowing that any loss will be followed by the indignity of opposing fans rushing the court to celebrate a season-making win; for always bringing a high level of intensity no matter the opponent, and raising that level of intensity when the stakes matter most; for carrying a certain self-assuredness and confidence, which leads to an approach to the game that doesn't involve bragging to the media, complaining to the officials, or sulking after some bad breaks; for never accepting defeat and always striving for perfection; for playing the game as it was meant to be played.
Keep on winning Bruins. To borrow another line from White Men Can't Jump, "it's SO pretty, SO pretty." No matter how ugly it is.
AP Photos by Gus Ruelas and Kody Whiteaker