Los Feliz to Atwater to Echo Park roundtrip Photo Essay
Stories like these are only possible with your help!
You have the power to keep local news strong for the coming months. Your financial support today keeps our reporters ready to meet the needs of our city. Thank you for investing in your community.
When foreign dignitaries come to LA, they hang out with the mayor, the celebs, the heads of big business... LAist ends up having to entertain their barely legal daughters. We all have our crosses to bear.
Last weekend we got a phone call to spend the afternoon with a young lady who is considering coming to LA for "university", but her parents thought that our fair city would teach her to be a gas guzzling ugly American. So we took her on a busride from Los Feliz to the Atwater Village Street Fair, and then a busride to Echo Park, and then over to Little Armenia.
We walked a lot too. And took pics. Tons and tons after the jump...
The first thing we saw in Los Feliz was an ad for the new Michael Moore movie. Very exciting!

only a half hour for confessions a week? boy that congregation is goooood.
although we weren't really feeling the McMansion McCondo situation off Vermont

things we found on the ground that our guest could NOT believe: #1, uneaten chocolate pretzels

Atwater Village represented nicely

We showed up a little late (3:30p, and it was supposed to stop at 4)

But there were still puppies! OMG PUPPIES!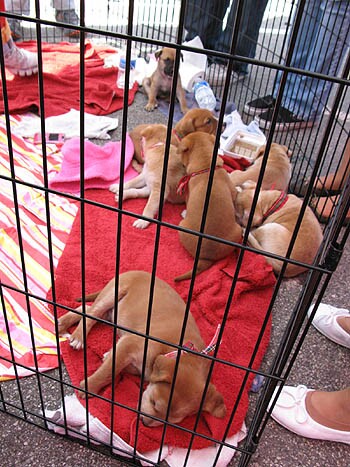 Why were the puppies above not happy? Because once adopted, this is what their future holds:

The new seal of Echo Park

Two nice bus stops:

things we found on the ground that our guest could NOT believe: #2, used condom AND wrapper, meaning some dude got action right there on the street next to a school and two churches

when the ice cream man comes, who cares if youre in your pj pants. ICE CREAM!

things we found on the ground that our guest could NOT believe: #3 huge tv that seemed to be thrown out of a window ala Second City TV

Photos by Sonny I. LaVista for LAist