This is an archival story that predates current editorial management.
This archival content was written, edited, and published prior to LAist's acquisition by its current owner, Southern California Public Radio ("SCPR"). Content, such as language choice and subject matter, in archival articles therefore may not align with SCPR's current editorial standards. To learn more about those standards and why we make this distinction, please click here.
Amtrak Leaves Passengers Stranded on Broken Down Surfliner for 8 Hours
Stories like these are only possible with your help!
You have the power to keep local news strong for the coming months. Your financial support today keeps our reporters ready to meet the needs of our city. Thank you for investing in your community.
Original photo by Mike Miley via Flickr
The Amtrak Surfliner departed San Diego 10:35 a.m. last Saturday -- right on time. But Train 571, a weekend-only train filled with families and weekend adventurers, never made it to its final destination -- Union Station, LA.
Amtrak Surfliner 571 wasn't abducted, it didn't slide quietly into the Pacific, it was simply stricken with "mechanical problems" north of Oceanside, about 40 miles into the two-hour-forty-minute trip to LA..
After 30 minutes stopped on the tracks, passengers were notified of the train's "problems" and most remained calm despite being provided little or no further information. At 2p.m, 45 minutes after the train was scheduled to arrive in LA, passengers were told they were still stuck but that a new train was coming.
That train blew right by Train 571 on the northbound tracks just as four others would (and another two heading south) over the course of the afternoon and evening.
A few disgruntled passengers tweeted for help: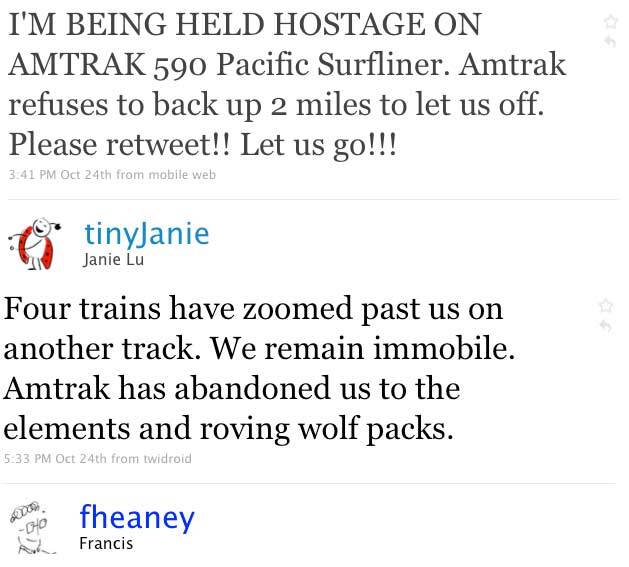 tinyJanie and fheany could only turn to Twitter for help.
At about 6 p.m. passengers were finally told they could board another train but then had to hook up with yet another train, finally pulling into Santa Ana around 7:30. But it doesn't end there. At 8 o'clock when the train rolled into Anaheim, the crew announced they had to leave since they had been on duty for more than 9 hours and that it could be a while before a replacement crew appears.
An hour later, several people banded together and took a series of taxis, splitting the $90 fare to Union Station, others waited for a bus. We picked up our friend in front of Union Station at 9:45 -- eight-and-a-half hours late.
Mechanical problems happen. We all know that. But to leave passengers with nowhere to go for 8 hours-- not to mention a shortage of food, water, and beer -- and without a bus to rescue them in Anaheim, is reprehensible.
Amtrak, you may not have an explanation for the passengers of Pacific Surfliner 571 on Saturday October 24 but how about an apology -- if not refunds and travel vouchers? And where's our Acela? It's nearly 2010 -- pretty soon we'll just vote you off the West Coast.