AM news: the farm, the beach and MySpace
LAist relies on your reader support.
Your tax-deductible gift today powers our reporters and keeps us independent. We rely on you, our reader, not paywalls to stay funded because we believe important news and information should be freely accessible to all.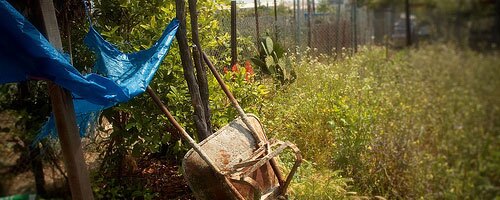 farm flashback These may be the last days of the community farm in south central LA; supporters are $10 million short in their efforts to buy the property from the developer who's ready to take his 14 acres and make a profit. But Hollywood is lending a publicity-generating, eviction-fighting hand: Daryl Hannah is camping out on the property, Laura Dern and husband Ben Harper stopped by and Joan Baez is treesitting. Treesitting, you ask? Don't worry, the eminent folk singer has experienced treesitter Julia "Butterfly" Hill in the tree beside her if she has any questions.
beware the beach 10 of the state's most polluted beaches are in or near Los Angeles, according to Heal the Bay's annual Beach Report Card. So if you're thinking you'd like to hit the beach on this gorgeous holiday weekend, you might think twice about Will Rogers State Beach, Surfrider Beach, Topanga State Beach and San Pedro's Cabrillo Beach — even Catalina Island's Avalon Beach is no better.
myspace bandits LA County officials have charged two NY teen programmers with extortion in their dealings with MySpace. 18-year-old Shaun Harrison and his 19-year old buddy Saverio Mondelli allegedly expoited vulnerabilities in MySpace's coding and captured personal data, then asked for $150,000. Dude, if you're going to hack MySpace, could you do something about the godawful design?
photo by stillthedudeabides via flickr